Primary Bedroom Update – Upcycled Bedskirt
I am sharing how I took a bedskirt and upcycled it into a tablecloth.
I've made some primary bedroom updates recently. We purchased a new bed from Pottery Barn so I changed my bedskirt to a tablecloth!
And before I continue, let me just say that I LOVED this bedskirt. Mostly because I put a lot of hard work into making it. We've moved homes so many times that our bed was falling apart. We both loved the look of an upholstered bed so we just went for it.
The bedskirt didn't fit properly over the new upholstered bed frame so I decided to upcycle it into a ruffled tablecloth for my daughter's
1st birthday party
.
This is what my bed looked like before with my DIY ruffled bedskirt. I loved the way the ruffles fell to the floor.
And here is the finished product, a ruffled tablecloth! I upcycled my bedskirt to a tablecloth!
I bought a linen tablecloth from Home Sense last year and even though I washed it on cold and hung it to dry it still shrunk. So I just stitched all the pretty ruffles I made along the edge of the tablecloth.
And now this is what my new beautiful bed looks like.
We love this bed. It's lower than our previous bed which, to me, makes it seem more cozy.
I love the clean lines…
The nailheads are massive and give such a beautiful detail.
We also got the matching neutral bench for the foot of our bed.
And finally my favorite relaxing reading nook.
I love the changes! What do you think? Am I crazy to change my bedskirt into a tablecloth?
You might like to see…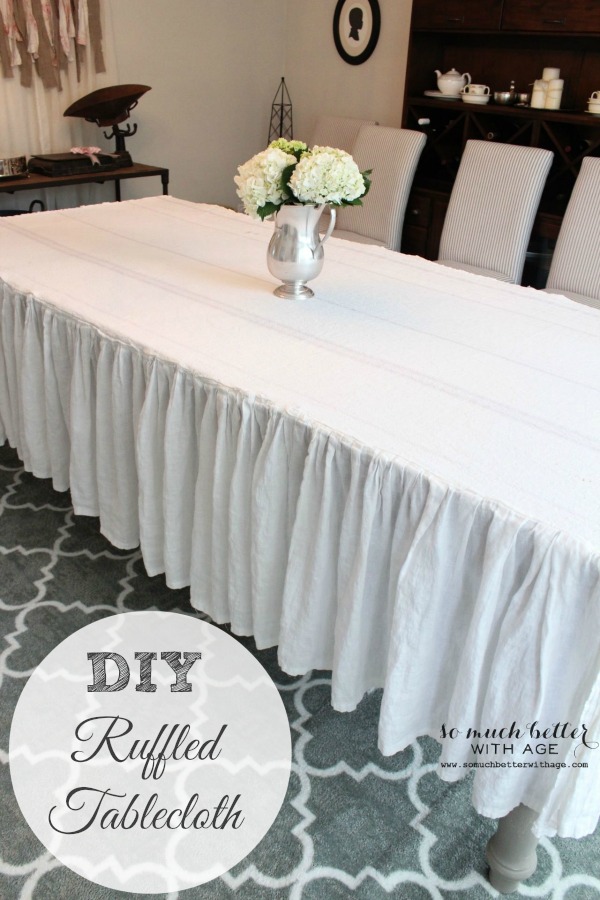 Disclaimer:  Affiliate links in post.