I can finally share with you that the renos are in full swing at the Sweet Little Bungalow!
Remember that time I told you about the demos happening on my new Sweet Little Bungalow? Yeah, that was only beginning of January.
At the time I wrote that post I was supposed to be getting my permits annnnnyyy day now. But it never happened.
I actually JUST got the permits to go ahead with my renos on February 1st. You can read the whole story HERE if you'd like.
Sooooo…it's finally beginning now. Renovations are finally in full swing people!
Just look for yourself if you don't believe me!
I'm getting a whole new fireplace. I was just going to get a limestone-like fireplace mantel but I'm sorry I needed a new gas insert too.
The one I'm getting is similar to these ones HERE.
So yes the flooring had to come out. It's sad because it was actually in good shape.
Remember?
But we took down a load-bearing wall!! Which means new flooring.
I'm okay with it. I picked out one that I love.
This is how it used to look:
And currently:
Look at all that openness!! Man I love renovations.
It no longer looks like a townhome.
To refresh your memory, here is what the kitchen looked like before:
Currently:
Right now all the framing, plumbing rough-ins and electrical are happening.
The inspector will be coming by next week and then it's more forward movement.
Oh, look at my new French doors.
Aren't they beautiful?
This used to be the family room but I'm turning it into the dining room.
This gas fireplace was removed to make way for a dining room table and chairs.
It's right off the kitchen so I'm super excited to have the dining room right by these French doors.
This was the small hall closet and laundry that I had made into one larger laundry room. The pocket door was just framed.
The laundry room will still be small but with the built-ins on one side and washer and dryer stacked on the other, I think it will make the room feel more spacious.
And much more practical compared to a small hall closet and small laundry room.
The master ensuite bathtub was taken out to make way for a large tiled shower.
The bench was just framed too. So exciting!
The tub was just installed in the kids bathroom.
Here is a view of the landing on the second floor. That bedroom with the large window will be my office.
Wait until you see what I have in store for the flooring. The hallway and office will be hardwood like the main floor but I'm having a patterned carpet put on the stairs to look like a runner.
The bedrooms will have a plush cream coloured carpet.
There is obviously still so much to do but I'm so excited that my renovations are in full swing now. It was a long three months waiting on permits.
It will all be worth it in the end.
I have more time to pick out all the finishing details and that load-bearing wall came down.
Totally worth it!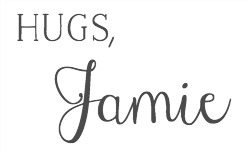 Click the image below to read more posts: