I had so much fun creating this very easy Easter table for kids! Let me inspire you!
Lately I've been so busy that I wanted something easy peasy in the way of Easter decor this year and to incorporate a little kids table for Easter.
I thought adding some cute embellishments would be fun but I didn't know what. So I headed to my local dollar store to see what they had and somehow I came up with this!
It's sooooo easy it shouldn't even need a tutorial! But I'll show you anyway 😉
This post contains affiliate links for your shopping convenience. Click to read my full disclosure policy.
This is what I found. Felt craft stickers. Stickers!!
Also, I found this set that the kids can decorate themselves!
I had some leftover burlap 'ribbon'. It's the kind with a bit of wire in it so when it's wrapped around this cute table it stays put! So I wrapped it around the table…
And just knotted it at the back.
And then just stuck these felt stickers on burlap ribbon. I told you, SUPER easy!!
Both kids have a set of Beatrix Potter china so I set up their table settings like so and put Easter eggs in an Easter basket.  You definitely don't need to have fancy china, a paper plate is fine! But I thought this was cute for the set up and depending on the age of your children, you may or may not want to use china.
This kids' Easter table is so easy to put together you'll have kids begging to sit here rather than the big table.
Happy Easter!
Make sure to pin it for later!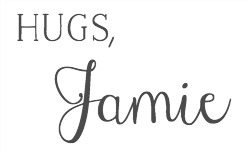 Click in Case You Missed:
Peter Rabbit Inspired Easter Table
Books, Bunnies & Tulips Easter Table