The Beginner's Guide to Camping – Everything You Need to Take Camping
With this Beginner's Guide to Camping, you'll know everything you need to take with you on your next (or first) nature loving camping trip!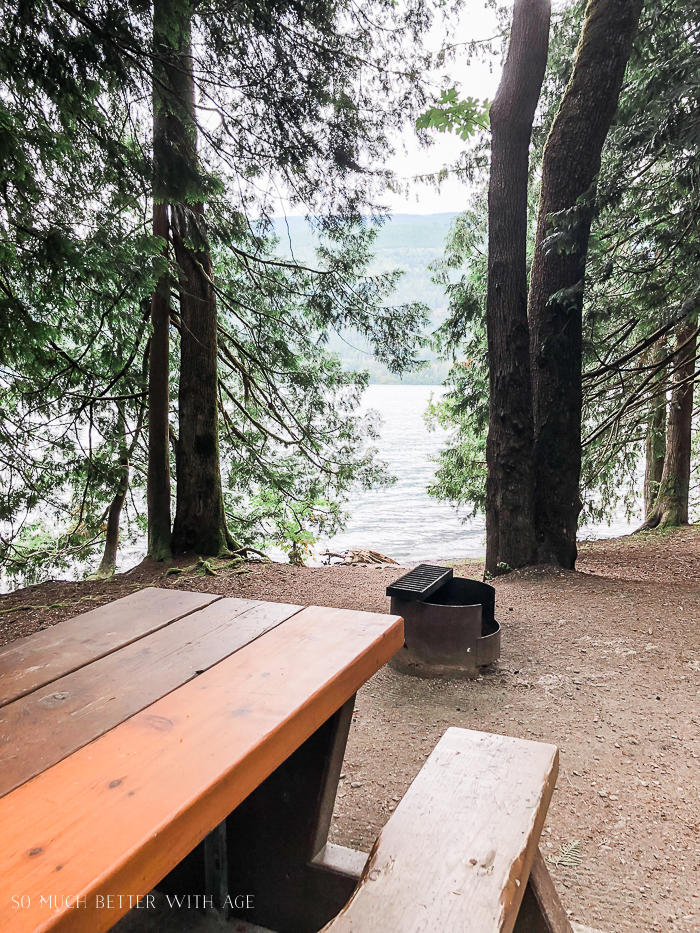 We all have skills and I'm sure you can see from my blog what mine are and what I love to do.
But here's a skill you probably would never think of me to possess: I'm an amazing camper.
Camping is really all we did for vacations as a family growing up. Then when I was in my early 20s, my boyfriend was obsessed with hiking in the wild while backpacking and somehow I was convinced to put a 40 lb backpack on my shoulders and hike for 4 hours and camp on weekend trips. We spotted many bears on those trips! I'm so glad I went backpacking because it pushed me out of my comfort zone and pushed myself physically to reach goals I never thought I would accomplish. Like I said, I'm glad I did it but backpacking is not something I want to do now…especially with kids.
Here I am backpacking!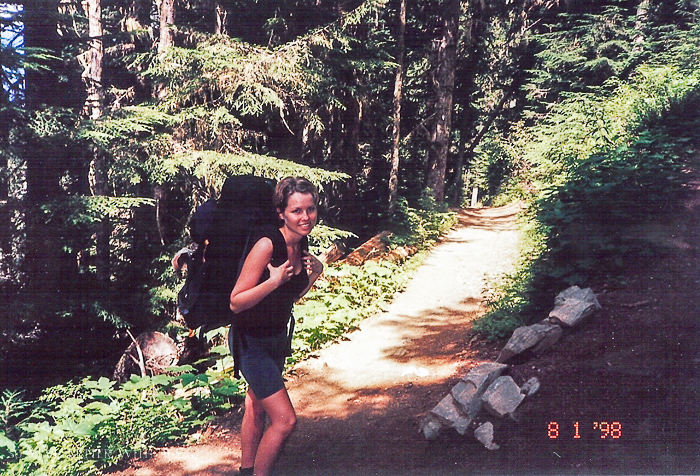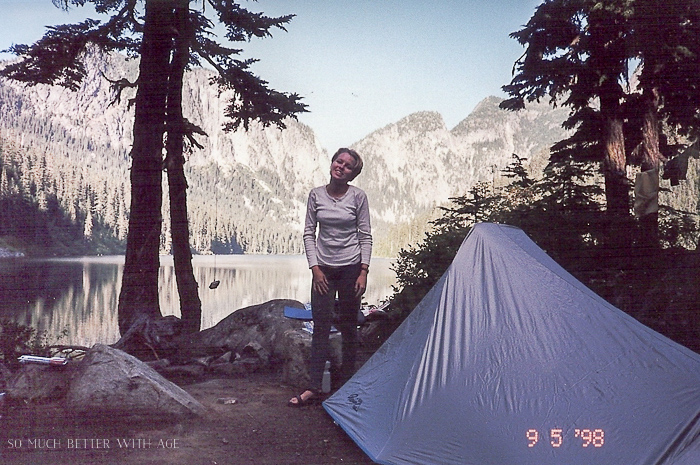 (I'm so tired!)
Car camping, as I like to call it, is when you can take your car or truck right to the campsite rather than backpacking. It's a bit like glamping but I'm not fancy. This is basic camping but I do like to be comfortable and have what I'm used to.
Everyone thinks camping is a lot of work and don't get me wrong, it is. But it's actually fun and enjoyable with lots of preparation. In this day and age with all the technology surrounding us, I think it's a must. There's no better way of unplugging when you physically cannot plug into anything. You'll be amazed how easily your urban kids will find a stick and a pile of dirt and play like we did when we grew up (you know, before iPads were invented).
I usually park in Provincial Parks. There is no electricity but they have bathrooms and showers available. We have some of the best camping here in BC and getting a spot along a calm lake is always the best.
For years I didn't camp. We took the kids to nice hotels and swam in beautiful hotel pools. But I felt like I was doing them a disservice without at least giving them the outdoor nature experience at least once a year.
I'll list step by step on what you need to take and at the end of the post I have a handy printable you can download and print off your printer.
So let's get started on what you should take camping.
This post contains affiliate links for your shopping convenience. Click to read my full disclosure policy.
What Tent to Buy
First and foremost, you need a good tent. When looking at the size of tent, I generally go for an 8 person tent (like the photo below) as that will fit 4 people nicely.
A thing to note with tents: when it says how many people it sleeps, imagine people lined up sleeping shoulder to shoulder so you always want to double the number that is on the tent box. You'll want more room than shoulder to shoulder!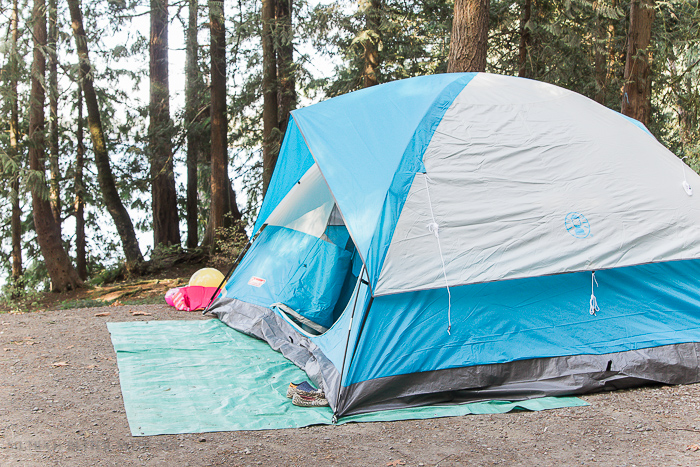 I chose a dome tent as they are the easiest to set up. I can set up this tent all on my own which is essential as a single mom.
A dome tent will usually come with 2-3 poles that insert through the top of the tent and get attached by circles or hooks in the bottom. They criss cross making it a super easy way to set up a tent.
These tents won't have much headroom but, like I can't mention enough, are super easy to set up.
Then there's a fly which is basically like a tarp for the tent. The fly comes with one tent pole to insert and just gets placed over the tent.
If you plan on having a bigger tent where pegs need to be driven into the ground, sometimes this can be challenging as the ground in campgrounds is very compact with gravel. The pegs can bend when hammered in and can be challenging. Just something to keep in mind depending on which campground you choose.
I have a no shoes policy in the tent so I keep a tarp under the tent that acts like a front door mat. I throw a tarp over the tent too if it looks like rain. It just needs to lay over it, doesn't need to be tied up.
The shoes stay here before you go in the tent and at night I make sure to bring them just inside the tent so no dew and creepy bugs crawl in them at night.
Normally I have a tarp big enough to have a mat area in the front and covers the length of the entire tent.
Shop Tents
Air mattresses & sleeping bags
First and foremost is an air mattress. Having a comfy sleep is important and nothing is worse than sleeping on hard rock. I have an air mattress and a separate pump but you can look for air mattresses with built-in pumps these days.
Be sure to check out my second camping post to see how I blow up my air mattress camping without any electricity!
I have one queen air mattress for Aaron and I and a twin mattress for each kid. It's a tight fit, but those three mattresses will fit in our 8 person tent. Two tents are what we use now, one for us and one for the kids. Depending on where you camp, most provincial campgrounds won't allow more than two tents on a site so be sure to know that before you buy!
Shop Air Mattresses
sleeping bags
I don't like sleeping in sleeping bags so I usually lay the sleeping bags flat over the air mattresses and bring an old comfy comforter. I also bring an old set of sheets that are fitted to the air mattresses.
Whatever you decide, sleeping bags are great to use (zipped up or not). There are so many sleeping bag types on the market. We have extra thick sleeping bags as we lay them flat over the air mattress. Depending on how warm or cool it gets at night where you are camping will determine the type of sleeping to get. I find the super lightweight sleeping bags are too lightweight and not cozy or warm enough for sleeping. Those sleeping bags are usually for backpacking.
shop sleeping bags
blanket underneath air mattresses
Make sure to bring a blanket to put underneath the air mattresses to prevent the air mattresses from moving when you turn over in the middle of the night. Just any kind of thick blanket will do. I sometimes use a hotel blanket.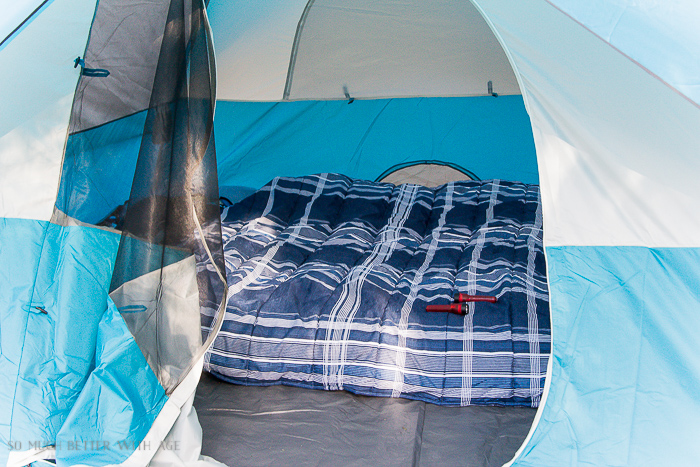 camping bins
I like everything to be ready to go when I go camping each camping season. I don't want to take anything out of my kitchen at home because that's when you'll forget something.
If something needs to be replaced for the next season and I haven't replaced it, I'll leave myself a note in one of the bins. This is such a HUGE timesaver for me! Just pop open the lid to a bin and voila! there's a note to myself.
A picnic table cover is always good to have as you never know the condition the picnic table will be in. The clips that go along with it never seem to fit any picnic table I've used so don't bother buying them. Picnic table weights are good or just some rocks on each corner will do.
I like to use a thick vinyl table cover so it can be easily wiped down. Don't get anything too expensive.
A canopy for over the picnic table is great for shade or to protect from light rain.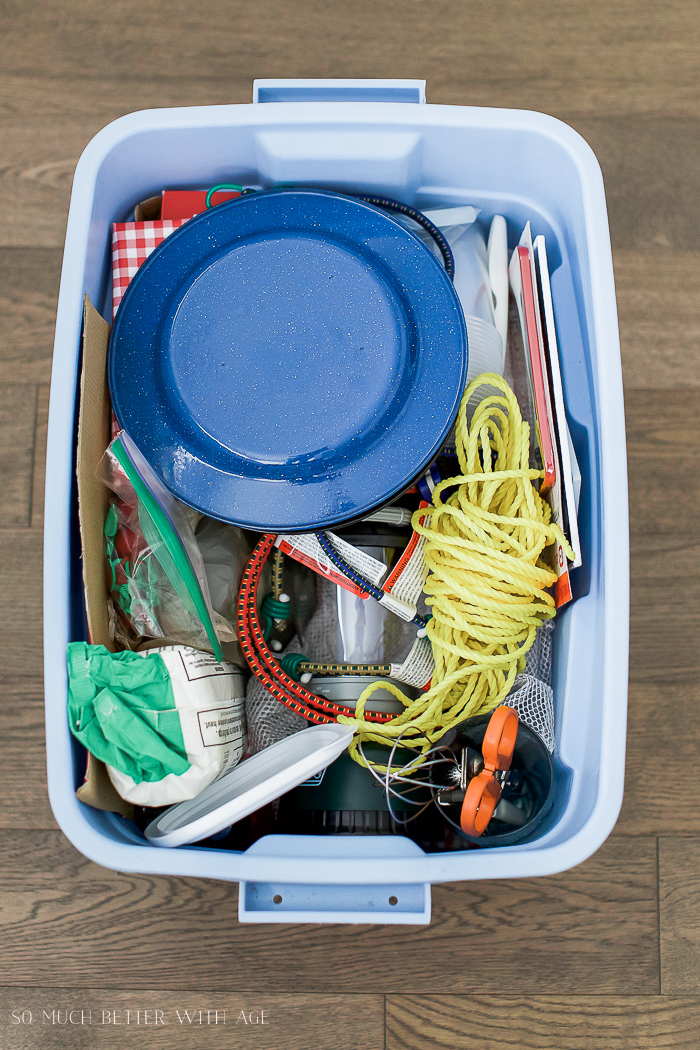 My camping gear fits into 3 big plastic bins. I'll pack 2 of the bins in the car and the other stuff from the third bin can fit around everything else.
I have a bin for the air mattresses and blanket that I talked about above.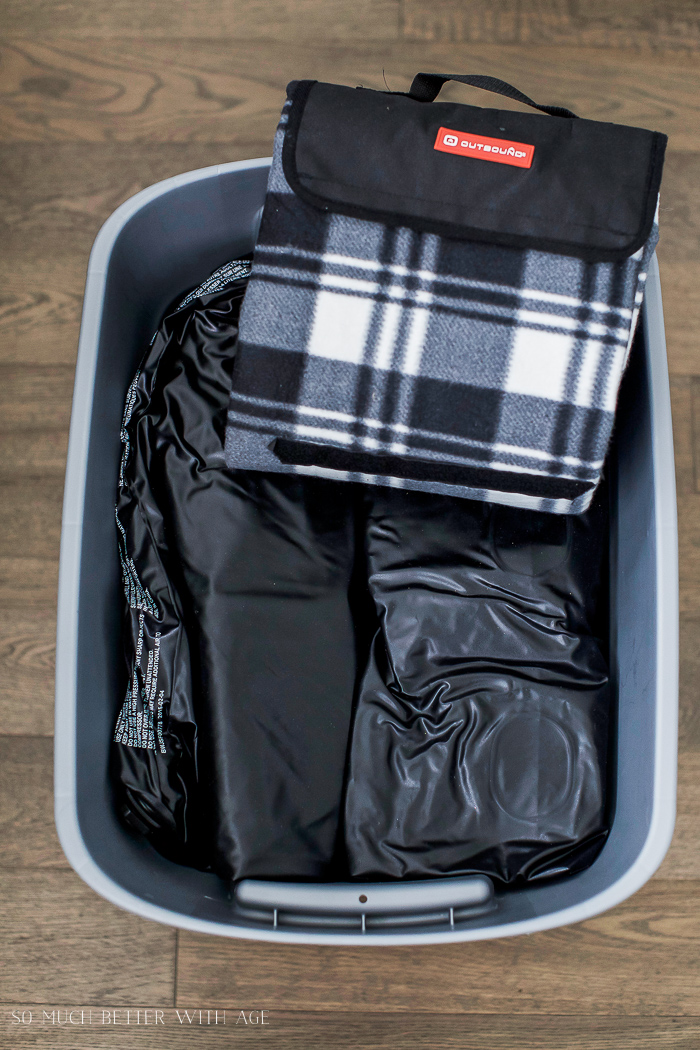 You'll want to make sure you have a camp stove that's in good working order and some small propane tanks. Two or three propane tanks is usually all you need for a weekend.
And don't worry, they are so easy to use. You screw the propane tank to the regulator and then the regulator into the stove itself, turn one of the burners to low and light a match under the burner.
I've had this Coleman camp stove for years and years and it still works great. It helps that it has its own carrying case for protection over the years.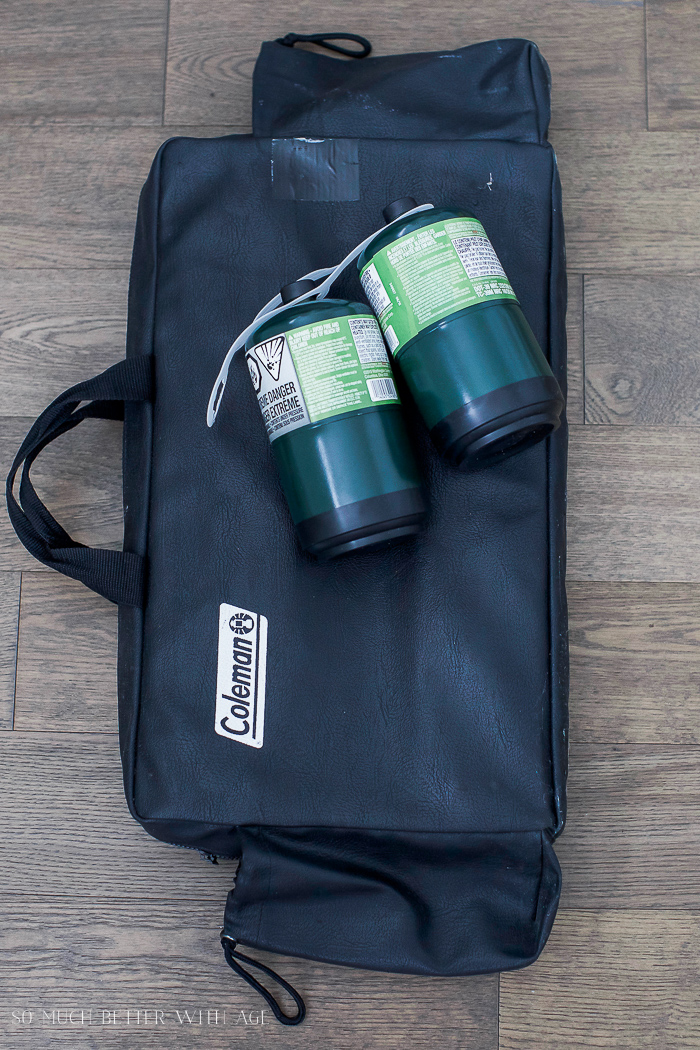 I usually bring an assortment of lanterns: flashlights for each kid, an LED lantern and a large propane lantern. Small flashlights are good to keep on hand for the tent and walking to the bathroom. Each person should have one.
If you can manage the camp stove, you'll be able to handle the propane gas lantern no problem too.
Of course, bungee cords are good to keep on hand as well as rope (I mention more rope below in the post too).
If you have LED lanterns, a propane lantern isn't necessary but we already have one.
The great thing about a propane lantern is that you can dim and brighten the light as needed. Great for playing cards at night but LED lanterns are also fine.
You should also keep some extra mantles in your camping gear too.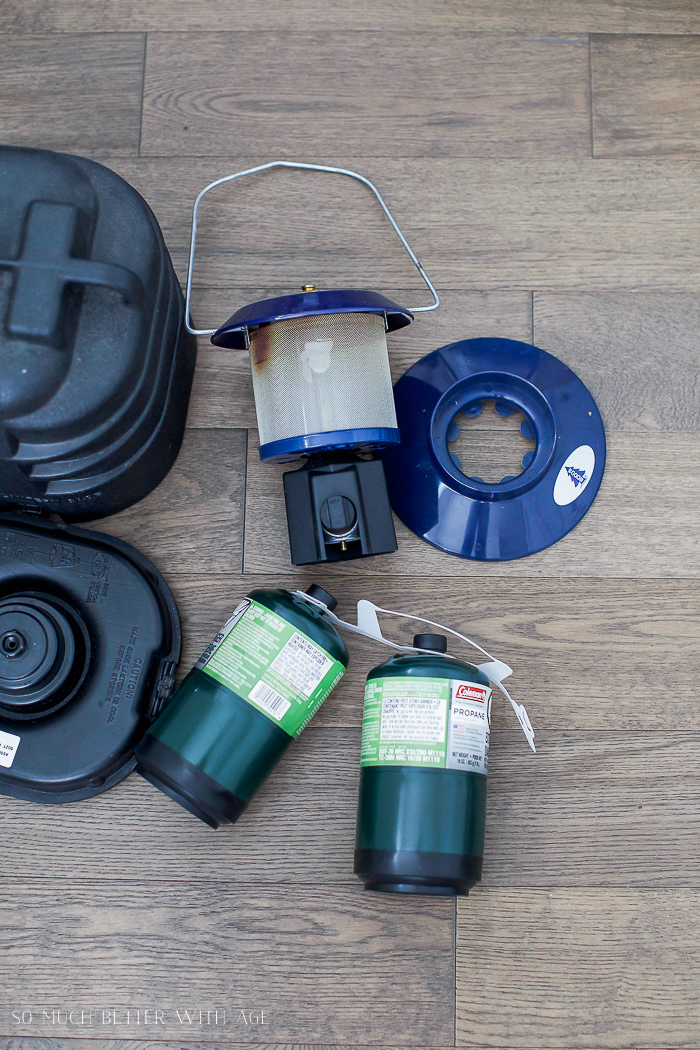 A cooler is a must! One with a bottle opener on the outside is also a bonus. If you have room for another one, two coolers is a good idea. One just for drinks and the other for food.
It doesn't need to be stainless steel but I upgraded to this one last year.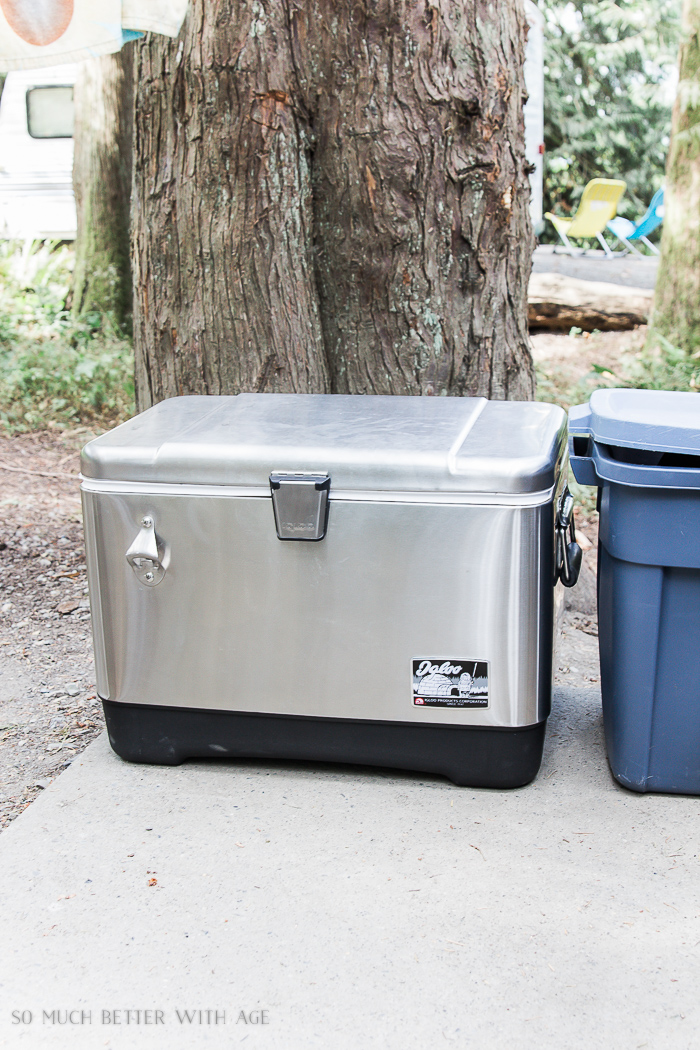 Another must are folding camping chairs. The picnic table will be used as a food prep table most of the time so having somewhere else to sit is nice.
Make sure you have one chair for each person. There are so many cool chairs for kids.
Shop Camping Chairs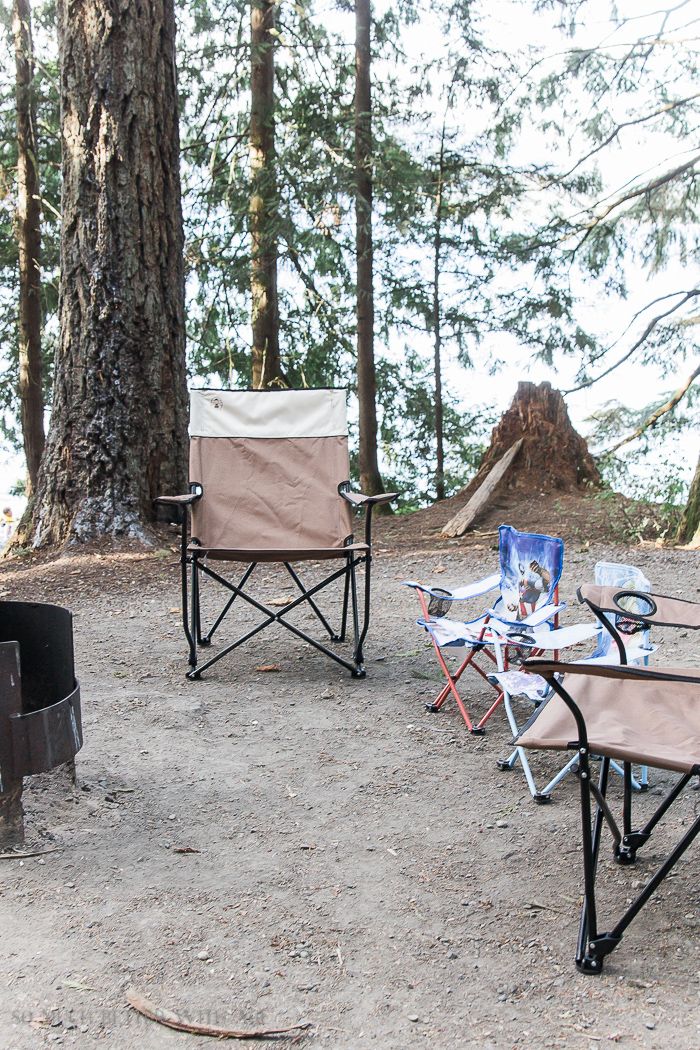 Washing dishes can be a chore camping so I make sure I have enough supplies to make it enjoyable. When it's sunny and the kids are playing, it can be fun to wash dishes outside.
I have a small bin with all the dish washing supplies in it. I can use the bin as a sink which is perfect to bring it altogether.
Actually I have three sinks and I either bring all of them or just two of them depending on how long the trip is.
Round plastic bin (like bottom right corner of the photo) is the best for a sink but it's a bit bulky to pack. I have two of these from the dollar store and they work great. I've tried many foldable sinks as well but they all seem to eventually leak.
This collapsible sink looks awesome, I haven't tried it but looks like the perfect sink.
You'll definitely want to get Campsuds. It's an environmentally friendly soap and you can use it for washing yourself in the lake too.
My kids go swimming in the lake the whole time we're camping so right before dinner I'll wash them up with this soap in the lake and that's their bath!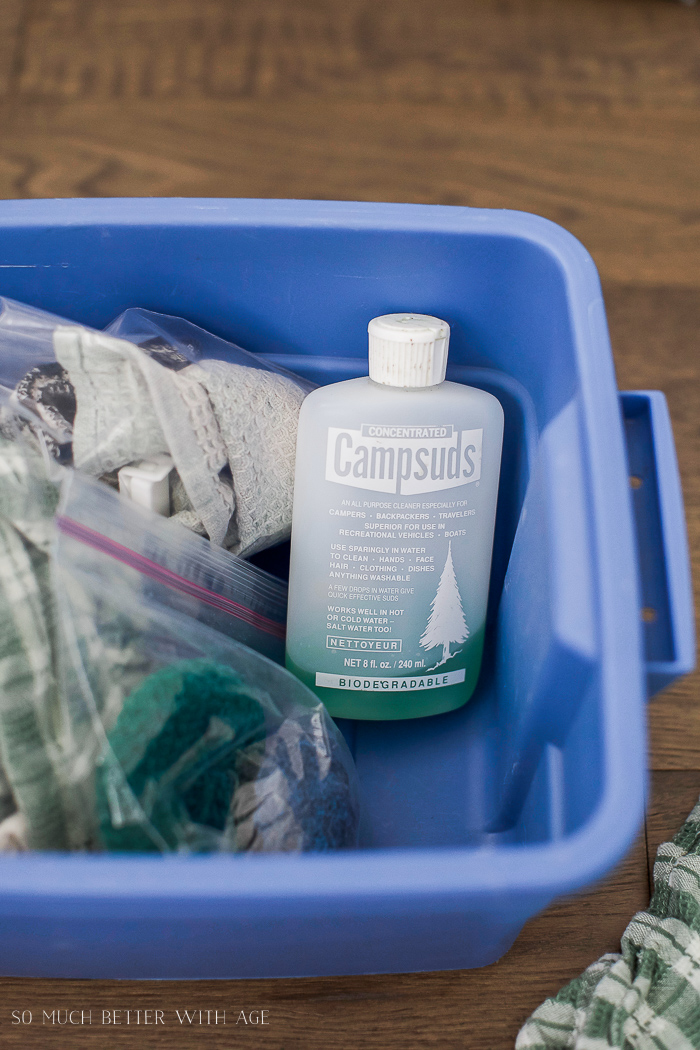 I bring a plastic scrubby thing and an SOS pad for extra cleaning.
I also buy a bunch of tea towels and dish cloths from the dollar store and add them to my camping bins.
Here is everything I need for cooking. Depending on what you're cooking, I like a couple of pans and pots. This enamelware camp set I've had for years. They are durable and easy to clean.
I always bring paper plates and use those the majority of the time. It's easy just to use them and dispose of them. But if you're cooking things like steak and corn on the cob, I always prefer my enamelware plates so just something to keep in mind.
Shop Enamelware Sets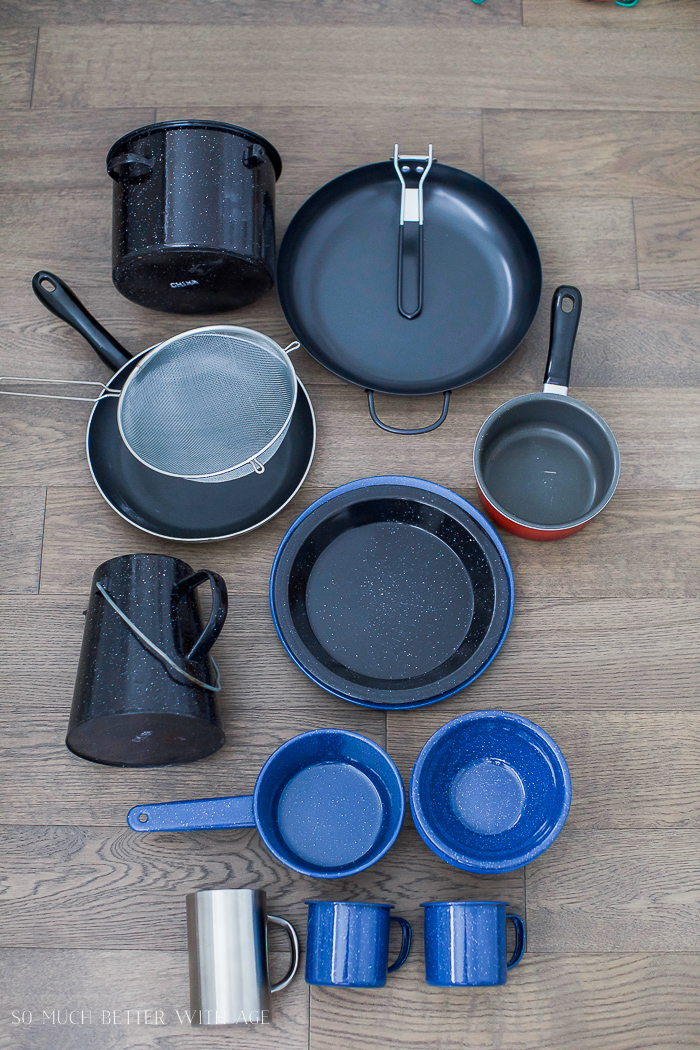 Here is everything I bring for utensils. I like using these thick plastic knives, forks and spoons as they are much sturdier to use than disposable plastic cutlery and not as heavy or expensive as regular flatware.
wooden spoon
tongs
flipper
large plastic spoon
whisk
wine opener
can opener
steak knives (safely wrapped)
paring knife (safely wrapped)
camping multi–tool (this one is so cool with a hammer!)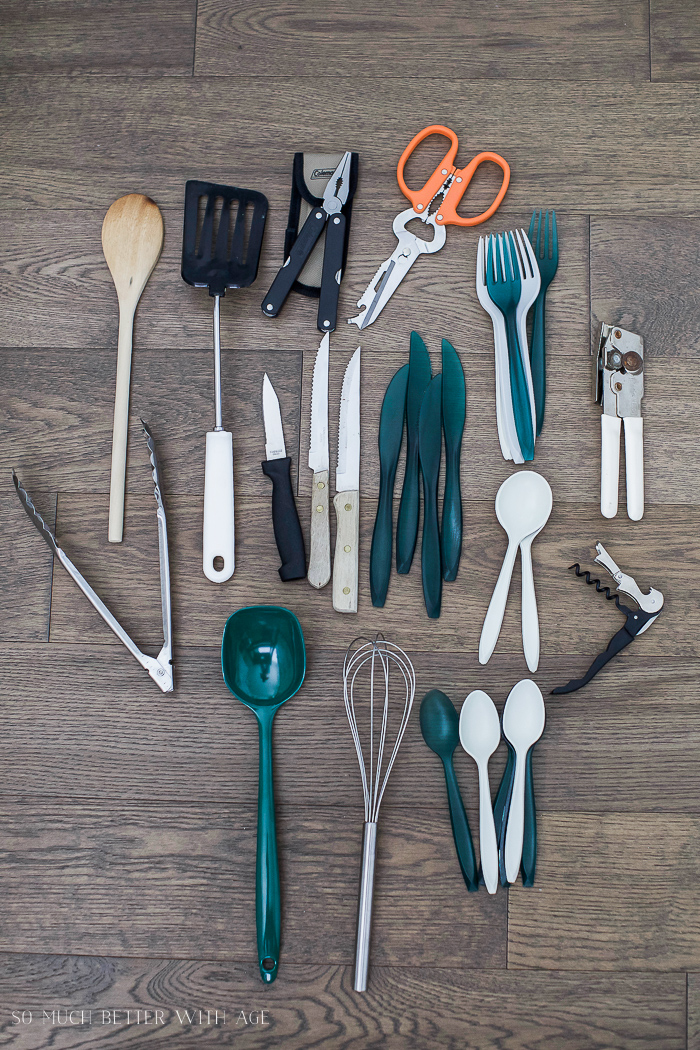 Because I'll forget to bring my hammer from home, I always leave this plastic mallet and broom set in the camping bins along with lots of twine and rope, clothespins, mirror with stand (trust me, it will come in handy), mesh utility bags, small broom and dustpan for inside tent.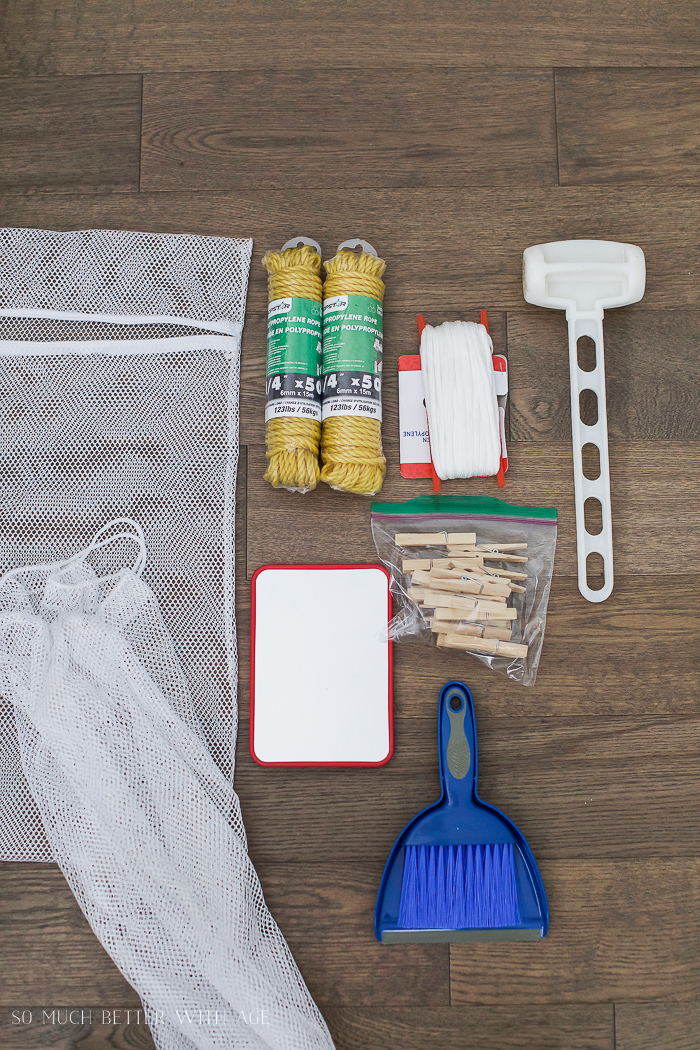 You'll definitely want to hang towels and tea towels to dry on a clothesline. Bring rope to tie around two trees.
I also have specific towels I take camping. I've had to mop up picnic tables and such from rain so I always make sure to bring a bunch of older or cheap towels.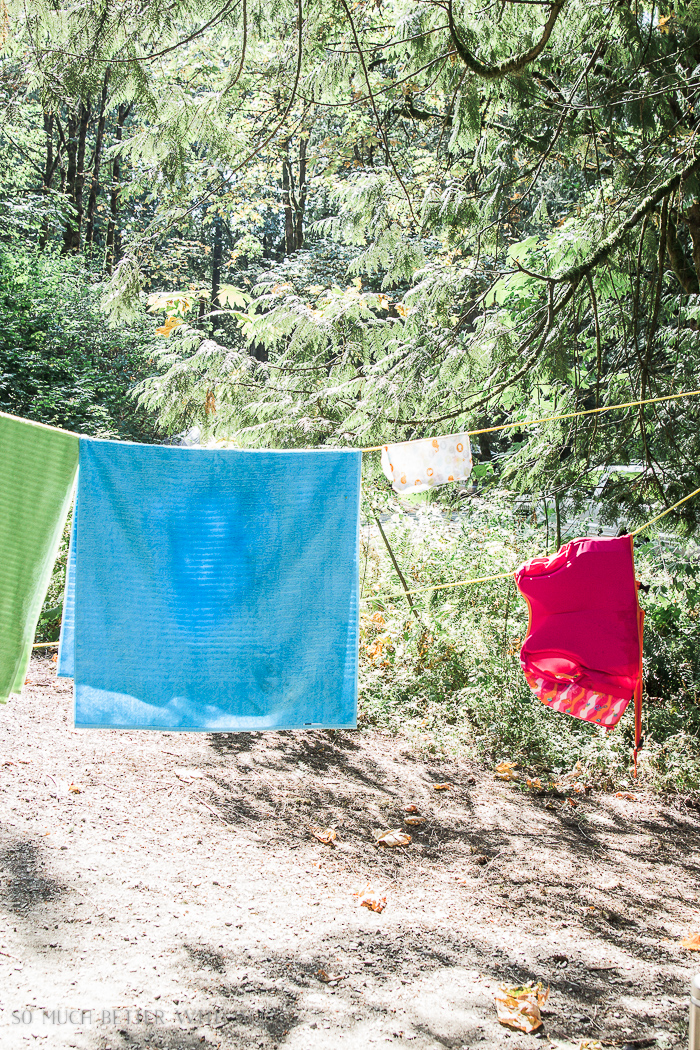 More kitchen supplies are a small cutting board, cheese grater, plastic butter dish, egg container, multi-spice jar, salt & pepper, camp stove toaster and extra storage containers for leftover food.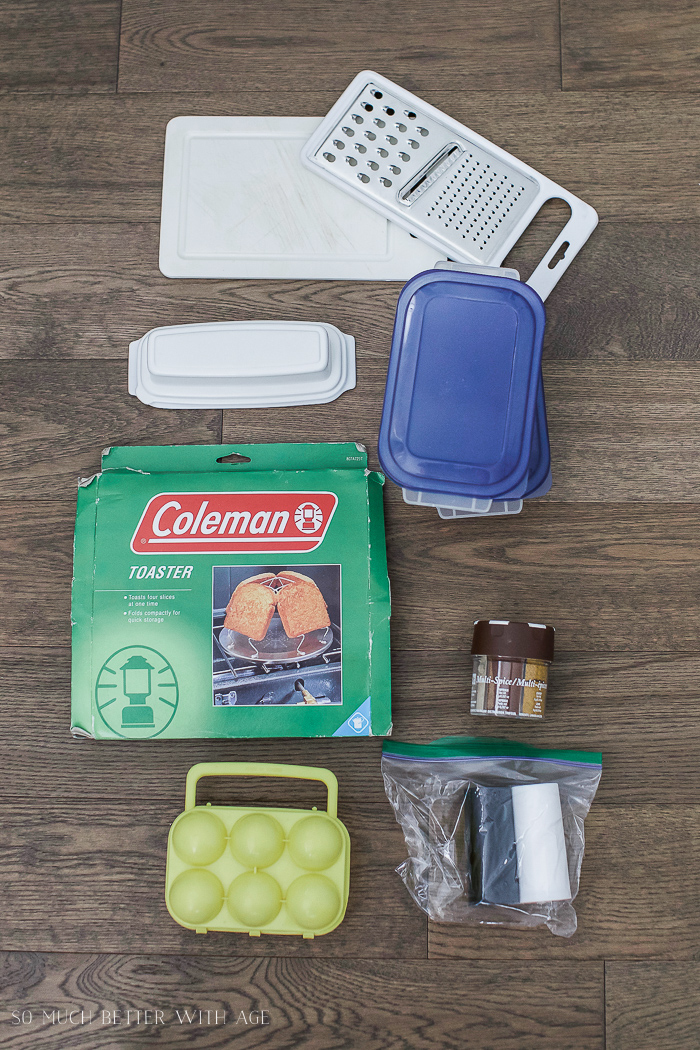 A fire log is a great way to start a camp fire. I don't always use one but if it's been raining it's a great thing to keep on hand.
You'll also need an axe and hatchet.
I have a plastic sealed bag with matches and waterproof matches and quick lighter.
But with all our fire bans in the last few years, we've bought a propane fire bowl. It's great for turning on any time of the day.
I keep garbage bags, large and small plastic storage bags for leftover food and 100 other reasons and aluminum foil for BBQ over the campfire.
Make sure to buy these for your camping bins so you don't have to take them from your kitchen.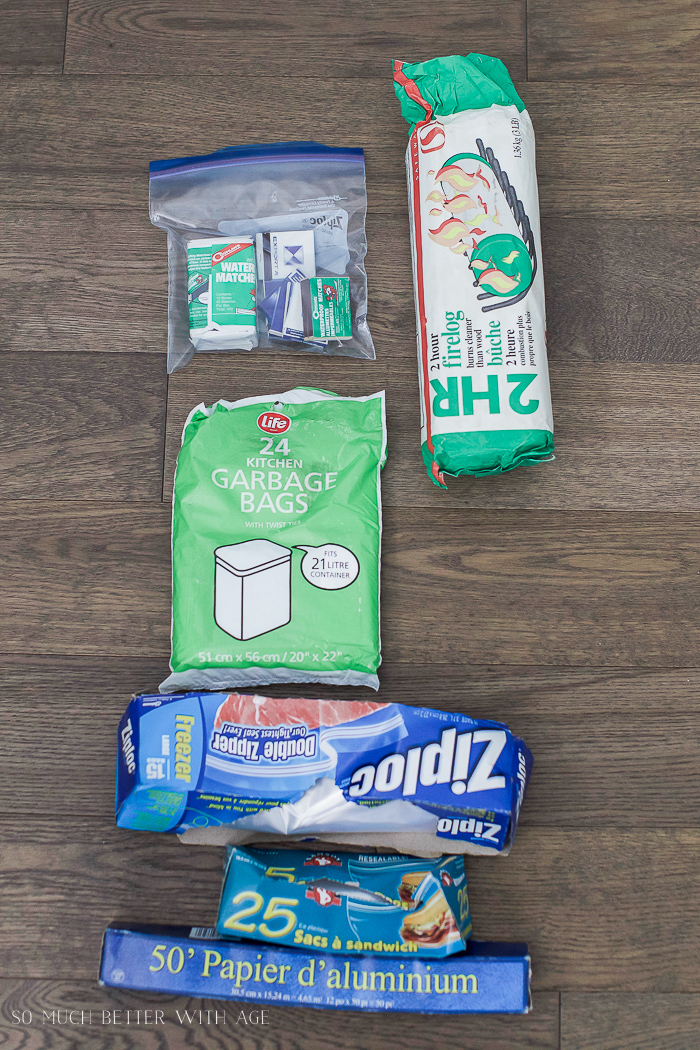 Most important: toilet paper! Also be sure to have paper towels, a pump for your air mattresses (I have one that hooks up to your car cigarette lighter for easy blow up), mesh food cover, cards and games.
I always keep these foldable zipped bags from the dollar store in my camping bins to transport the food in.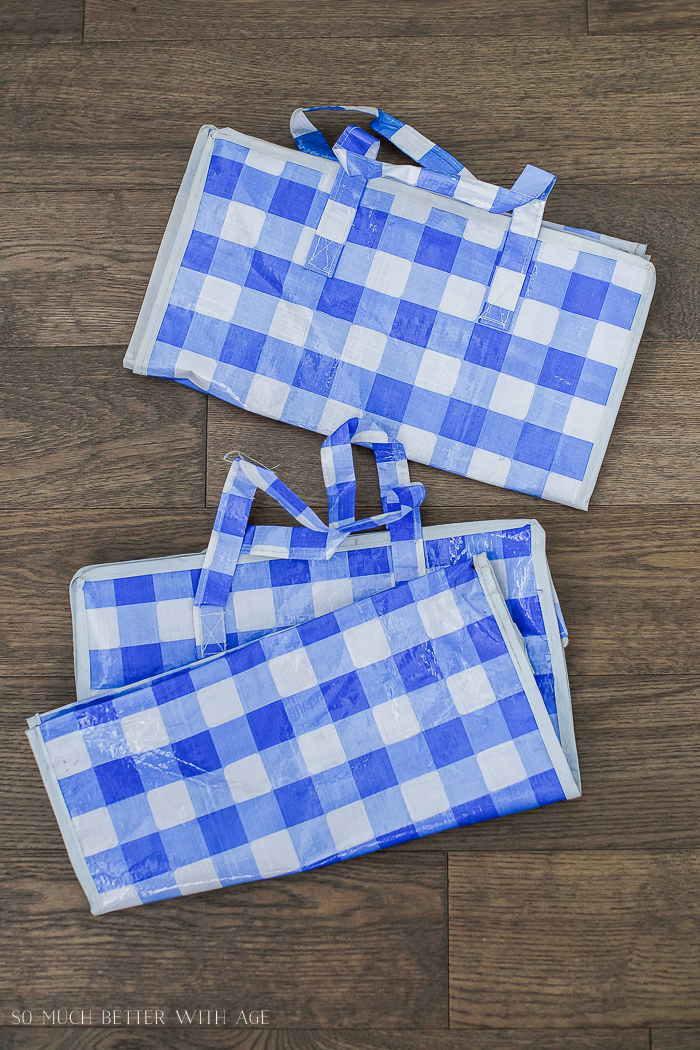 Some things I didn't take a photo of is an ax, a hatchet, newspaper for starting a fire, telescopic forks/sticks for roasting marshmallows and hot dogs and a roasting cage. This is perfect for BBQ chicken or steak over the open fire.
You'll also want to bring lifejackets, floatable toys and possibly water shoes if you are camping near a lake.
And one of the most important thing not to forget is bug repellent!
See below for the post on how to set up camp and what food to bring.
Check out my short video on camping!
Printable:
To download these printables, subscribe to my newsletter.
If you are already a subscriber, you'll have access to the printable in your inbox.
Source List with extras:

Make sure to pin it for later!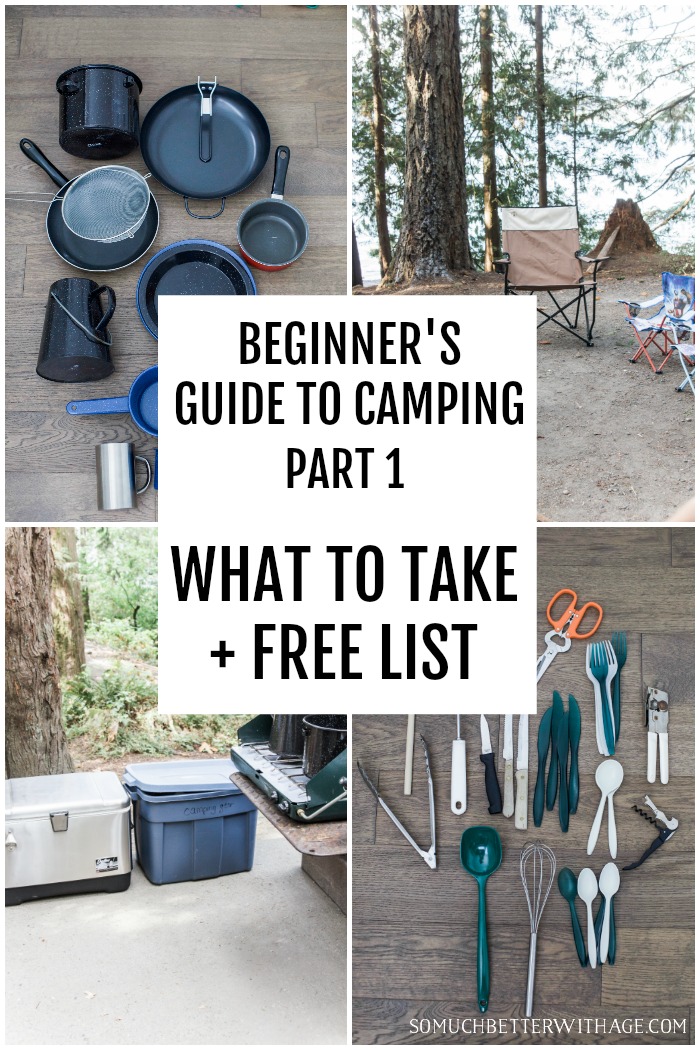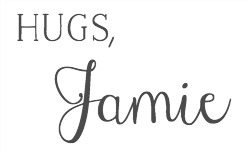 Click in Case You Missed:
How to Set Up Camp & What Food To Bring
RV Camping – Dry Camping & Partial Hook-Up Tips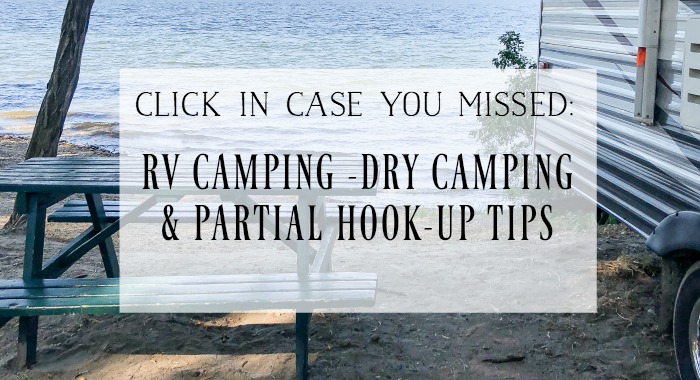 SaveSave