10+ Heavily Distressed Chippy Furniture Pieces
I love the look of heavily distressed chippy furniture and here are some of my favourites!

I have a confession. It's not earth shattering by any means but here it goes…. I LOVE CHIPPY FURNITURE.
There I said it.
The thing that I love about heavily distressed / chippy furniture pieces is that you can put them in a room that is very simple and not at all shabby chic and they will really stand out. I think that is awesome!
Ready for some heavily distressed furniture pieces??
Here it goes…
I've been wanting to heavily distress this wooden cabinet for years after my toddler son keyed it (yes, he took my set of car keys and went crazy on it).
Not quite the distressed look I was going for.
Here is my inspiration piece. I've had this pinned from the moment that Kathy published this post. I mean seriously people.
You are either going to love it or hate it (just like her post says!) and I LOVE IT! Way to go, Kathy!
Petticoat Junktion – Controversial Heavily Distressed Dresser
So here are more heavily distressed / chippy furniture I found out in blogland. I know there are a ton more but these are my faves!
***
Miss Mustard Seed – Chippy Ironstone Dresser
No distressed blog post round-up would be complete without one of Marian's pieces! She's introducing one of her paint colors with this gorgeous piece.
Junk Chic Cottage – Chippy Shutters Armoire
Um, amazing! You won't believe what this gorgeous armoire looked like before! Hello chippy shutters.
Savvy Southern Style – Ironstone Milk Paint Dresser
I love Kim's chippy night stand. She never intended it to look like this but I'm so glad her project failed! LOVE it.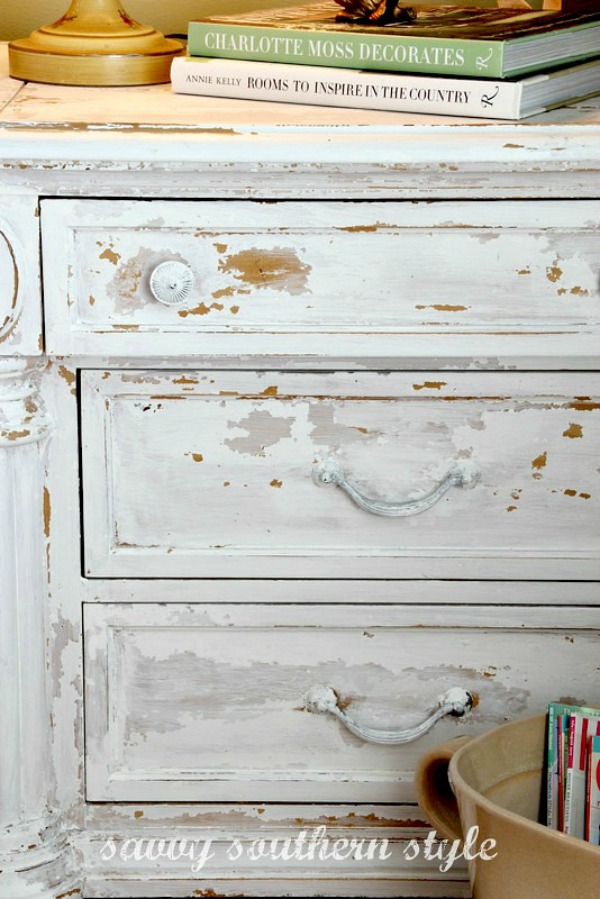 The Golden Sycamore – Chippy Yellow Telephone Table
I love Allison's painted furniture pieces and this one is no exception. The flaking milk paint (by Miss Mustard Seed) is amazing.
Pet Scribbles – Chippy Antique Secretary
I love this antique secretary. Laura used petroleum jelly as a resist that gave it that awesome chippiness. I love the colors and would die to have this in my home.
Finding Silver Pennies – Heavily Distressed Dresser
This is amazing. Danielle used Miss Mustard Seed Milk Paint to achieve this fantastic look. And the color is gorg.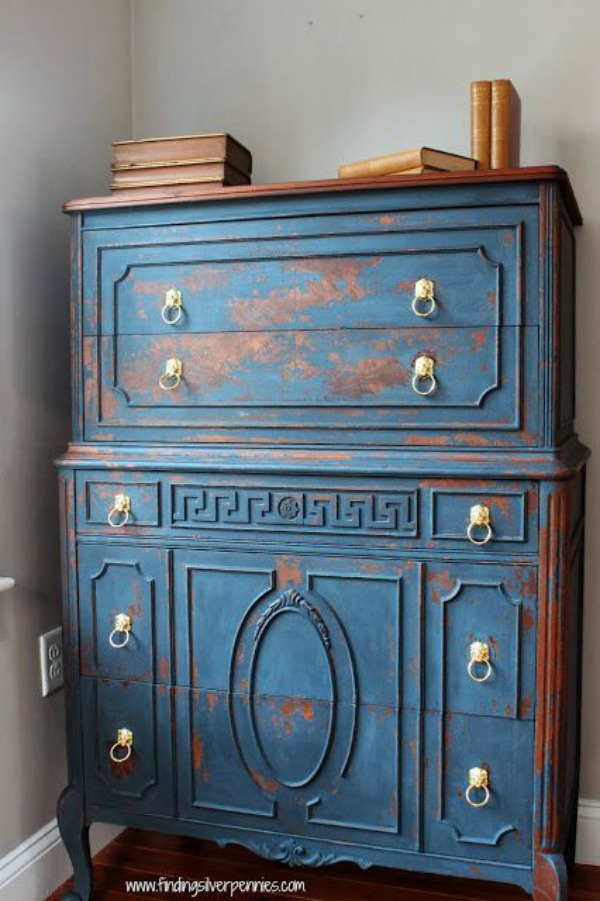 Simply Reinvented – Chippy Striped Chest
Way to go, Cindy! This dresser has stripes, grey, white and burlap. All of my faves wrapped up into one amazing chippy piece!
Home by Ally – Chippy Cabinet
This cabinet is pure perfection in my opinion and it just came this way naturally.
What do you say, Ally, can I have it? Shipping can't be that much to Canada, right?
And here is one of my naturally chippy shelves I found in our old house.
I turned it into a coat rack for my daughter's room just using a large cabinet handle.
And now here is the project that I'm working on.
Just a teaser photo…
So what do you think?
Are you a fan of heavily distressed / chippy furniture like me?

Sharing at these parties & Jennifer Rizzo & Remodelaholic