DIY Small Wooden Display Case (or French Cheese Safe)
Making a small wooden display case (or French cheese safe) is easy by following my detailed instructions.
Disclosure: This post may contain affiliate links. Please read my disclosure policy.
A French cheese safe is a place where cheese was stored on the counter in a French country kitchen. The safe or cabinet was covered in a fine screen. Because the cabinet is small in size, it makes for a beautiful countertop or console table piece to display decor.
I created a replica for my book, French Vintage Decor, and used a thicker wire mesh than would normally be used. It's a great way to display any cute decor or kitchen items rather than just cheese the way the French once did.
I'm sharing the details of how we did it today in full detail! Once you know how to make one, you can customize it to make one that is truly custom for your home.
Before we get started, I'm sharing with you some authentic cheese safes so you get an idea of what these small wooden cabinets truly look like.
Examples of Vintage Cheese Safes
How to make a small wooden cabinet or cheese safe
Here is what you'll need.
Materials:
(2 inch nails just for door frame)
Sander and sandpaper
Cut List
Back and Front Frames:
Top & bottom: 1 x 2 cut 13 ½ inches long – four pieces
Sides: 1 x 2 cut 21 inches long – four pieces
Two side frames:
Top & bottom: 1 x 2 cut 9 long – four pieces
Sides: 1 x 2 cut 24 inches long – four pieces
Door:
Top and bottom 1 x 2 cut 10 ½ inches long- two pieces
Sides 1 x 2 cut 18 inches long – two pieces
Brace for shelves: 1 x 2 cut 9 ⅞ inches long – 2 pieces
Shelf slats: 1 x 3 cut 12 inches – 3 pieces
Bottom and top: 1 x 6 cut 12 inches long – four pieces
Middle piece 1 x 2 cut lengthwise to 1 inch and 12 inches long
Inner support posts 1 x 1 cut 22 ½ inches long – four pieces
Directions:
Glue the 3 pieces together for the base and 3 pieces for the top.
2. Build the back frame and side frames by hot gluing them together.
3. Wearing gloves, cut the mesh or screen with more than needed for the back and side frames, then staple it in place on each frame and pull back the excess mesh to cut off.
4. Glue the support posts into place using the frames as a reference for straightness.
5. Once the support posts are secure, measure halfway up the support posts and using a square, mark a line with a pencil for the shelf.
6. Glue the shelf braces and glue on the shelf slats using the hot glue.
7. Glue the back frame first making sure it's centered with equal distance on each side
8. Then glue the side frames into place. The frames go in front of the bottom base not glued on top.
9. Glue and nail the front frame (the only frame without a screen).
10. Dab glue on top of each post and insert the top.
11. Secure everything now with a brad nailer, nailing in approximately every four inches (about 3-5 nails on every frame board) making sure your nailing into the support posts and frames nailed to each other.
12. Glue and nail the door together switching to 2 inch brad nails and install the screen using the same directions as above.
13. Sand everything down for a smooth finish.
14. Install hinges spacing out evenly and install the handle or latch.
Sidebar: Make sure the best side of the wood is facing out. Always choose the straightest pieces of wood. Dry fit everything first. Work on a flat level surface.
The finished result
It's the perfect wooden cabinet to display any cups and bowls are sweet vintage decor items.
What do you think? Do you think this is something that you can build yourself? Let me know in the comments below!
Shop for Supplies

Make sure to pin it for later!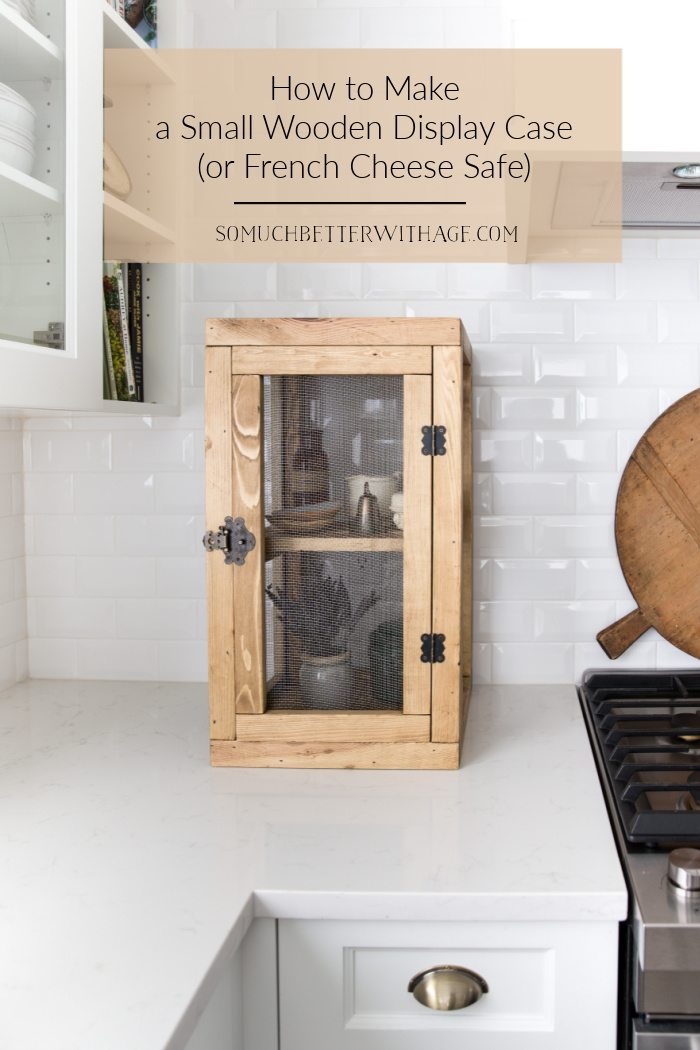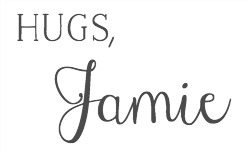 click in case you missed:
How to Repair Badly Damaged Furniture
How to Install Simple Picture Frame Moulding