How to Deal With Curtains and Baseboard Heaters
It's a challenge! Can you hang curtains over baseboard heaters?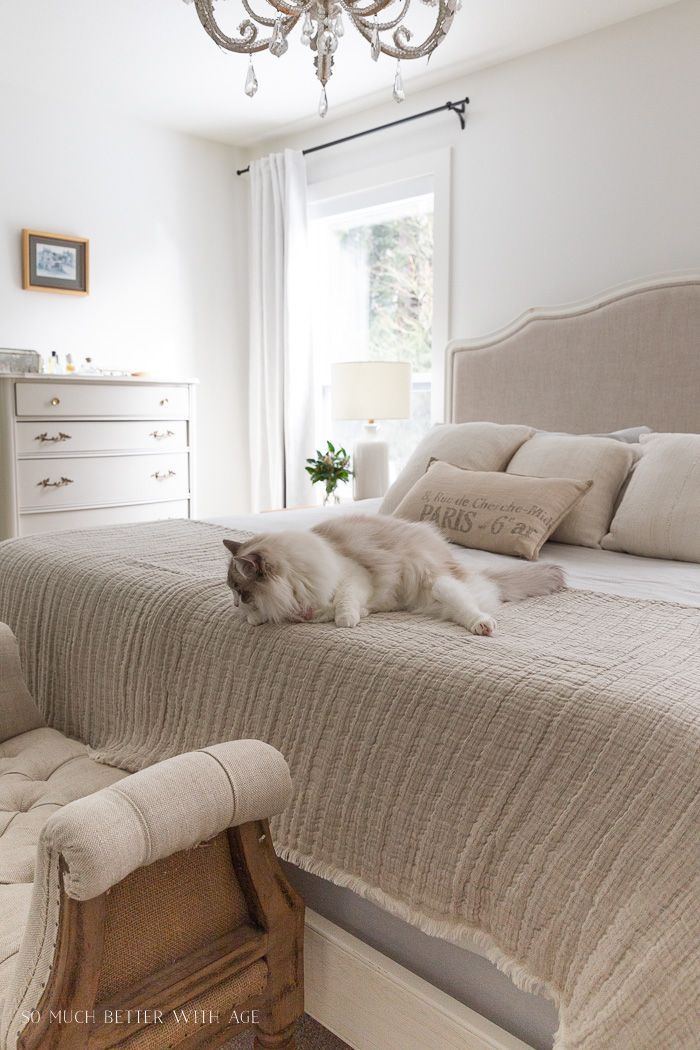 Disclosure: This post may contain affiliate links. Please read my disclosure policy.
There is a real challenge in decorating world and that is how to deal with hanging curtains when you have electric baseboard heaters in the way.
I mean, I know you shouldn't leave curtains hanging over baseboard heaters but we rarely use our heaters. How bad can be it?
I first noticed some stains on the bottom of my curtains when I decided to add blackout fabric to these store-bought curtains and laid them out on the floor. You can see the staining on the bottom of the curtains.
I thought I spilled some water off my night stand and it trickled down to my curtains and stained them. I then went about adding blackout fabric to the curtains and never thought about it again.
You can see how much the curtains puddled on the ground in the photo below.
This is photo (below) where you can see slight staining near the bottom.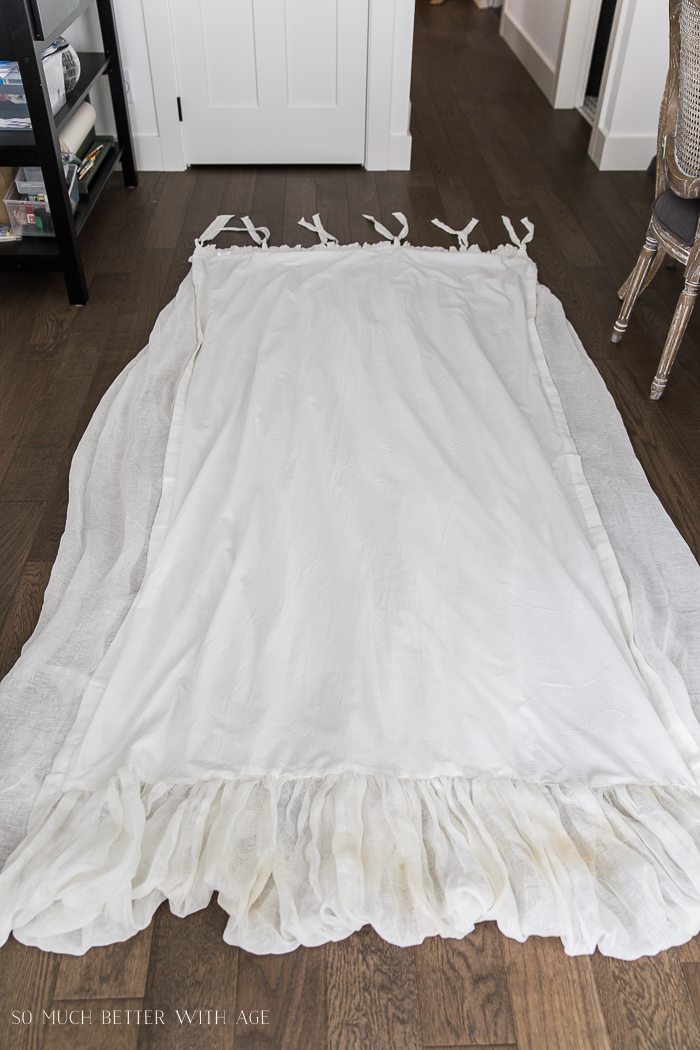 Fast forward a few months and the staining was so bad I then realized it wasn't a water stain, they were actually getting burned by the heater!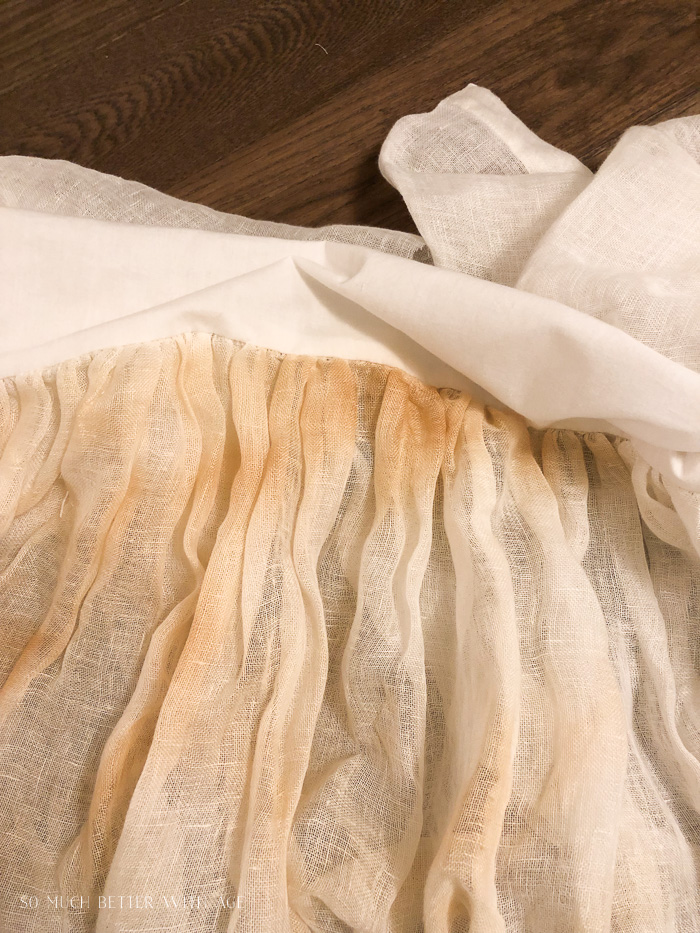 So scary! This is the excess that I cut off the curtains as I hemmed them.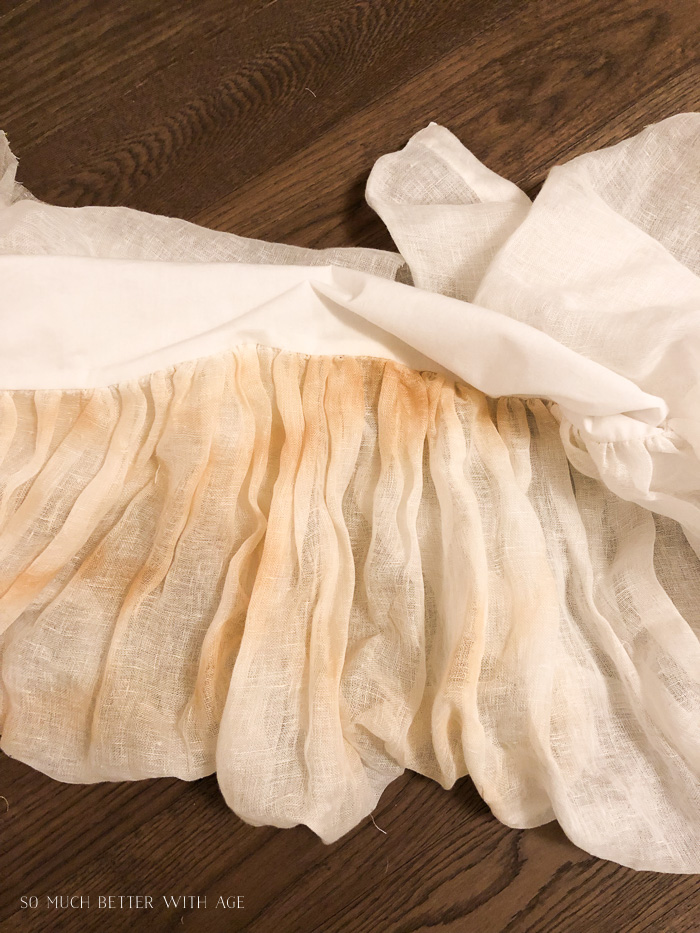 I did hem those curtains and used them in my bedroom for a number of years. But just recently I switched up my curtains for these ones.
Can you really hang curtains over baseboard heaters?
The answer to that question is YES as long as they are above the heaters.
These are the new curtains I just purchased and I made sure that the length of the panel hovered above the heaters.
They hover above the baseboard heater a couple of inches. The length of these curtains are 84 inches and the width is 50 inches.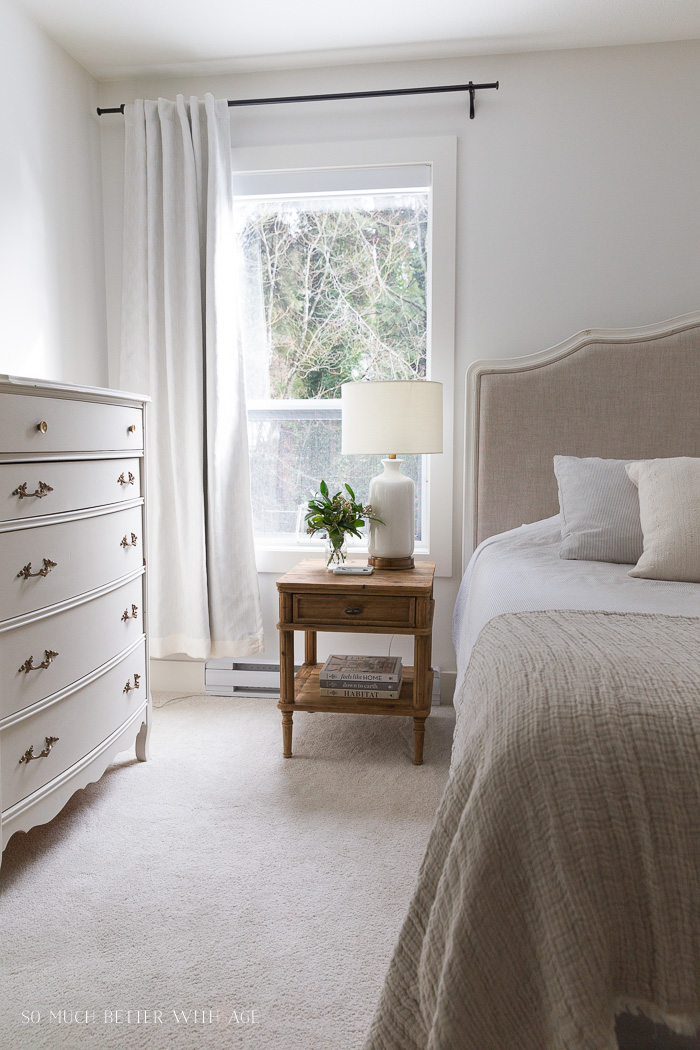 I know curtains look best when they are floor length but when you have electric baseboard heaters under your window, you can't have them touching. I think just above the heater looks fine.
That's how I have them in my son's room too.
I swear my cat just finds any place she can to get in my photos.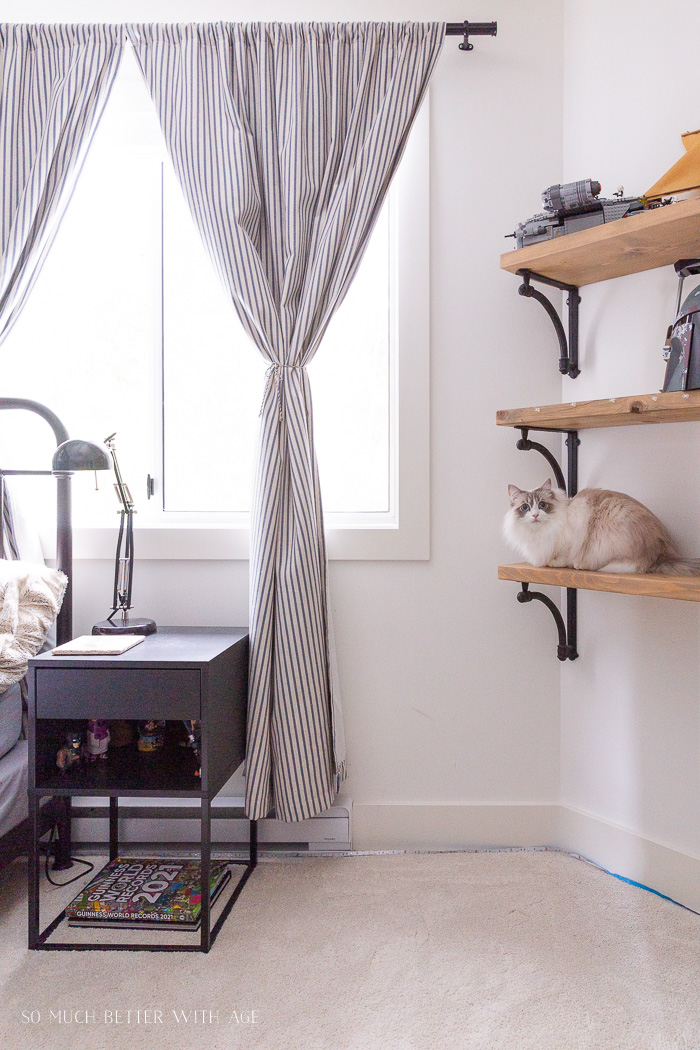 What if I don't pull the curtains across?
Recently I had some custom curtains made for a client and we came across the same situation. Except as a guest room, she didn't need full blackout curtains drawn in the room and was happy with the new roller blinds she just had installed. So we had custom curtains made just to hang on either the side of the window and not fully closed.
This isn't the greatest photo as it was quickly snapped when the installer had finished but it gives you an idea of how they always look, never closed, always just hanging open.
I think they look so pretty!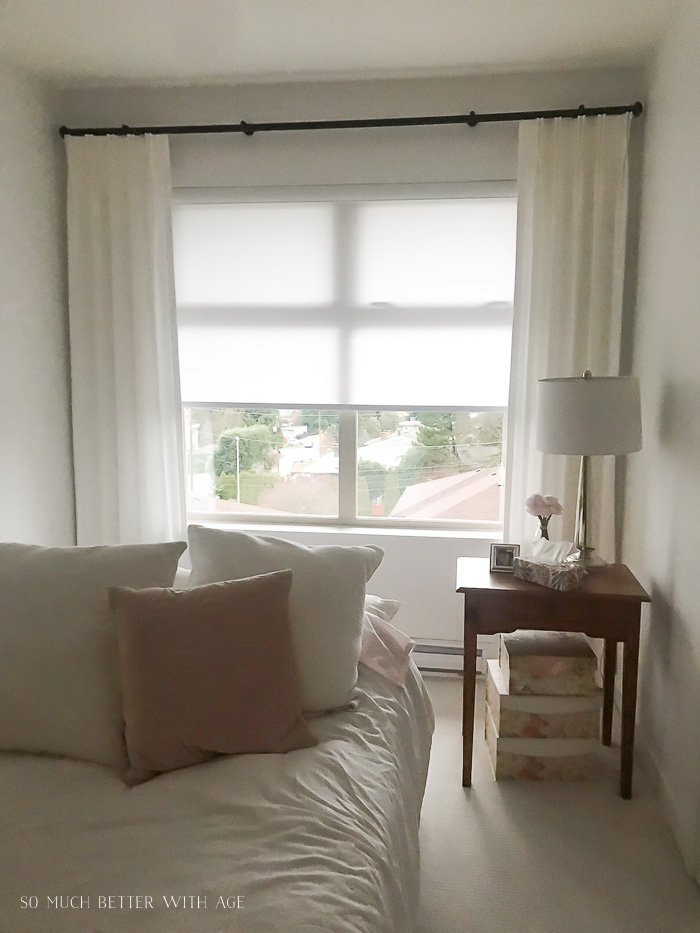 Here is a close-up of the curtains I recently purchased.
Willow tab curtain in beige 84″ panel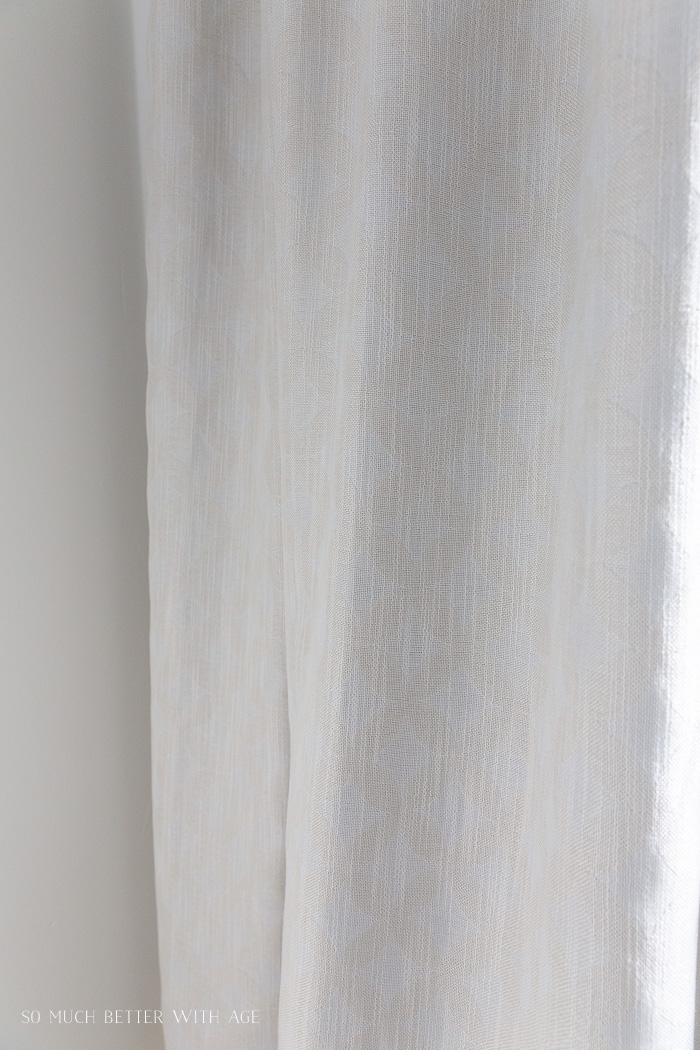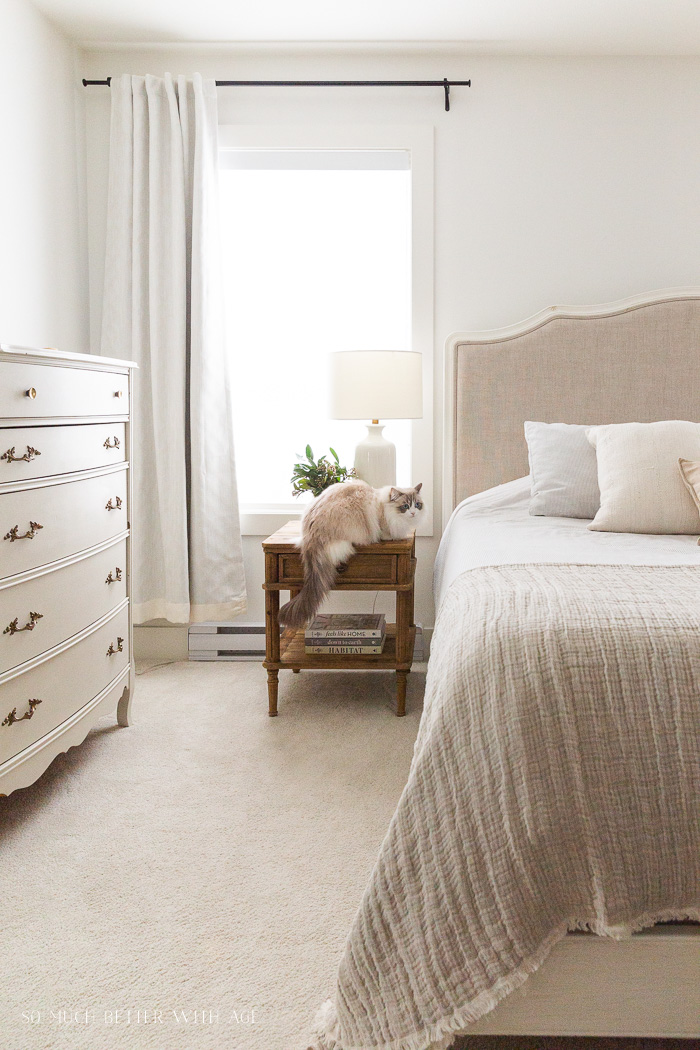 What do you think? Do you think this is a good alternative to hanging curtains when you have electric baseboard heaters? Let me know in the comments below!
Shop for Curtains

Make sure to pin it for later!