I'm sharing an honest review of the Pottery Barn slipcovers I purchased for my Cameron roll arm sectional.
I bought new slipcovers for my new-to-me-second-hand Pottery Barn Cameron roll arm sectional and I'm going to tell you all about them!
When I first moved into my house after the renovations were done, I had my favourite English roll-arm couch that I put in the living room and I still needed a couch for the TV/play room area in the basement.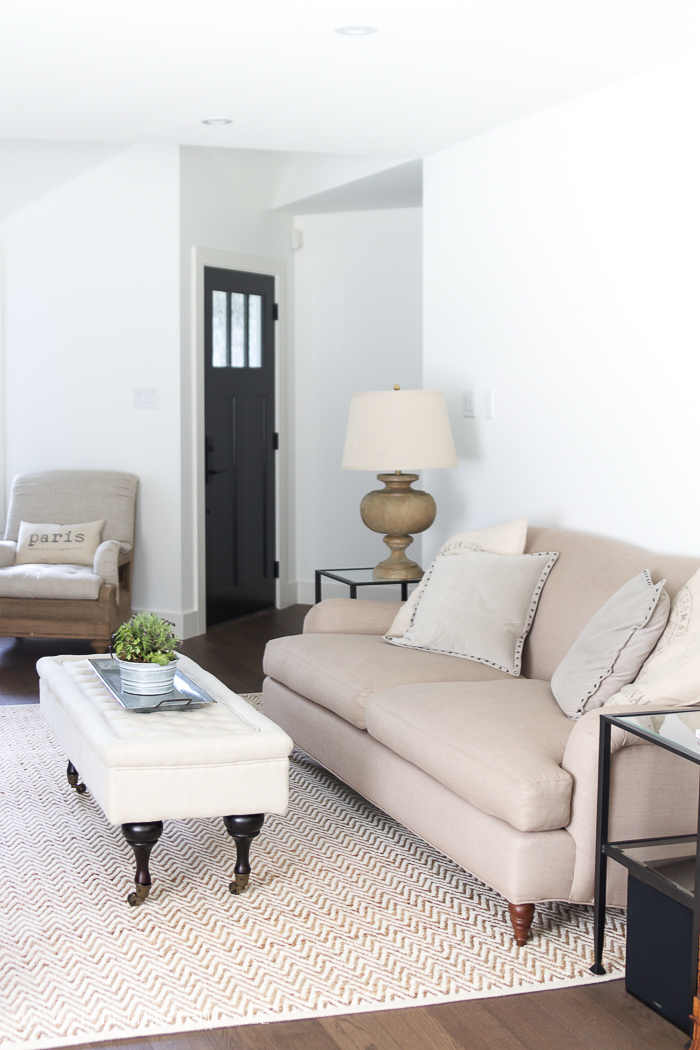 This is what the couch looked like in my previous house.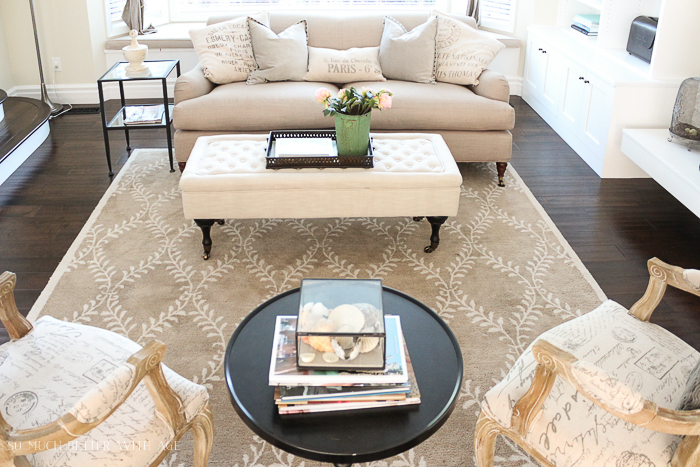 This post contains affiliate links for your shopping convenience. Click to read my full disclosure policy.
One of the teacher's at my kids' school was selling her Pottery Barn Cameron roll arm slipcovered sectional so I bought it from her for the basement of my new house and had it delivered shortly thereafter.
The problem was that it wouldn't make it down my basement stairs!
The couch is very boxy and my staircase I guess is on the narrow side so the movers had no choice but to leave the sectional upstairs. I asked them kindly to move my English roll arm downstairs which they did.
But the sectional was way too big for my living room. The only way I could leave it in my living room was to take corner section out!
I don't have a photo of the whole sectional in my living room as I had to remove one piece completely or you wouldn't be able to pass in front of it to get to the kitchen! I took the corner section out in order for the couch to fit and I knew this would only be a temporary solution. The couch moved when you sat down in that corner because it wasn't attached in any way, it was just butted up again the wall and I covered it up with pillows.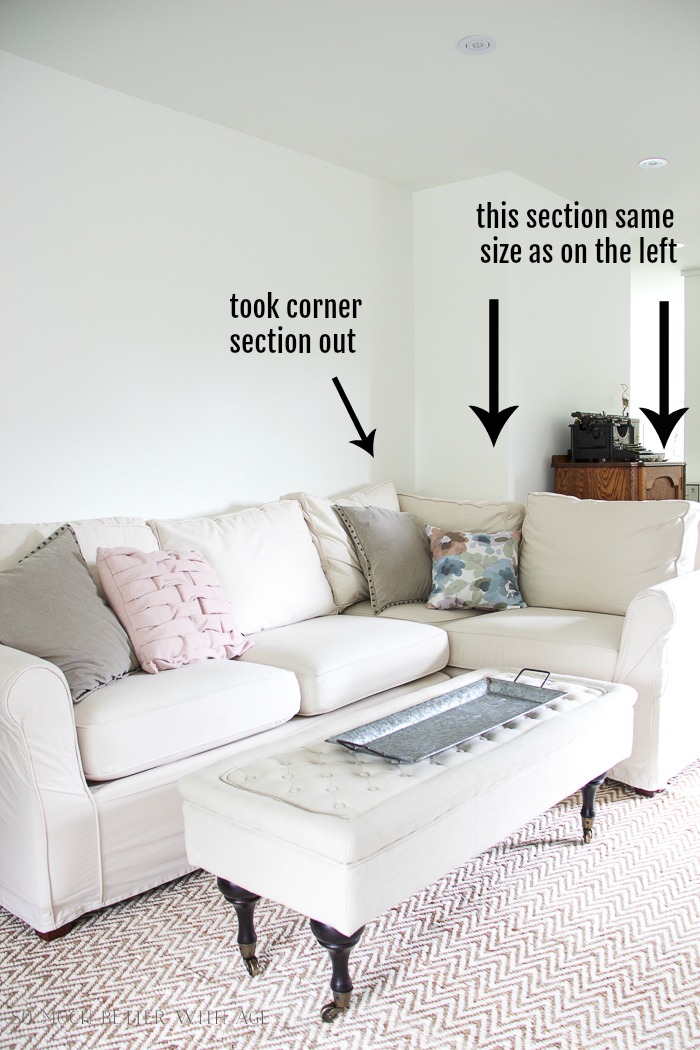 Luckily, Pottery Barn still carries the Cameron roll arm slipcover sectional so I was able to order that third piece and put back the corner piece.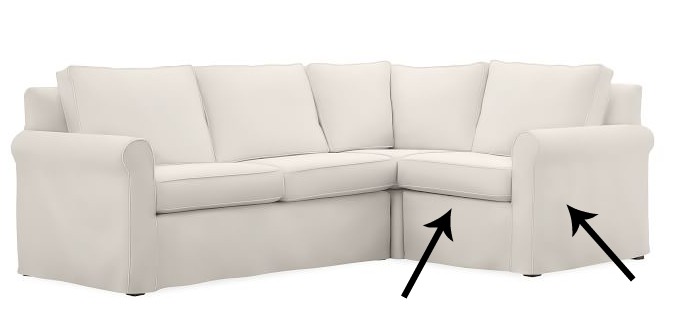 Long Story Short – The Slipcovers
This is long story but I promise I'm coming to the slipcover part.
So now that I ordered a new shorter end piece, the current creamy-white cotton slipcovers wouldn't fit so I had to order all NEW slipcovers from Pottery Barn. At this point, I could have just ordered a brand new sofa from Pottery Barn with slope arms but I'm too far in now to go back.
(Remember – this couch was supposed to be in the basement!)
I will say, I wasn't happy with their cotton slipcovers anyway. When I washed them on cold, they still shrunk. You can tell in the photo below that they are quite tight around the legs.
I should have looked prior to washing them but afterwards I checked the label and it said dry-clean only. I have two kids and this is our main living space couch so there was no way that I was going to be running the slipcovers to a dry cleaner every month! I knew that I wanted slipcovers that could be washed and dried in my washer and dryer at home.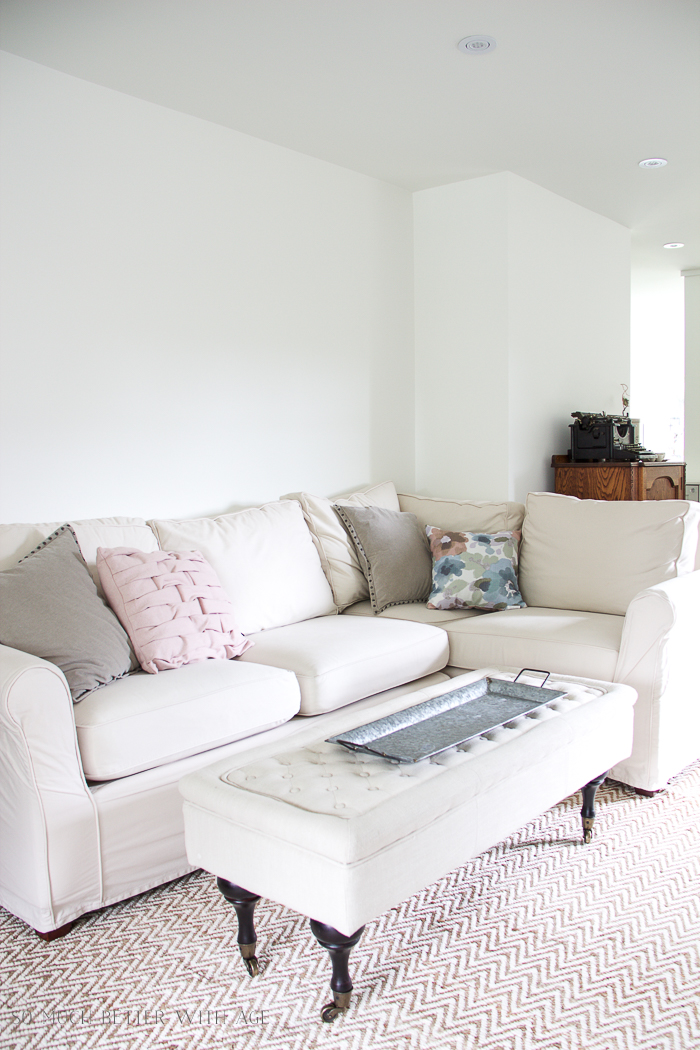 After talking to the design department at Pottery Barn, I ordered their Premium Performance Basketweave slipcovers in light grey. I notice online they don't carry that color anymore and it looks like they have replaced it with slate. Their current Sunbrella Performance Sahara Weave in charcoal looks more similar in color and texture.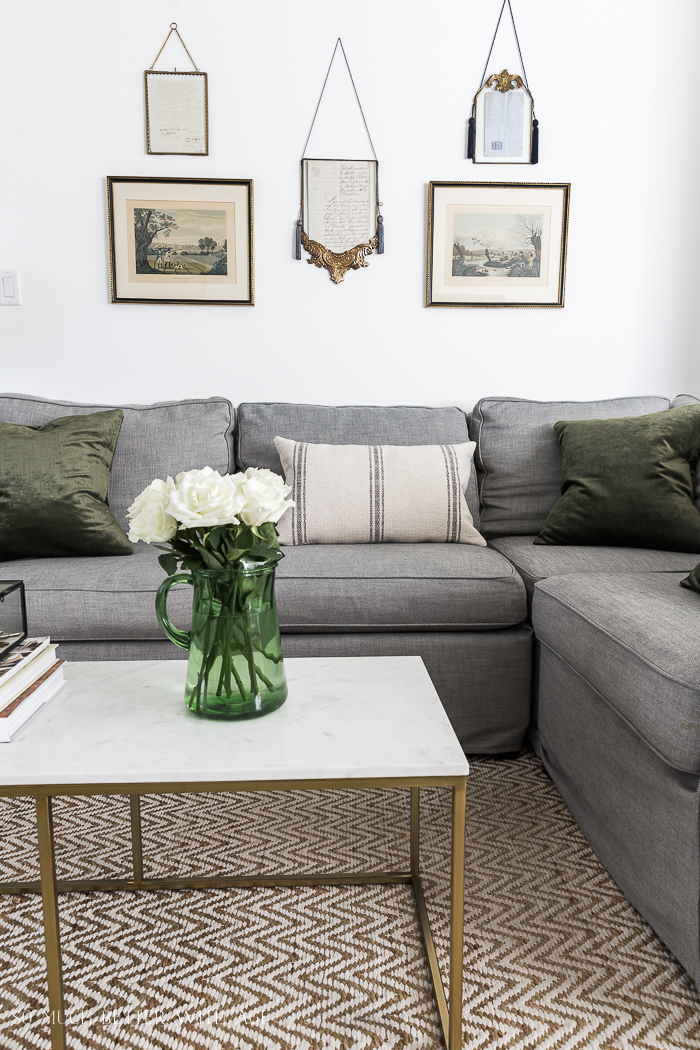 Pros and Cons of Slipcovers in Premium Performance Basketweave
At this point, if the slipcovers weren't to my satisfactory, I was about to put this couch curb-side with a 'free' label on it and cut my losses but I have to say that I'm EXTREMELY happy with their Premium Performance Basketweave slipcovers!
1. They wear extremely well. I rarely need to fully wash them in the washer. I can spot wash them and the dirt/food stains easily come off. When I do wash them, I wash a whole section at a time and they all fit in the washing machine. I put them in the washer on cold or warm with regular detergent and push them in the dryer like my regular clothes. Ah-mazing!
So now one section is bare for only the amount of time it takes to wash and dry rather than an entire day or two leaving the slipcovers having all over my house to dry. Biggest win ever!
2. I've read reviews about lots of pilling and after a year we noticed a bit of pilling on one of the arms but I know it's in part to one of my kids always doing antics up and down that side of the couch.
I have no cons for the slipcovers. I love them!!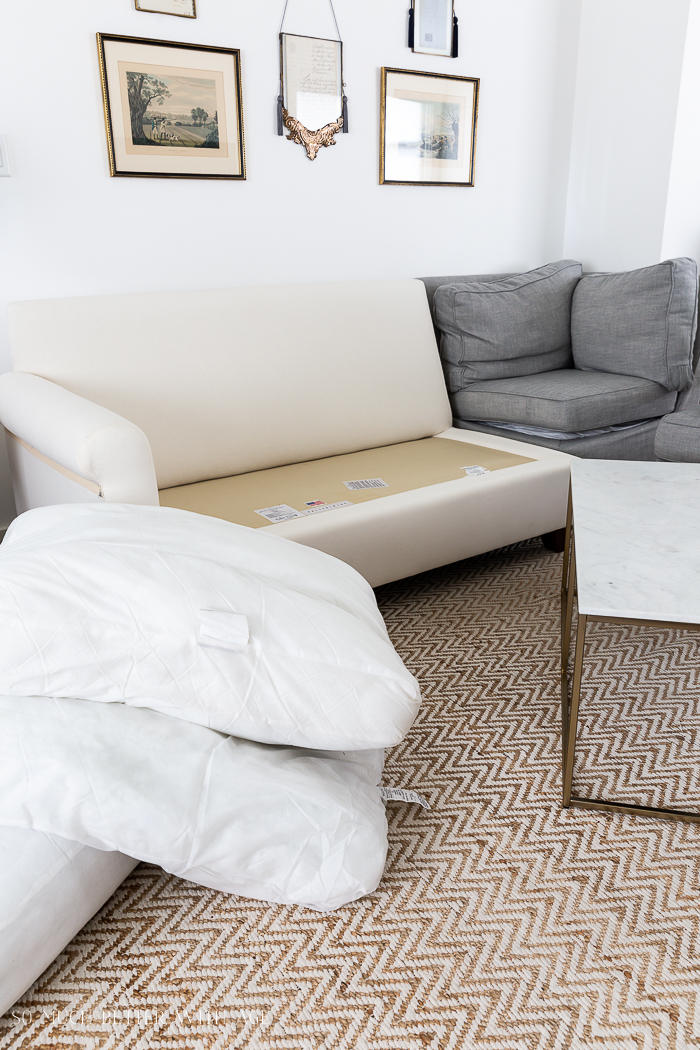 The Pros for Pottery Barn Couches
Even though I didn't purchase a Pottery Barn couch from the store, I do have a few things to note about their couches in general.
1. The couches are super comfortable! I have no complaints in terms of comfort, the right firmness and depth. My family loves them too.
2. I love that the slipcovered couches have a thick piece of velcro underneath the roll arms so the slipcovers stay put nicely to give it a more uniform (not sloppy) look.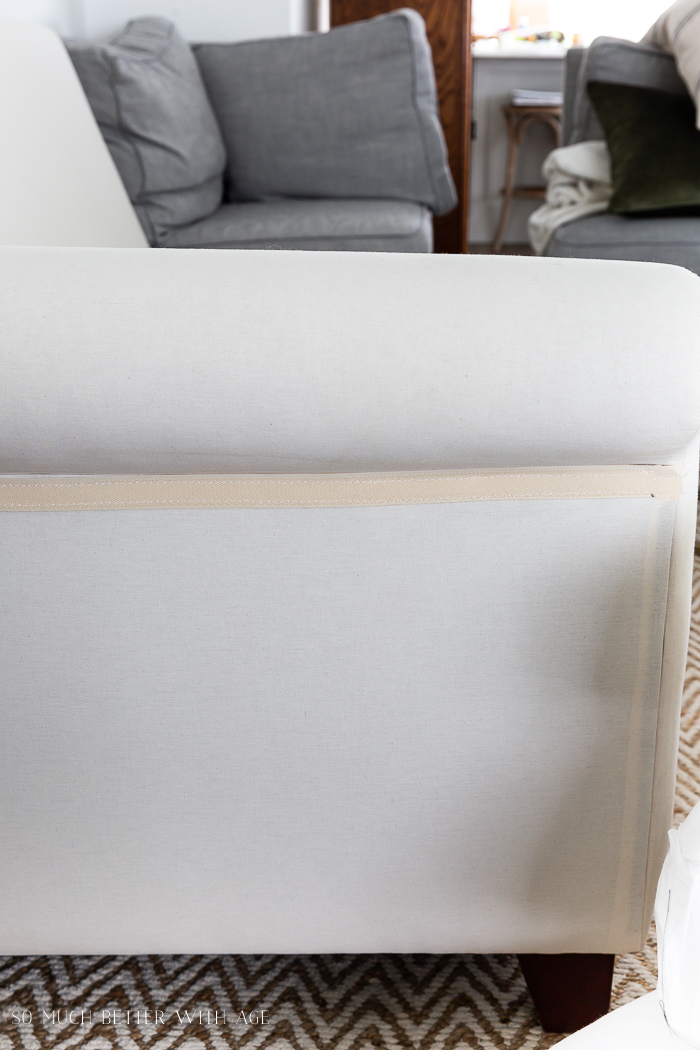 3. They have these metal 'teeth' that grab the other section to hold it in place nicely. I've had another type of sectional in the past that had this too but these ones seem to really do their job.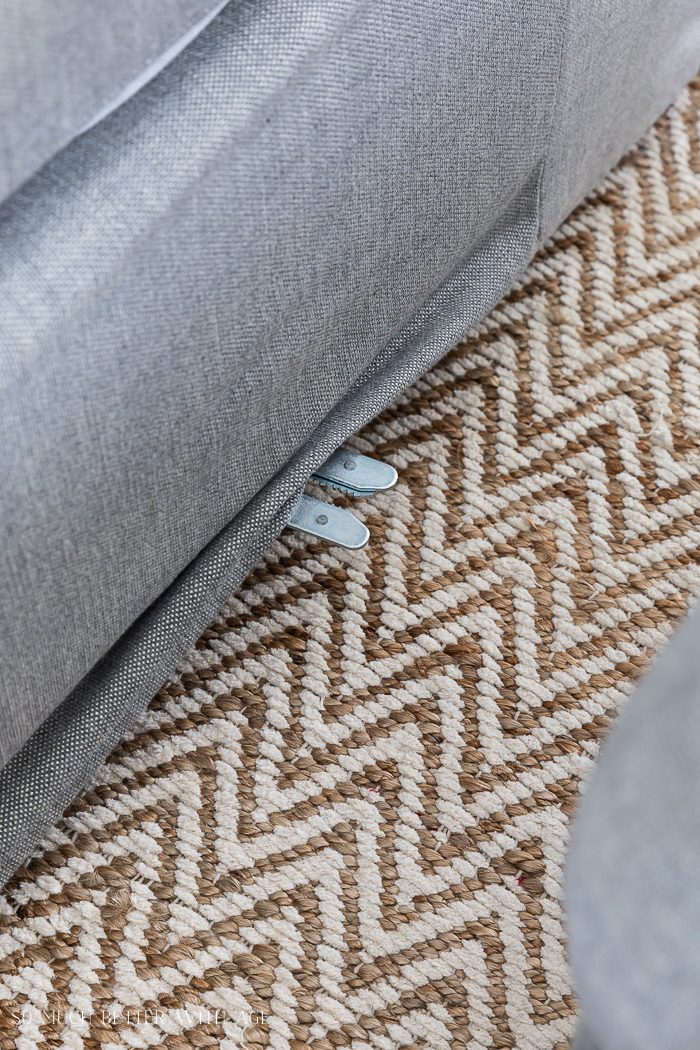 4. Great customer service for defects. If you can believe it, when the third section finally arrived, there was not enough cushion in the top roll arm. You could really feel the wood inside and it wasn't comfortable to lean on. We called Pottery Barn and two design consults came to our house to check it out and they ordered another section immediately and put a rush on it. The delivery and service was top notch.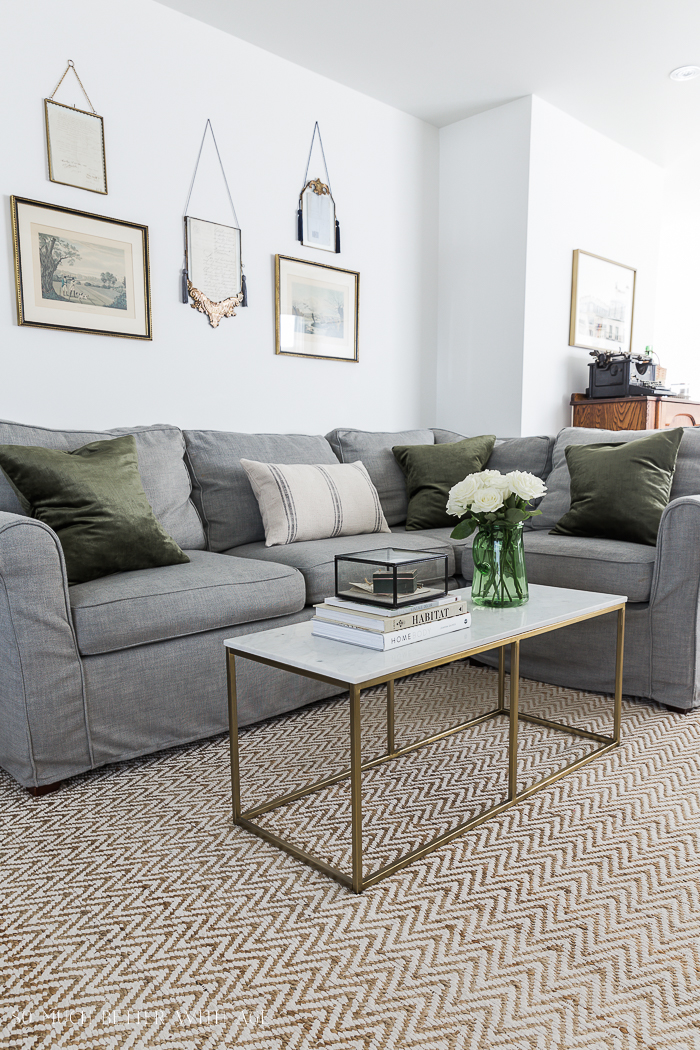 The Cons for Pottery Barn Couches
1.You'll be waiting a long time for your couch and/or slipcovers to arrive. I thought since it was just one couch section and slipcovers that it would arrive shorter than a full couch but nope, it took just as long. And it's always longer than they say so count that into your timeline.
2. Expensive – I believe you get what you pay for and there is high quality in these couches as well as their slipcovers and I'm happy that I can wash and dry the slipcovers at home! But if you are on a budget, their couches are definitely pricey. And after what I paid for the one section and slipcovers, I could have paid a bit more and got one of their newer versions but my kids are young and it's held up great so it's not too big of a deal.
3. The back pillows kinda sag after awhile – We've noticed that the back pillows are starting to sag and need replacing. When the PB design consults were visiting, they did say that we can bring them in to get easily replaced but I'm not sure if they meant that would be free (probably not) or for a price so we haven't done it yet. The couch was second-hand so I'm not sure how much wear it when through before it got to me but I've had the couch now for three years and so maybe 5 years in total the back cushions will start to sag.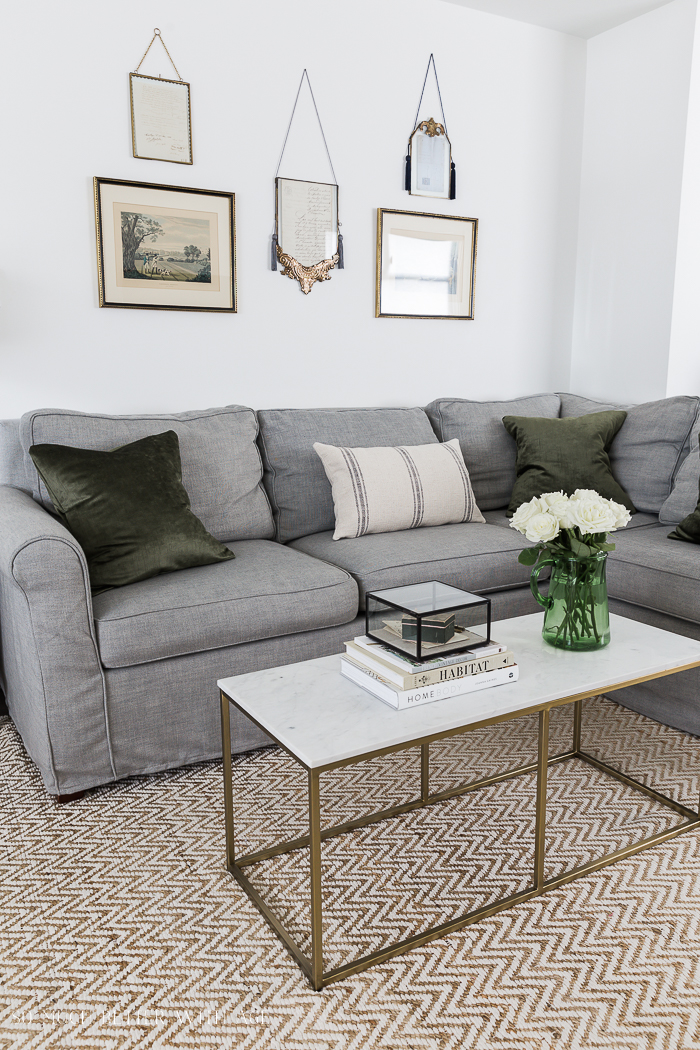 Does the fabric pill?
I've gotten a number of questions if the fabric pills so I've taken a few close-up shots with my phone when the light is hitting it at just the right angle so you can see.
You can see there is some slight fuzziness but I honestly don't think it's major.
I hope this has helped make a decision on Pottery Barn slipcovers. If I buy another Pottery Barn couch, I will definitely buy one of their Premium Performance slipcovers again. The slipcovers rarely need washing and when they do, they are a breeze.
Let me know your thoughts if you have a Pottery Barn couch yourself.
Sources:

Make sure to pin it for later!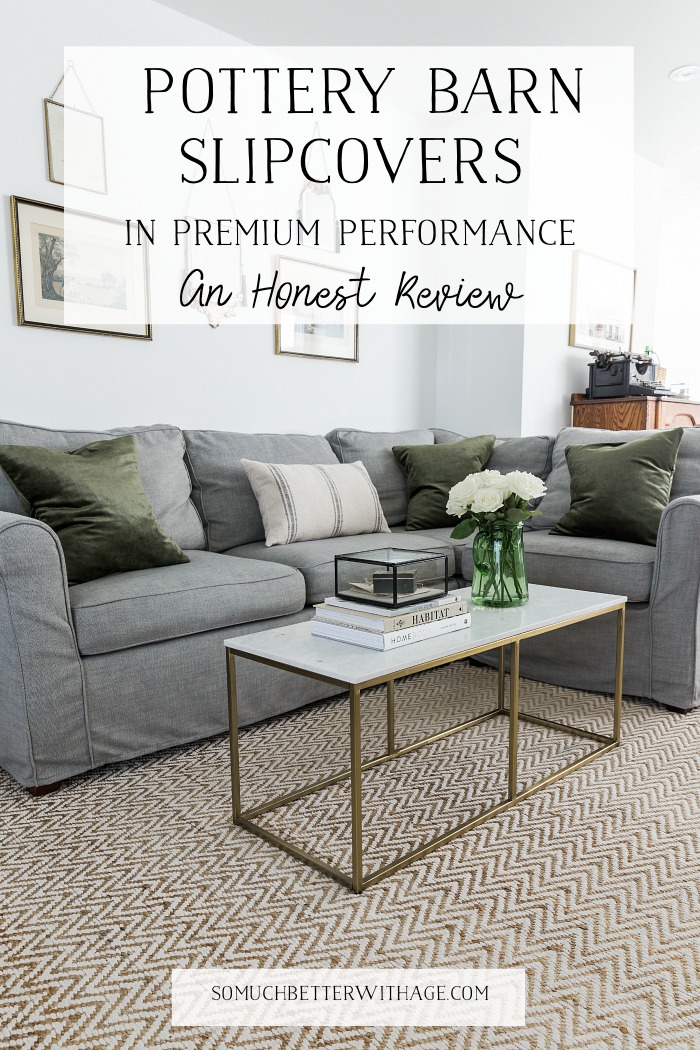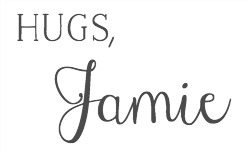 Click in Case You Missed: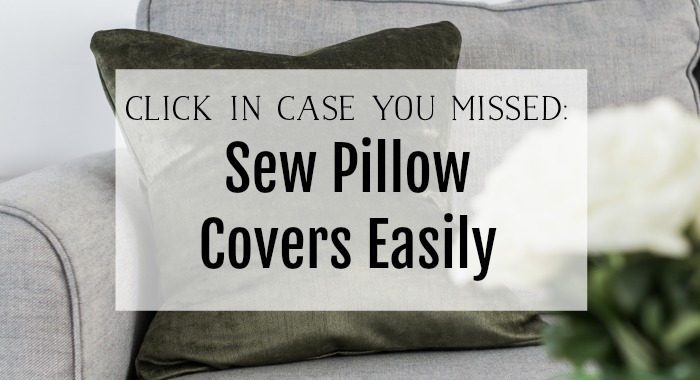 How to Easily Update Furniture Legs