This cupcake recipe is hands-down my all-time favourite.
It's so light and delicious! You know how yummy batter tastes but when you actually make the cake or cupcakes it doesn't taste like the batter at all?
Well, these cupcakes taste just like the batter…yummy and vanilla-y.
I added some little nests to the top as well.
So easy and adorable.
These little nests are absolutely adorable, aren't they?
Here's what you need to make the nests:
coconut
chocolate chips
mini chocolate eggs
That's it!
Melt the chocolate chips for 30 seconds or so in the microwave and add a handful of coconut.
Wait for the chocolate to cool a bit and then, using your hands, mold the chocolate/coconut combo into little nests.
Put on a wax paper lined cookie sheet or plate until they harden.
Plop on top of your cupcake and add the mini eggs.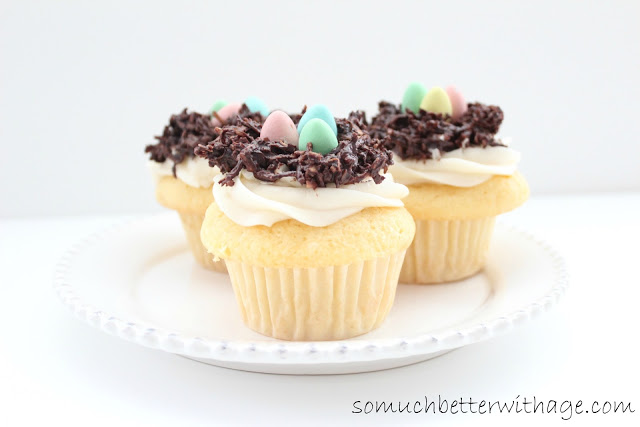 It's a messy job but totally worth it.
My kids loved them!
 Here is the recipe for the delicious cupcakes:
Enjoy!
SaveSave