Updated Furniture
Recently I shared with you my master bedroom.  I'm not crazy about my bedroom furniture.  I love my new bed but not too crazy about the dressers.  Does that happen to you?  You get tired of furniture?
I often think of painting them but my hubby would never let me.
I actually do love dark furniture against a lot of white but for some reason I'm just not crazy about our furniture anymore.
I'm going to show you how I easily updated my bedroom furniture (that doesn't involve paint!)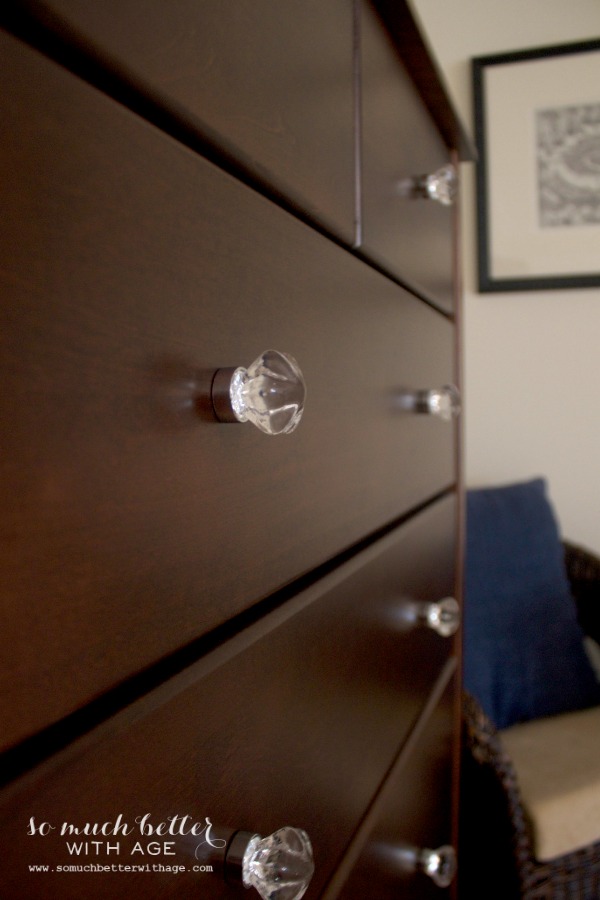 Here is a photo that I showed you recently of my master bedroom.  LOVE my bed frame.
And here's a photo of one of the dressers.  I added glass knobs to the top drawers a long time and the rest are just wooden knobs.
Ho hum.
We just renovated our kitchen so we no longer need these glass knobs but I still love them.
And here they are on the bedroom furniture.  Instant update!
It just adds a touch of sparkle to the room now and I think I can live with the dressers now.
Such a simple change make a world of difference.
I also found these beautiful hand carved candles from a local store near my home.  They are made in Bali.
Aren't they gorgeous?!
Love the indigo and all the intricate detail.
What do you think?  Do you like to add simple changes to your decor?
Source for glass knobs:  Lee Valley