6 Top Bloggers Share Favorite Paint Colors
6 Top Bloggers Share Favorite Paint Colors
Shauna from Satori Living invited me to share with you my favorite paint colors. I'm completely honoured to be a part of this stellar group of home decor bloggers.
We each have our own style and each paint color we picked have been picked over dozens and dozens of different colors that we've tried and find are fail safe!
Why struggle with picking your own paint color when you can use this guide as your cheat sheet!
Shauna put together two posts with all of our favorite paint colors on her blog. Be sure to click the two links below:
Favorite Paint Colors – Part I
Favorite Paint Colors – Part II
To check out each blogger, click on the blogger's image below.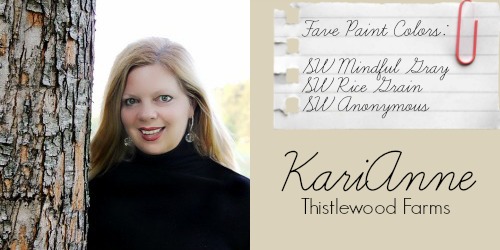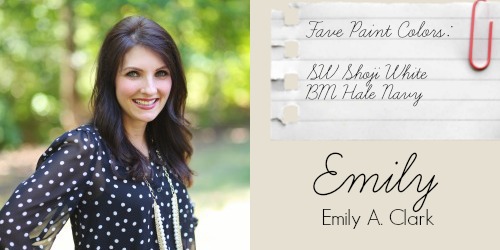 And moi!
Okay, I LOVE NEUTRALS. There. I said it. Nothing gets me more excited than whites and neutrals. It's the perfect canvas for any home decor.
I really, really love the color we chose for our basement/playroom/man cave. It's called French Canvas by Benjamin Moore. I would paint my whole house in this color. It's the perfect 'greige' (mix of beige and grey) that I've ever found.
(and my photo below doesn't do it justice!)
Our whole main floor is painted in Country Beige by Behr. We've had it for nearly five years now and I haven't tired of it one bit. It's the perfect soft neutral color that goes great with beiges and greys.
And my last (but certainly not least) favorite color is my new dining room paint color, Horizon by Benjamin Moore. I tried about a dozen different paint samples on the wall to achieve this look. I'm so happy it paid off in the end. I would choose this one all over again in a heartbeat. It's the perfect whisper grey, in my opinion.
Just make sure it's Horizon OC-53 as there is another Horizon color on Benjamin Moore's website.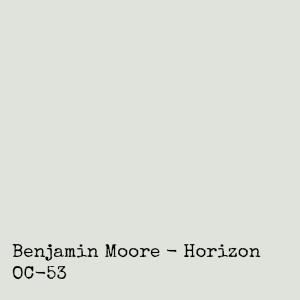 Okay, click the links below to check out the details of these favorite paint colors from your favorite bloggers!! Thanks so much, Shauna!
Sharing at these parties & Jennifer Rizzo & Remodelaholic