These 'Best Teacher Ever' stamped gift baskets are a gift any teacher would love! It's also perfect for any gift occasion.
I know that for some of you school is over and it's summer break, YA (or maybe not so YA!). My kids last week is this week and I just made these beautiful gift baskets for their teachers.
So be sure to pin this for next year if you're kids our out already. If your kids are still in school, this is a great gift idea!
The supplies can be easily gathered from a local craft store or with items you may have on hand.
Let me show you how I put together this Best Teacher Ever stamped gift basket!

Supplies:
First you are going to need these supplies:
coloured eyelet ribbon
stamp pad (my favorite is Staz On)
tissue paper
flowers like my favorite peonies
chocolates
don't forget a card!
I love adding flowers and I also added a gift card to a book store. The sky is the limit with gift ideas.
Directions:
Stamp around the front of the basket with 'The Best Teacher Ever' or any saying you'd like. I made sure 'Best Teacher' was in the front and then added 'the' and 'ever' on the sides.
2. Stamp the teacher's name on the handle.
3. Fold tissue paper on the bottom of the basket to cover the holes.
4. Fill the basket with filler of your choice. I recycled this filler from the beautiful business sets I got from Bliss and Tell Branding Co. I always recycle/upcycle at my house 😉
5. Wrap up some of your favourite chocolates with some burlap ribbon.
6. Then add ruler ribbon to the chocolates. Secure the ribbons with packing tape on the back.
7. Fill glass milk bottles with flowers such as peonies as they are only in bloom at this time. Be sure to add floral food to the water for longevity.
8. Tie ribbon around the glass bottles.
9. Pull the basket filler away from one corner and put the vase with flowers in that corner. Angle the chocolates in the basket and tie ribbon on the handle. I added more ruler ribbon and pink eyelet ribbon that I used on the glass milk bottles.
I made sure to add the gift card and card to the basket before giving the baskets to the teachers.
And voila!
I just love how they turned out and I think anyone would love receiving a beautiful gift basket like this, don't you think?
I know how much the teachers just loved them which makes me happy.
My kids wrote in the cards and helped me put the baskets together so it was nice to involve them with the gifts to their teachers.
They were so proud to give these to their teachers. So important for kids to give, don't you agree?
Beautiful and simple. The perfect kind of gift.
Happy end of the school year!
I hope I've inspired you to make these Best Teacher gift baskets this year (or next year 😉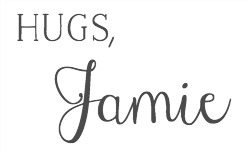 Click in Case You Missed:
4 Free Printable Cards & Matching Envelopes
SaveSave
SaveSave