Decorating the Primary Bedroom
Decorating the Primary bedroom in French vintage decor.
They say when you move into a new house that you should decorate the primary bedroom first so that you have a cozy place to retreat to.
Usually it's the last room people decorate as so many other rooms take precedence. I think I've been decorating each area in my house pretty consistently and evenly throughout.
Because a lot of the house is still not in complete order, I love how my bedroom is all white and uncluttered. There's literally no decoration so it's such a serene and peaceful place.
But it won't stay like this forever.
I just finished painting a dresser so I can't wait to move it into the room and really start decorating.
I will add a few more decorative touches and some 'color'. Color as in more neutrals, textures and patterns.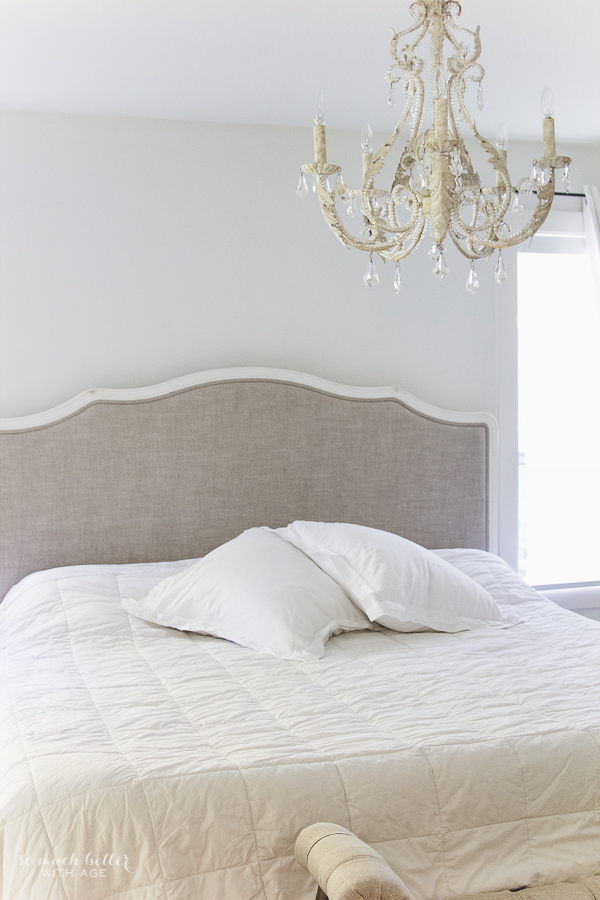 Today I'm sharing with you how decorating the primary bedroom is coming along with some before and after photos.
Decorating the Primary Bedroom
Remember what my master bedroom used to look like?
The flooring in here didn't match any other room in the house which was odd, and looked out of place.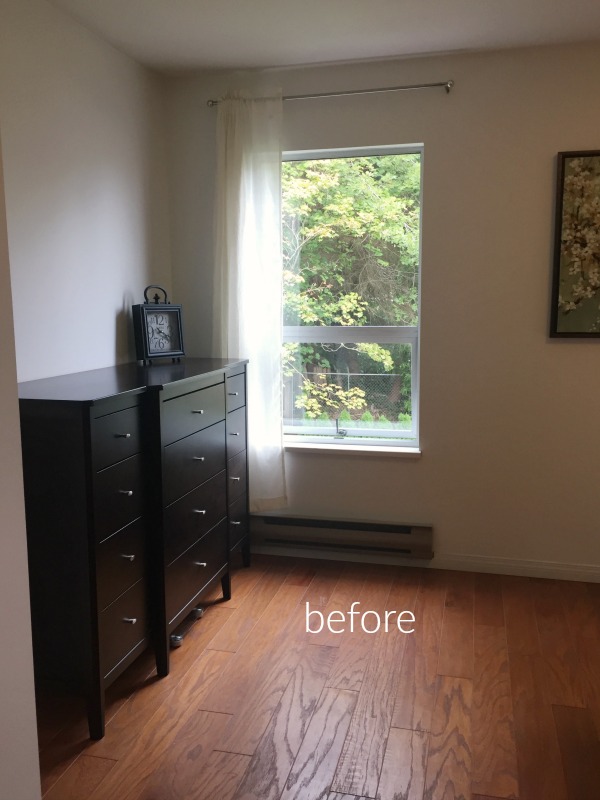 You can see inside the master ensuite.
I just love cushy carpet in bedrooms so I got this beautiful cream-colored carpet.
I still need end tables but for now chairs will do.
Yes, I'm aware I need a duvet cover.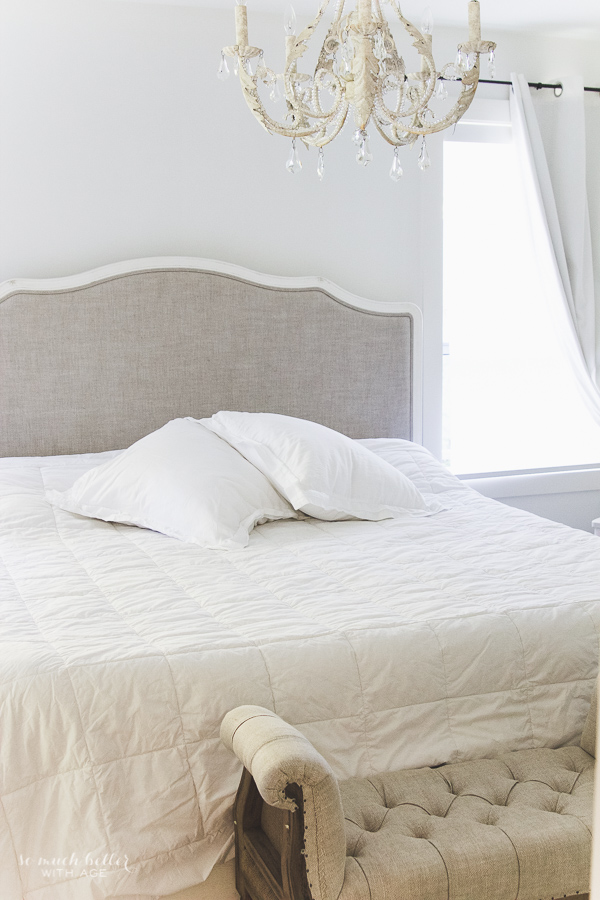 I put up the curtain rods and for now I'm just using old curtains I had sewn with blackout lining. I'm still deciding on fabrics so I can sew new curtains for this room.
I just painted a dresser for this side of the wall and it turned out GORGEOUS! I can't wait to show you!
Finally, no more bins!
My sister loves to crochet. She loves a lot of color but she often makes me blankets and things in my favourite neutral colors. She just made me these three beautiful baskets.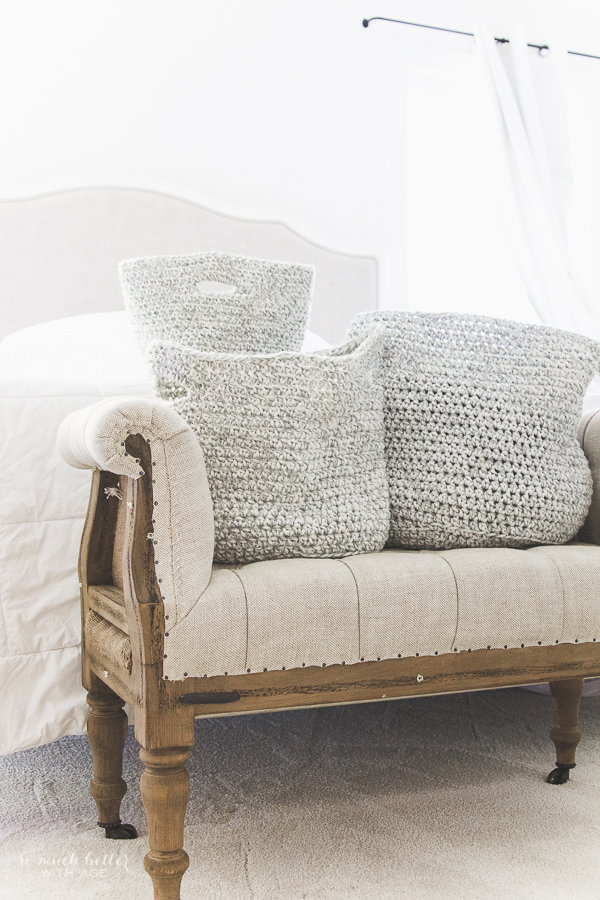 I stuffed a blanket in the large basket but the other two are standing completely on their own.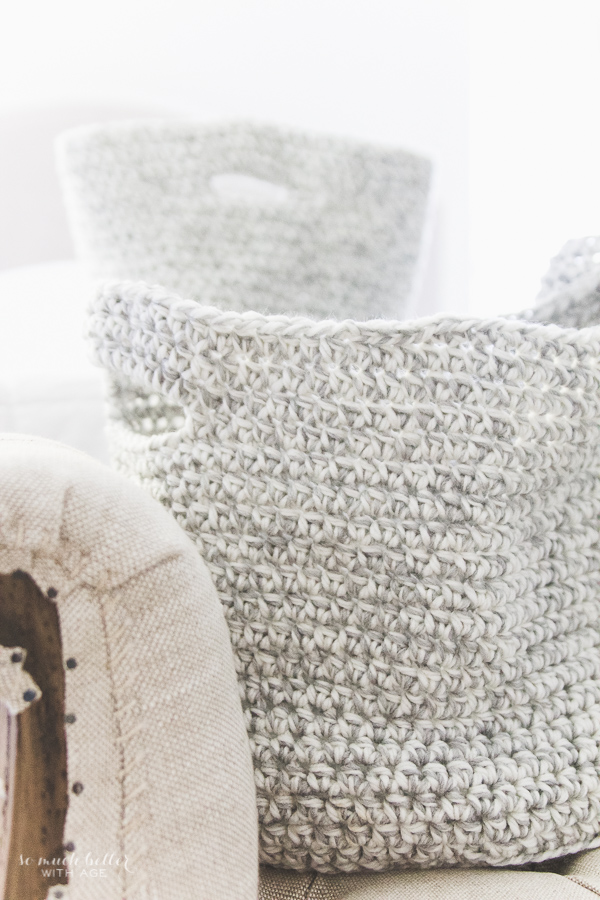 I love them! They are so versatile too. You could use them as totes, decoration or baskets.
Would you buy one of these from her? She might take custom orders if anyone is interested.
Left to be done in the master bedroom:
duvet cover
decorative pillows
night stands
sew new curtains
new dresser (done!)
artwork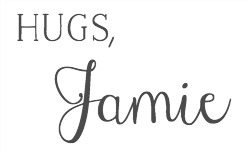 And be sure to see my master ensuite makeover: