Make this ruffled ombre tissue heart box for your Valentine this year.
Want a sweet way of giving your Valentine a gift this year? These ruffled ombre tissue heart boxes are super cute and really easy to make for Valentine's Day.
Let me show you how I did it.
This post contains affiliate links for your shopping convenience. Click to read my full disclosure policy.
Supplies:
Directions:
1. Cut the tissue paper in long strips where it's folded. This tissue paper was folded at 4 1/2 inches wide.
2. Brush on some Mod Podge on the outside edge of the heart box. Let is sit for about 30 seconds so it gets a bit tacky. Starting in the top corner, press a strip of tissue paper right to the bottom edge and let the tissue overhang at the top part of the heart. Pressing and smoothing the issue gently as you go. Cut the excess tissue off and leave a bit to overhang and glue into place.
3. Add some dabs of Mod Podge to the interior of the heart box. then tuck the tissue paper in.
4. tuck the tissue paper inside the box and leave it in a ruffled state. The glue will keep a bit of it stuck in place on the bottom.
5. Repeat the steps for the lid but keep the edge to the top of the heart and the overhang to the underpart of the lid.
6. Brush on Mod Podge to the top of the lid.
7. Put a piece of tissue paper on top larger than the lid size smoothing out the creases, making sure to leave enough overhang for the ruffle on all sides.
8. Cut a ruffled edge with scissors.
Aren't they the sweetest?
Fill your heart box with candies and give it to your Valentine!
Aren't they the sweetest? I'm going to give them to the teachers this year and some friends and of course my Valentine.
I think the ombre tissue really makes it special along with the ruffles of course.
I hope you try to make these cute ruffled ombre tissue heart boxes.
Happy Valentine's Day!
Make sure to pin it for later!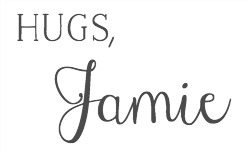 Click in Case You Missed:
Valentine's Day Postcards Printable with Vellum Envelope
DIY Stitched Valentine's Day Cards