I want to share with you my trip to France and the beautiful Chateau de Mondesir.
I'm finally sharing with you today photos of my trip to France. I took 2500 photos in the two weeks I was there! So I'll apologize now that you are going to be getting many photos and many posts but I will spread them out between new house photos as well.
The reason I went to the French countryside was for Heather Bullard's The Academy and this is where is we stayed. In a 13th century Chateau called Chateau de Mondesir.
I'm going to share with you all the little villages that we went to, about the Academy itself,  Bordeaux and Paris but today it's all about the chateau!
Chateau Mondesir is located in the tiny town of Villefranche-de-Lonchat in the Dordogne region of France, close to Bordeaux (wine country!).
The Chateau was built between 13th and 16th centuries. The oldest part of the house built in the 13th century was the turret which you'll see below then the rest was added on over the next three centuries. It was thought that the house was built for the Mayor of Villefranche-de-Lonchat's daughter. I may have got that wrong so don't quote me!
That little brown cabinet is actually a BBQ, I kid you not.
This part of the chateau is called a gite. The dictionary defines a gite as a specific type of holiday accommodation usually fully furnished and equipped for self-catering.  So this gite has three bedrooms, two bathrooms and a little kitchen that Heather kept stocked for us that we could use to store and make food any time (although I never used it because I never ate so much in my life on this trip!)
This is where we ate breakfast every morning of croissants, jam and yogurt.
If you go up one level you'll enter into our living room. The owners live in the chateau and have their own living room but this one was for us. The doorway shows you how thick the walls are. Yes, thickness of the walls!
This was a bedroom that reminded me a Claude Monet painting. I love this worn blue plastered wall.
The Chateau was really dark inside so these photos were hard to get but I wanted to show the old rustic staircase. Man, the creaks in that thing! But the plank hardwood floors were just the best.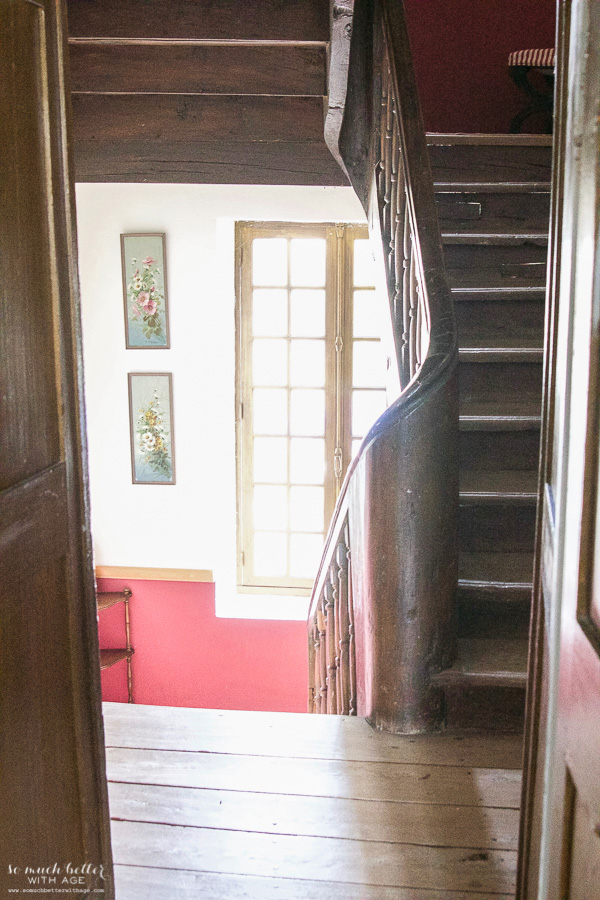 This is the entrance to my bedroom. I felt so lucky. It had the most beautiful wallpaper.
Heather gave each attendee a gift each day and upon arrival we had many gifts waiting for us. #sospoiled
Most attendees came with a friend/mother/roomie except four of us. So I had my own room but I shared a bathroom with Stacie (we became fast friends so I was lucky to have her has my bathroom roomie). It was nice that I had my own sink in my room so I could shower and come back to my room and let Stacie use the bathroom to have a shower. It worked out perfectly.
So when you go up another level you'll reach the turret where two girls, Lori and Michelle from New York, stayed.
The top part of the turret was covered with plexiglass for protection as birds were always flying in and out of the Chateau and I think the birds thought the turret would make a lovely spot to build a nest. Lori eventually left this room because of a bird and she moved into the Claude Monet room. There was one that lived in Stacie's room for two days too.
These 'windows' now covered with glass were where men defended the Chateau with bow and arrow. Just tiny enough to put the arrow through.
I absolutely LOVE these portholes. You'll see the little farmhouse across the front yard and the swimming pool is beyond that large tree. Off in the far distance is the town church which I'll show you in another post.
So here is the gite that I mentioned above. Aren't those trailing roses just beautiful?
Here is where we had casual meals together. That one window leads to a bedroom.
That pasta dish was amazing. It had peaches in it. Yum yum as well as the pot de creme.
Here's the little indoor eating area.
And the kitchen area just for us to use.
This room is where Lynda and Gina stayed. Their flight hadn't arrived yet so I was able to sneak a pic.
The detached farmhouse that you could see from the porthole is where mother/daughter Teresa and Shannon stayed. It was just amazing.
It had it's own little sitting area and cute bathroom.
That table outside is where we had many meals together. It was really like a dream.
Denise, Stacie and I were touring the grounds while we waited for the other girls to arrive and get settled.
Here's the turret from the outside.
We didn't expect to see palm trees in the back.
And seeing cala lollies growing in their natural habitat? Priceless!
Chateau Mondesir has a 90 vineyard and their own wine label which was very good.
(Taking a photo of Denise taking a photo.)
It truly was a dream to stay at this Chateau. There will be more posts coming up about my trip to France. I hope you stay around.
Want to stay here?
Please check out Chateau Mondesir on Trip Advisor. I know they would love for you to stay there!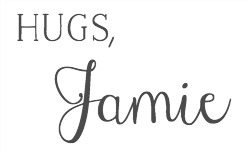 Click to See All My France Posts:
My Trip to France – Heather Bullard's The Academy – Creative Styling & Photography Workshop