The Academy – A Creative Styling and Photography Workshop in France
Learning the art of creative styling and photography in a workshop in France.
Today I'm finally sharing with you my time at Heather Bullard's The Academy, a Creative Styling and Photography workshop, the whole reason I went to France this year, the thing I was most excited about ALL YEAR and now I cannot wait to share this all with you today.
It is really overwhelming to come back from the 'trip of a lifetime' and sorting through 2500 photos. That's right, 2459 photos I took during my two week stay in France and I've been to France twice before! But to be fair, this was a photography/creative styling course so taking photographs was mandatory.
Improving My Photography Skills
Heather Bullard has been like a celebrity blogger to me (you bloggers know what I mean!) so I've always admired her. I've been trying to improve my photography, and you know how much I love everything French…I'm guessing you can see a theme here on how my mind was pretty much blown away when she announced this amazing workshop.
So let's begin in sharing all about The Academy!
Creative Styling and Photography – Day 1
When we arrived at the 13th century Chateau, we had beautiful welcome gifts on our beds. This kit is what Heather uses for carrying around her props for her photo shoots and she gave each of us one along with some styling props of course.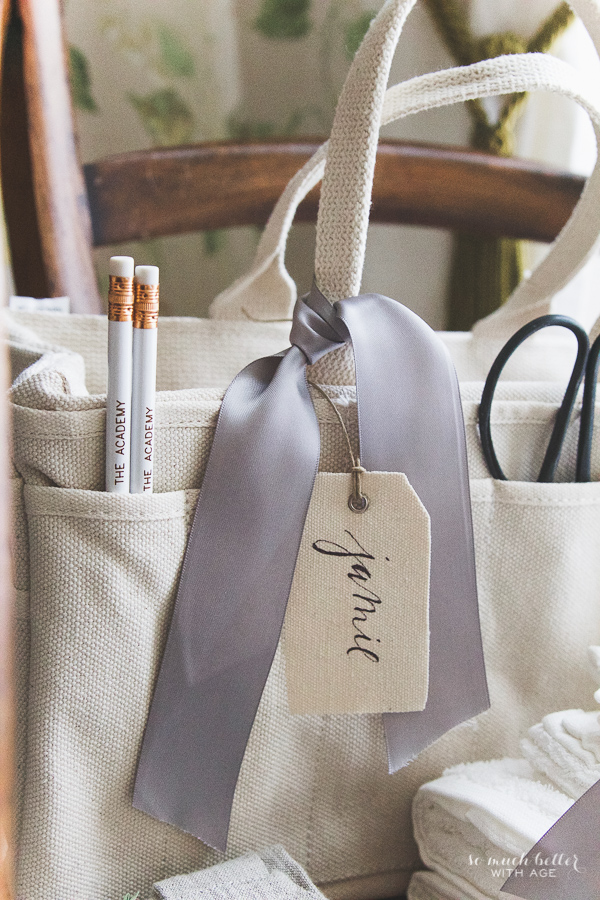 Our class was in THE best location. On the grounds of the chateau was a farmhouse where Heather and Jill (assistant/chef) and Jill's daughter Jaci (her photographer) all stayed. I did not get any full shot photos of it. But you can see here Stacie is knocking on the door of the farmhouse and I thought I'd snap a few shots.
To the right, it expands into huge barn doors. When the barn doors are open, we can enter the classroom.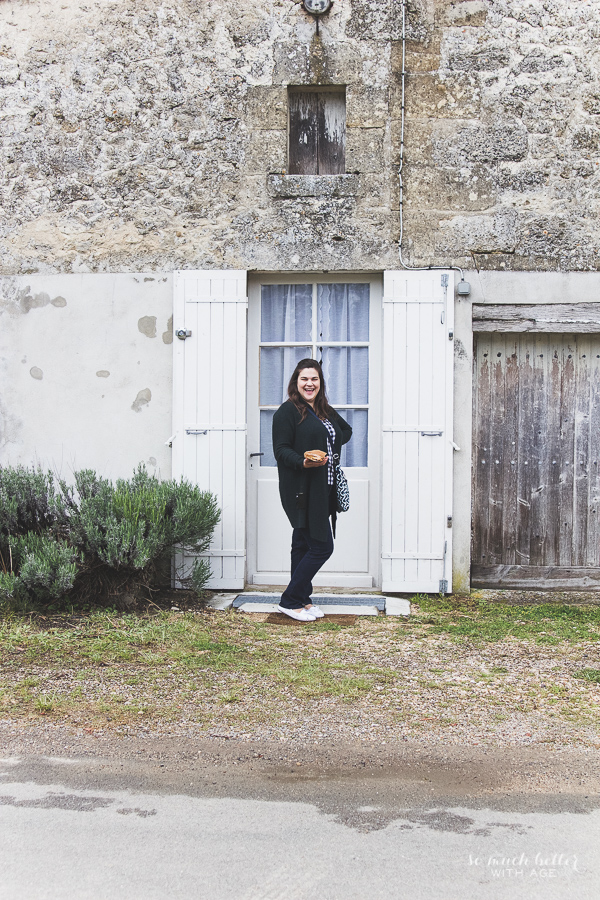 Here are the rustic doors to enter the barn. Keep going through the barn and you'll go passed some glass doors into the exterior classroom.
Here was my table. Jill is not only an assistant and a chef but also a calligrapher so she penned all our beautiful notebooks.
Another gift was awaiting for us!
The first day Heather showed Powerpoint slides of what creative styling is all about, how to gather inspiration, and technical aspects of photography such as:
rule of thirds / composition / use of light / negative space / angles / depth of field / mood / flow & movement / triangle / tangents / unrealistic attributes / props and textures.
Heather's styling table alone was a feast for the eyes.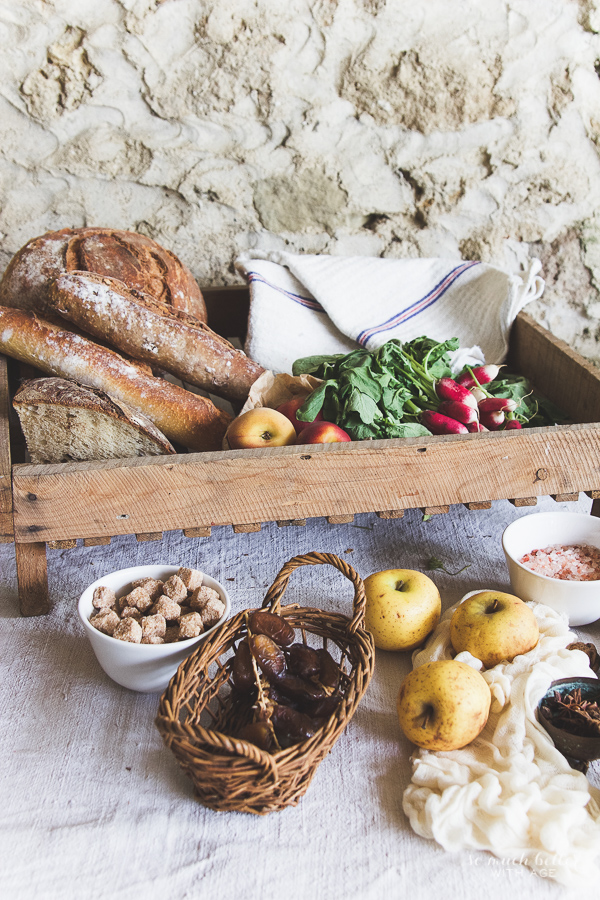 After we had our instruction, we were then paired up with partners and were to grab a table and some props and begin styling for the shoot.
We also had our own props as our VERY first day in France we went brocante shopping but I'll be sharing more of that trip in another post.
We had lots of space to choose from like these stunning stone walls inside the covered shed area.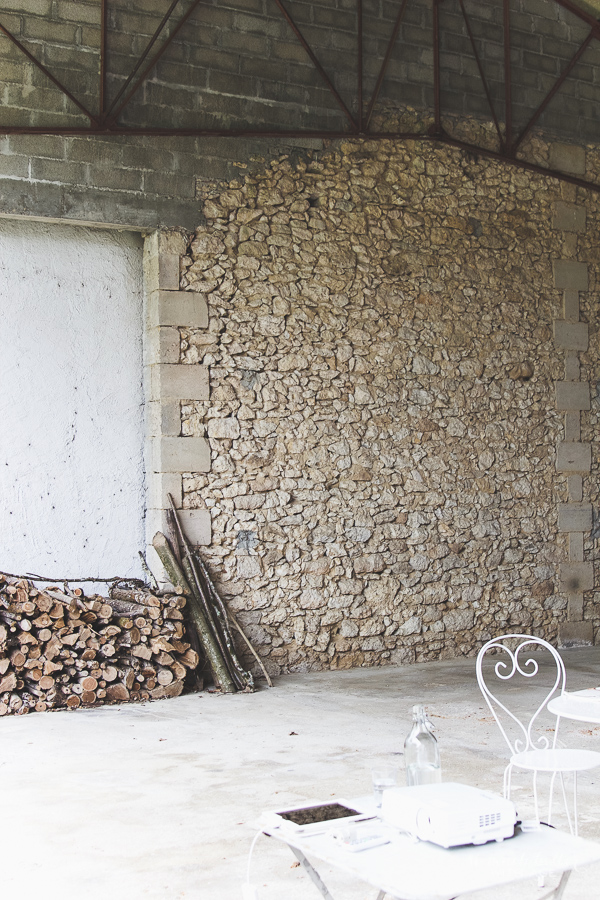 I used the props I purchased brocante shopping along with two of Heather's little cups.
This was my first attempt.
It was a bit dark and moody but I wanted to lighten it up so I moved my table outside to the other side of the farmhouse.
Heather came by to each of our 'stations' and helped critique it and checked our photos on our cameras.
I had too many tangents.
In about two seconds she moved things around to this:
Of course it was perfect!
My partner Genevieve from Australia was a blast to be paired up with.
She just wanted to style one framed art piece that she purchased brocante shopping so Heather propped it up on this old wagon.
I pointed out that she had to be in the photo since her top was nearly identical to the art piece!
Here were some of the other girls' creative styling shots.
(I was super jealous of the folding mirror Teresa found at the brocante!)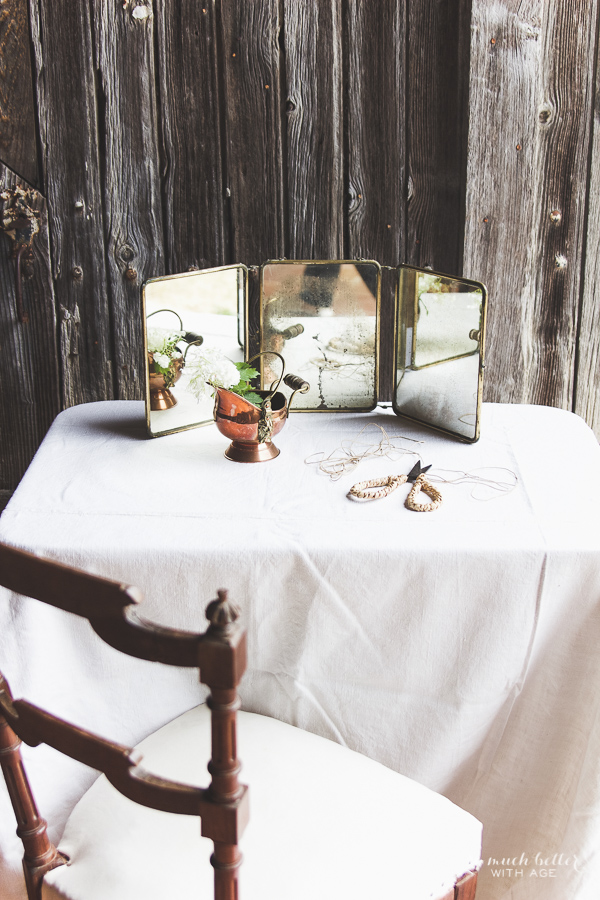 Each time we had a meal, it was just amazing. Even this simple sandwich lunch was incredible.
So tomorrow I'm sharing with you Day 2 of our Creative Styling & Photography class so hope you can stick around!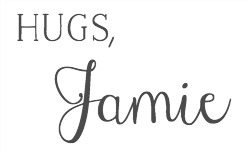 Click to See All My France Posts:
My Trip to France – Heather Bullard's The Academy – A Creative Styling Workshop