Around this week is the actual one year anniversary of when I moved into my house.  Not to be confused of when I purchased my house because that was in 2015.
I can't believe it's already been one full year.  There is still so much to share with you in before and afters and one of them is the dining room that I'm sharing with you today.
This room has been done for awhile now.  Actually it was probably the first room complete and the room most photographed on my blog.
It surprised me too to realize that I haven't actually shown the before photos.  I didn't think it was that drastic of a change but going back through the old photos I realize it was a HUGE change.
Did you know there was a fireplace in the dining room?  And why did I remove it?
Well, the dining room wasn't actually a dining room, it was a family room with a corner fireplace.  For us to make the room work as a dining room, the fireplace had to go.
I was okay with that since I had a gorgeous new fireplace in the living room.  You can see my very first tour HERE.
So let me show you the before and renovation photos of my dining room.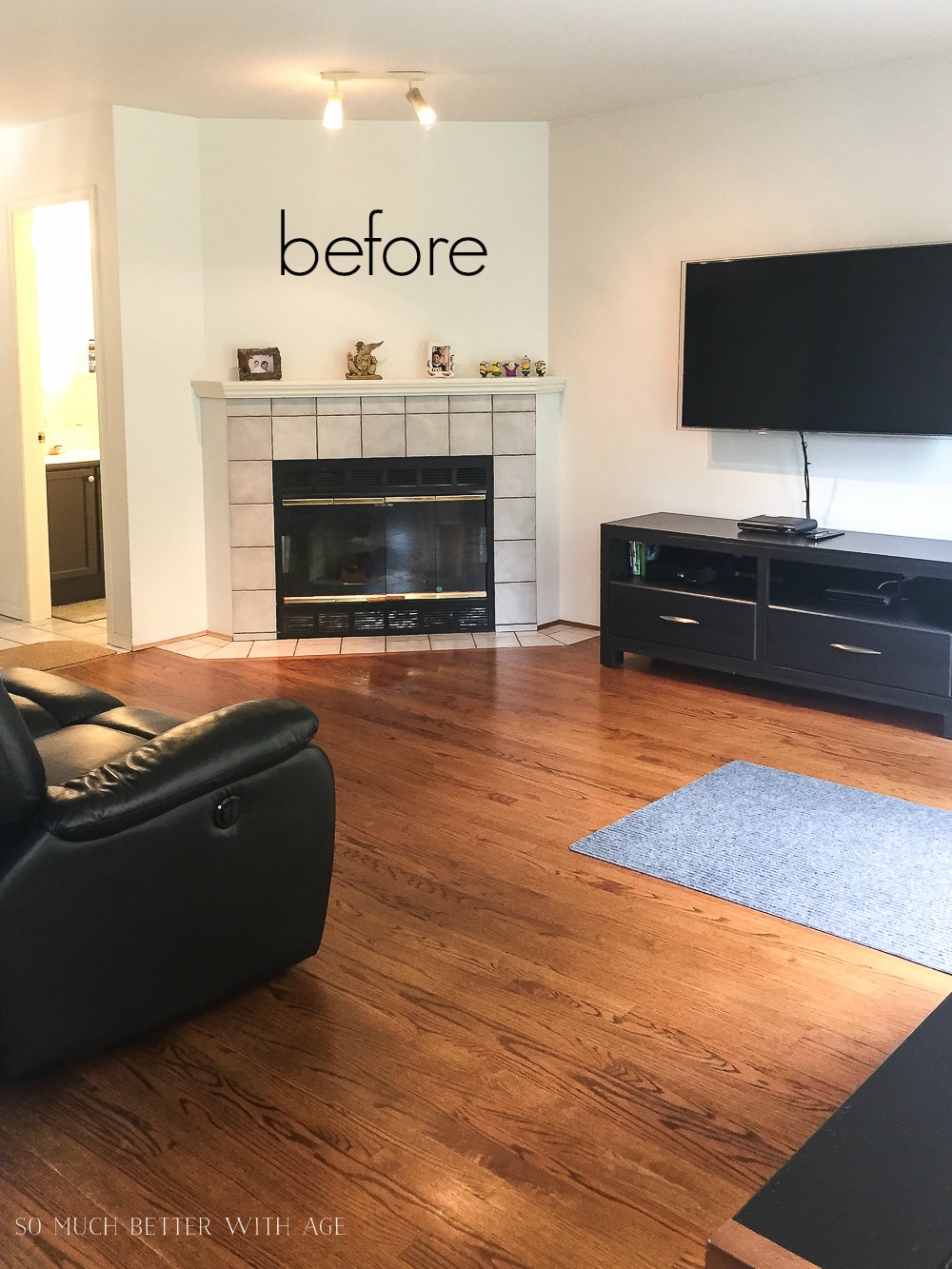 Did you see that corner fireplace?  What a difference, right?
That whole corner wall was easy to remove and now we have square walls, YES!
So let's go through the rest of the before photos.  This room connects the kitchen to the hallway and also a door to the basement.  Also doors to outside.
It seemed odd to me that there was a TV on one wall with a couch on the other wall and the middle of the room was a busy traffic zone.
Here is the door to the basement and to the right of it is the hallway to the powder room, mudroom and foyer.
This wall was so small it just fit a love seat.
This was one of the walls that I wanted gone during renovation but a partial one had to stay because of the sewer line.
Here are a few renovation photos.  Nothing like fresh drywall…aaahhhh.
Bye bye corner fireplace!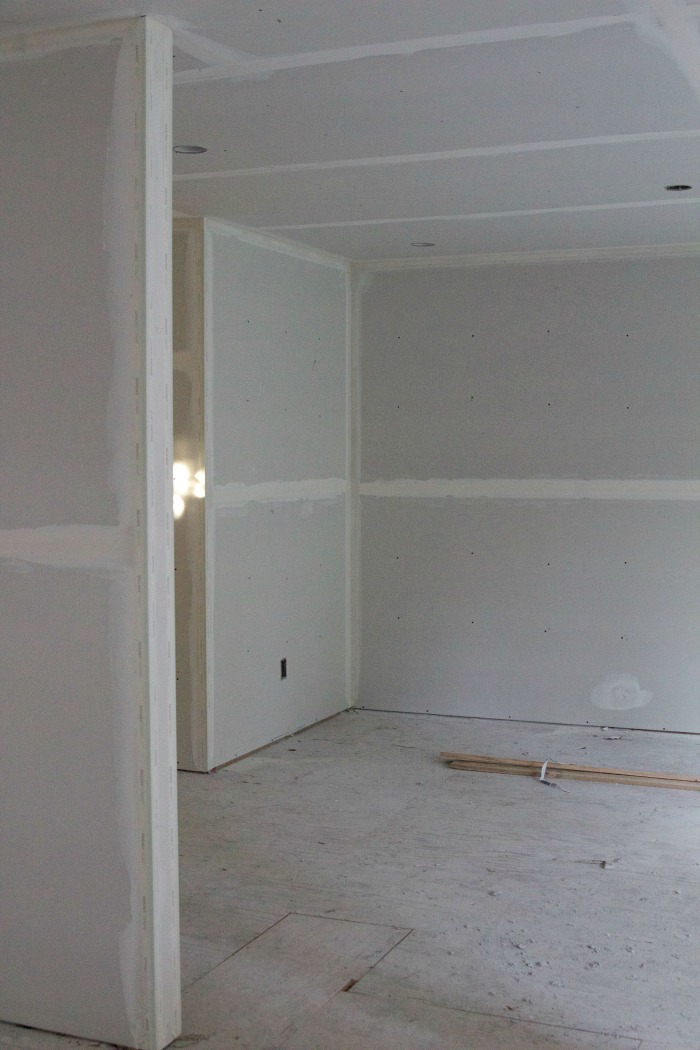 You can see in this shot that the room really isn't that big.  We did a lot of measuring to make sure we found the perfect size dining table and we also made sure that it stayed closer to that far wall so as not to impede on all the traffic zones.  The chandelier was hung more to the far wall side too.
As you can see I replaced the sliding glass doors with new French doors leading out to the backyard.
To me, nothing is more relaxing then having the doors swung open in the dining room to dine sort-of al fresco.
And now here are the after photos.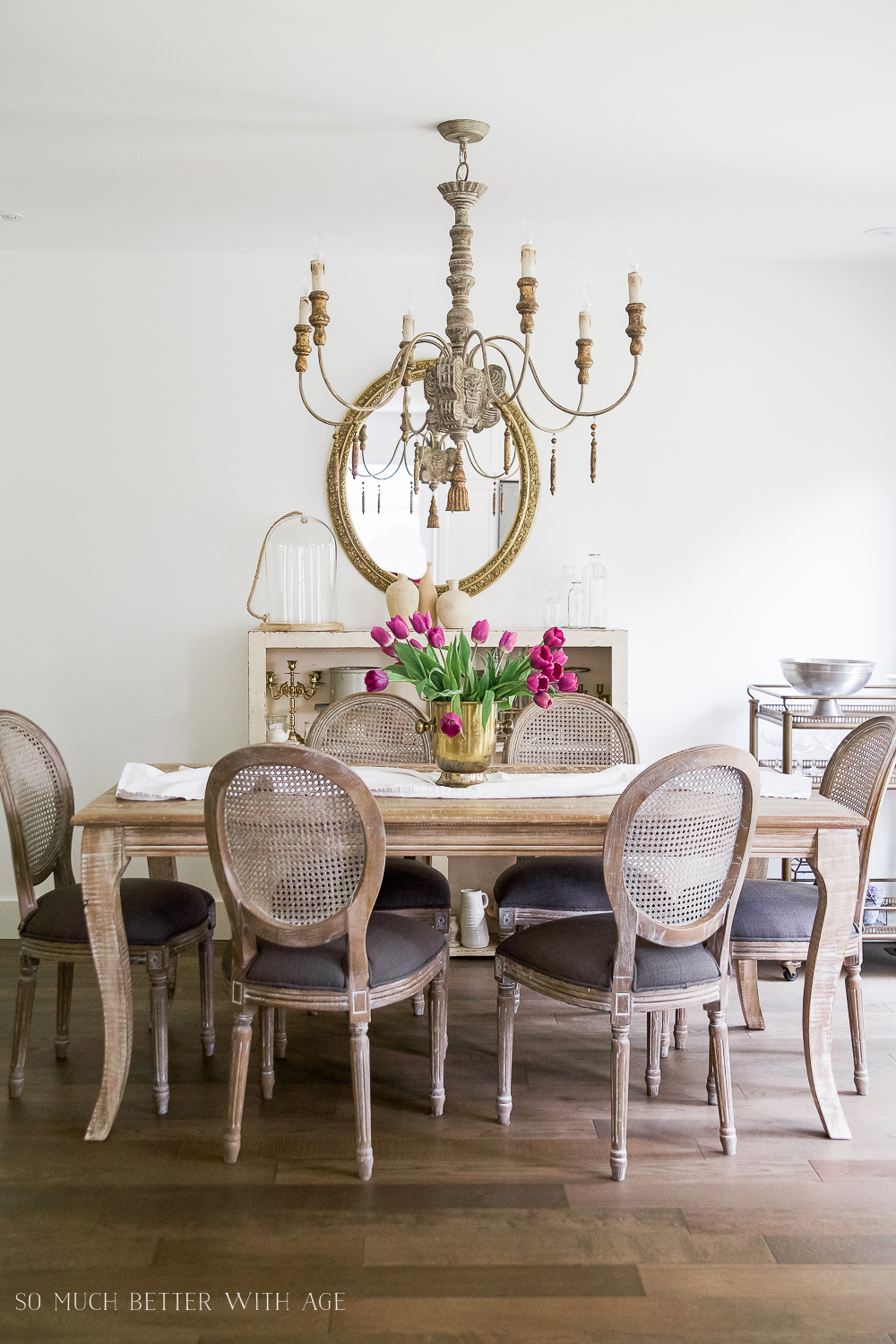 There are just the basics in this room but the items I've chosen are things I absolutely love and keep in line with my French Vintage style.
The cabinet/bookshelf came with the house and there is just enough room to keep it tucked on that wall.
I wanted this room to be more sparse but once I put the cabinet in there to hold all my neutral stuff, I kept it there and love it there.
Sometimes in my photos it looks a bit cluttered with the reflection of the chandelier in the mirror but in real life it doesn't look too cluttered.
Here is a view down the hall with new doors, bannisters and light fixtures.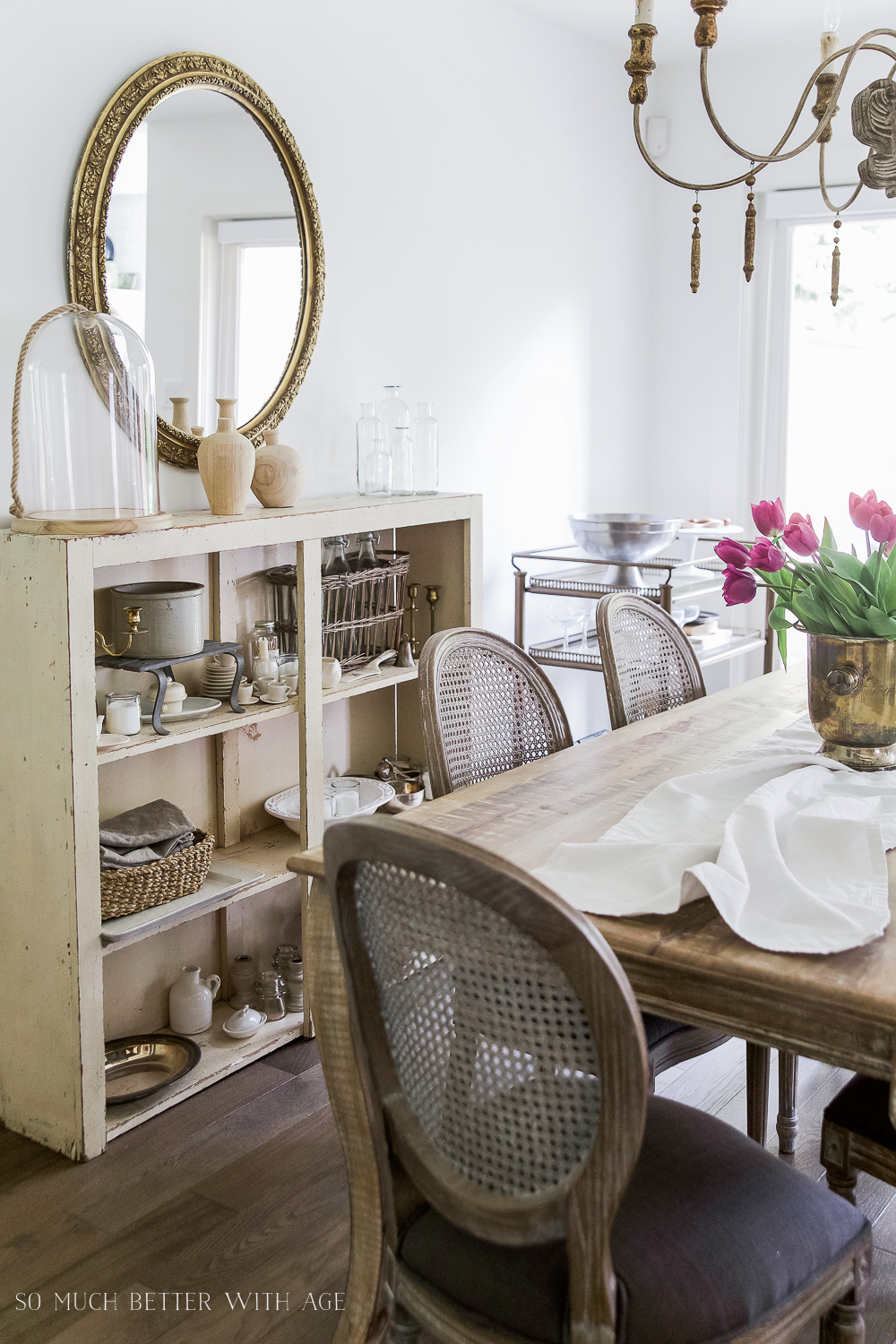 And here is a shot from the dining room to the kitchen.  Everything to the right of the beam was the part of the wall that was removed and where that couch once sat.
You can read about my big kitchen renovation here.  Even though two load-bearing walls were removed and a beam installed in their place, that post still needed to stay because the floor joists changed direction at the kitchen (don't ask me why!).
Everything in this room is neutral like the rest of my house so when flowers are brought in like these fresh tulips, they just can't help but need photographing.
Here is one last before and after shot:
Shop the Post

What do you think?  Big difference?
Don't be afraid to change rooms that aren't meant to be what they were made for.  Change things up to what works best for your family and your lifestyle.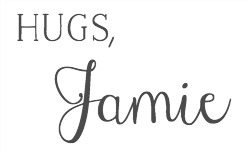 Click to See More: