How to Add Vintage Aesthetic to a Modern Home
Looking to add some vintage character to your home? Everything vintage is in today's article. What is vintage and how to add it to a new or modern home!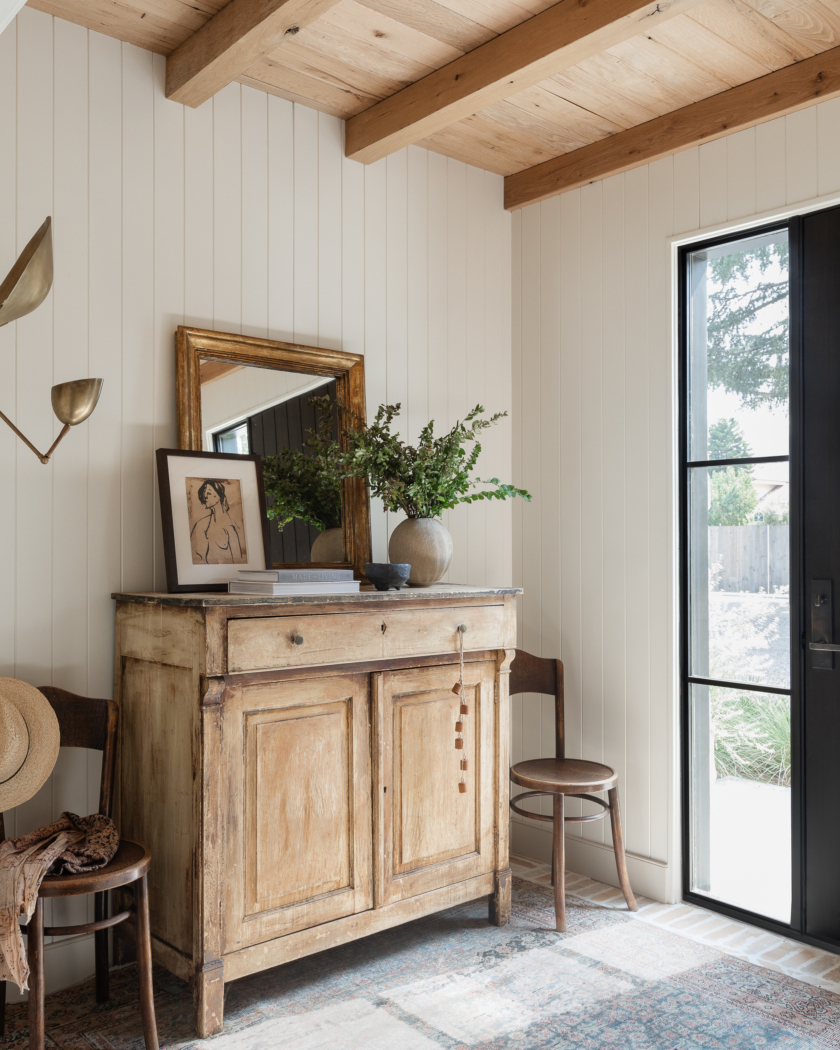 I am obsessed with vintage. Even as my style and taste has evolved, my love (obsession) for all things vintage runs deep. It says so much about a room when a touch of vintage is added. I can't believe I haven't done a post on this that I couldn't wait to share my thoughts.
What is vintage?
The term vintage is a popular term nowadays. It's been used instead of antique because a true antique is something that is at least 100-year-olds. While vintage items can definitely be antique, vintage refers to items or furniture that is from a different era and could be 50 years old. Obviously something that is new is not vintage but today there were many items that are made with a look vintage so although I love the real deal, adding items that have a 'vintage look' is equally fine to add a vintage aesthetic to your new or modern home.
Disclosure: This post may contain affiliate links. Please read my disclosure policy.
Why add vintage Decor?
Vintage adds something to your home that makes it unique and not so cookie cutter like every other home out there.
The problem today with everything being so accessible is that anyone can buy a complete 'look' from a showroom store and quite possibly have that same look as their neighbor. That's boring!
Finding things that are vintage to add to your home adds some texture, some uniqueness, and some character to your home.
How to achieve that vintage style to your home?
You can add some historic charm to your home through decor, hardware, mirrors, art, rugs, furniture and light fixtures.
You can see below how just a pop of vintage adds so much warmth to a newly decorated space.
Decor
Adding decorative accessories like the vintage scale by the cookbooks, an old crock and a vintage board are just some of the ways to add vintage elements to a kitchen.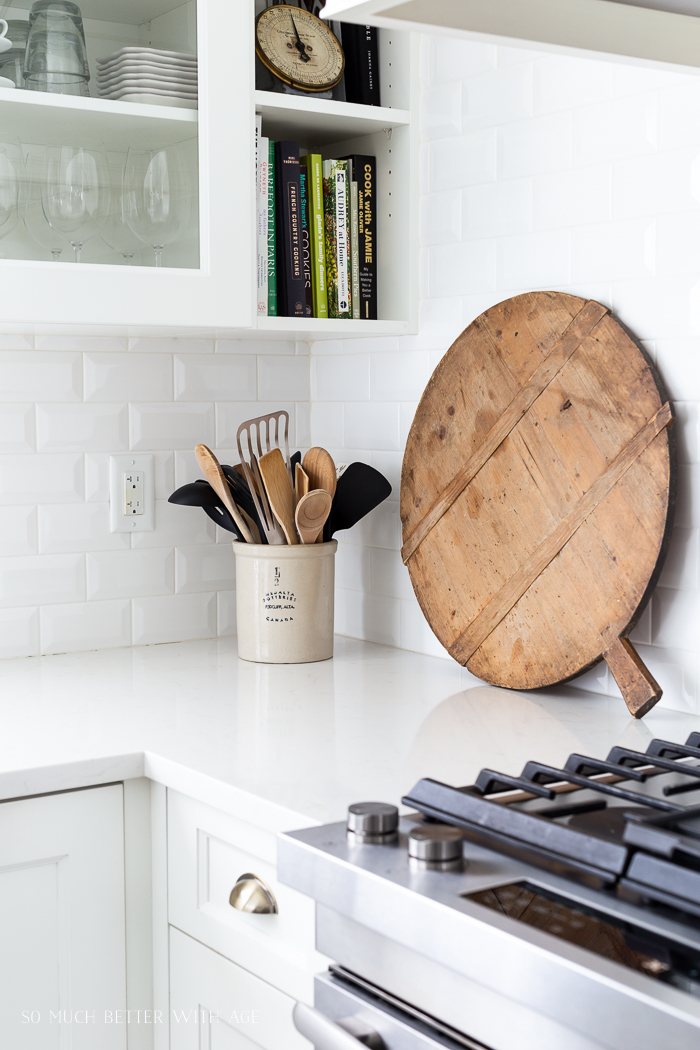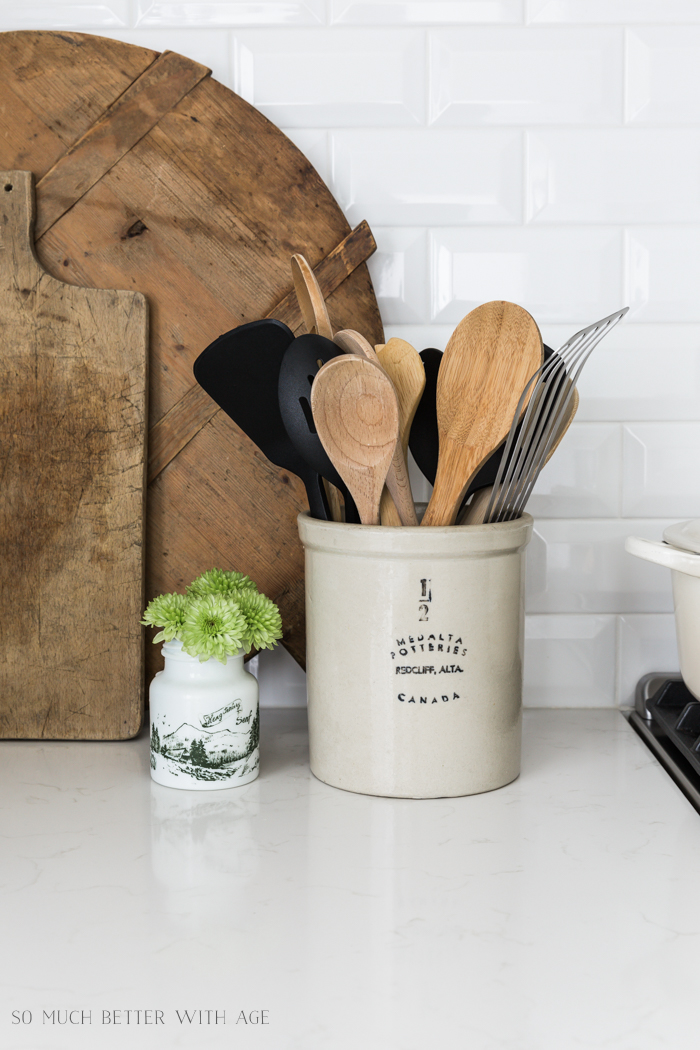 In my laundry room, I added another vintage crock and I had a laundry bag that I cut out and framed. Not actually vintage but adds that vintage flair.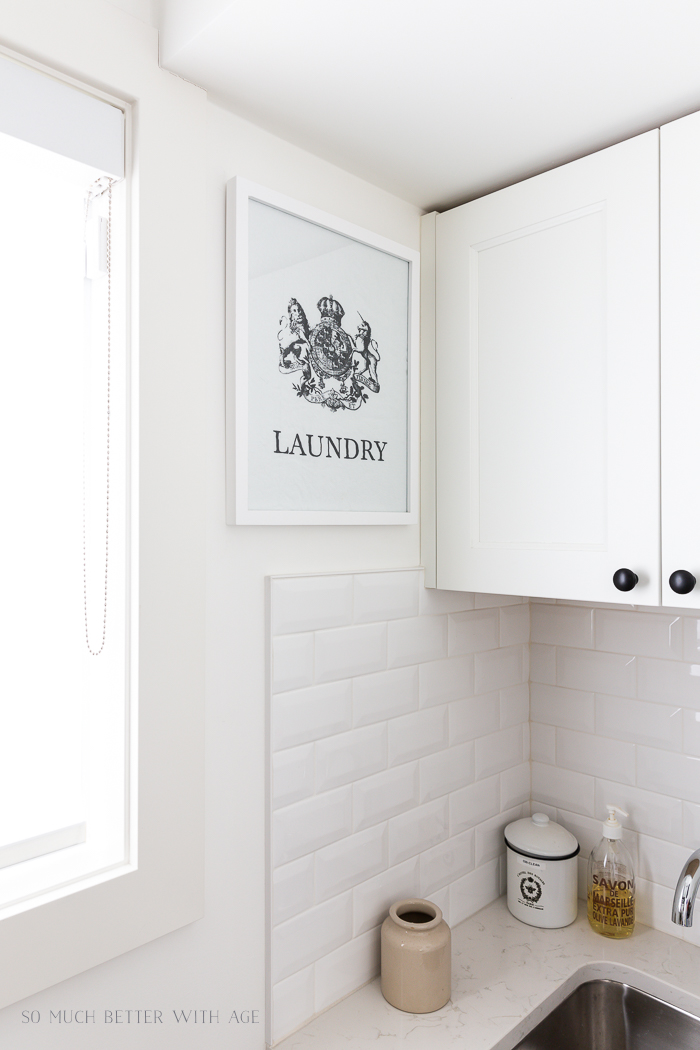 Glass demijohns whether new or old add rustic charm to a room.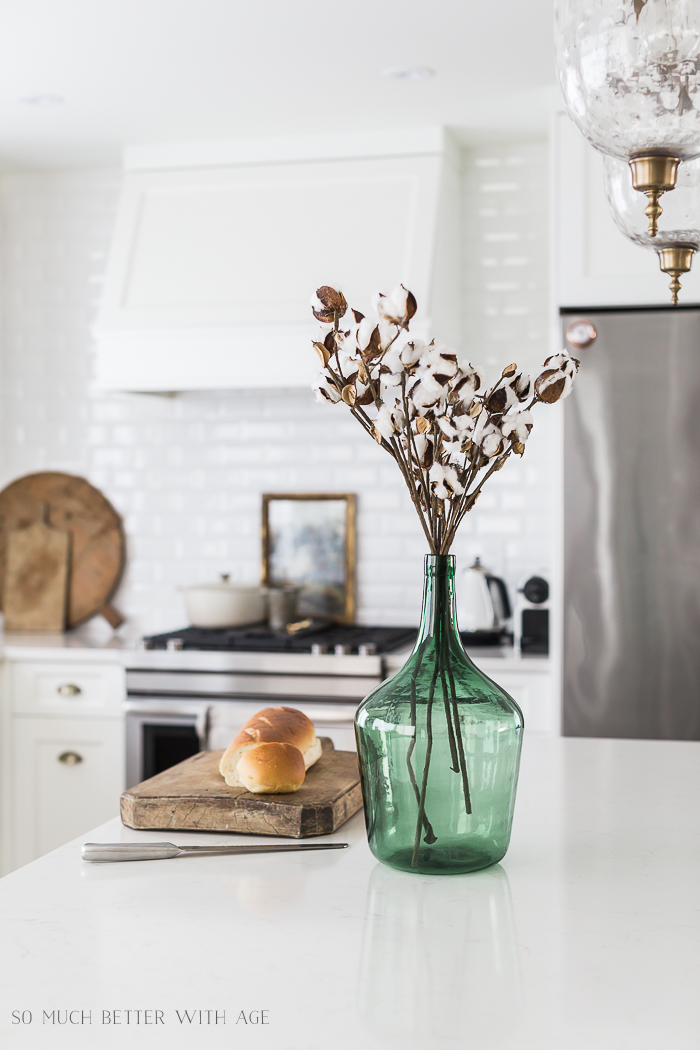 Shop Demijohns:

Hardware
My all-white kitchen needed some vintage hardware to add unique personality.
I also had a 'new' glass door knob added to our main floor powder room.
Shop Hardware

mirrors
Antiqued mirrors are a sure way to add a vintage aesthetic to your home. Finding vintage ones can be hard so I created my own!
Check out my tutorial on how to antique your own mirrors (along with a video).
And I have a tutorial on how to make a mirror extra-vintage looking.
Anthropologie inspired DIY French gold mirror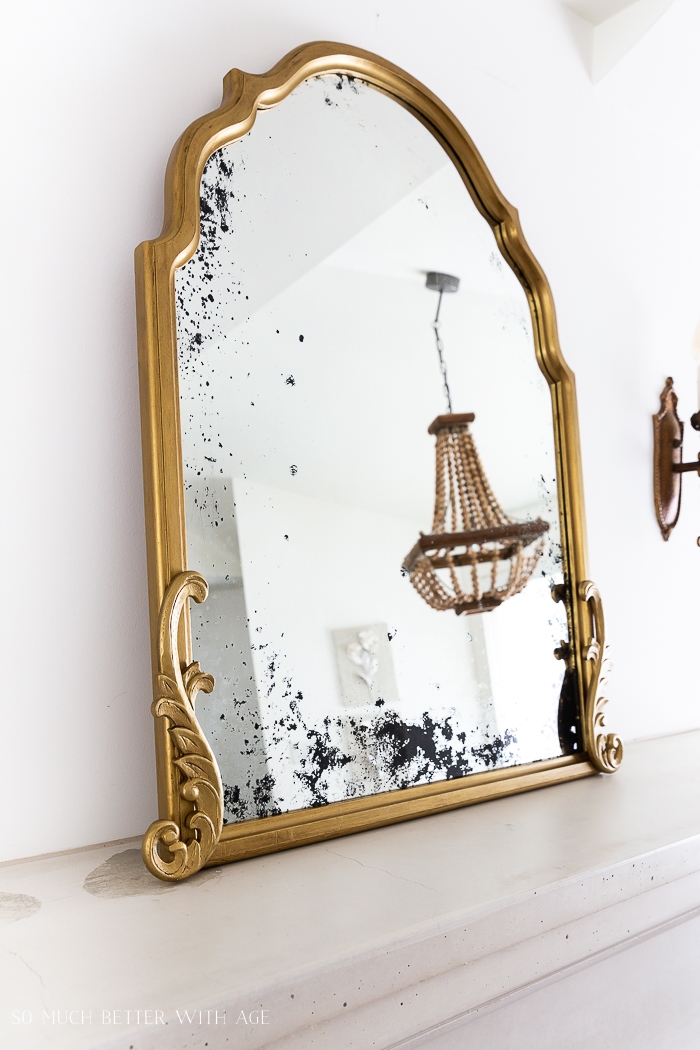 art
Vintage art, like these inexpensive downloadable vintage art pieces, are the easiest way to add unique personality to your home.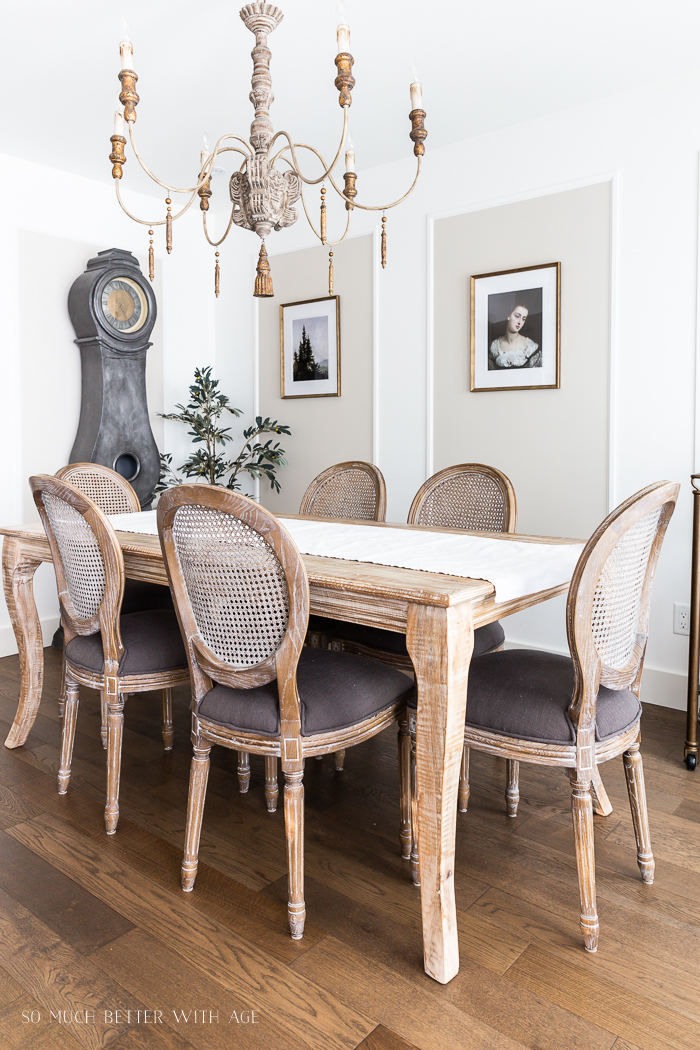 Black and white engravings have been my favorite so as long as I can remember and I used to collect them!
I found this beautiful vintage art piece at a thrift shop years ago and also love the patina on the frame.
Shop Vintage Art

rugs
My vintage rug is technically new but rubbed and scraped to appear vintage. It changes the whole look of my living room.
furniture
Adding true vintage pieces like a large antique armoire to a modern space really adds wow to a room.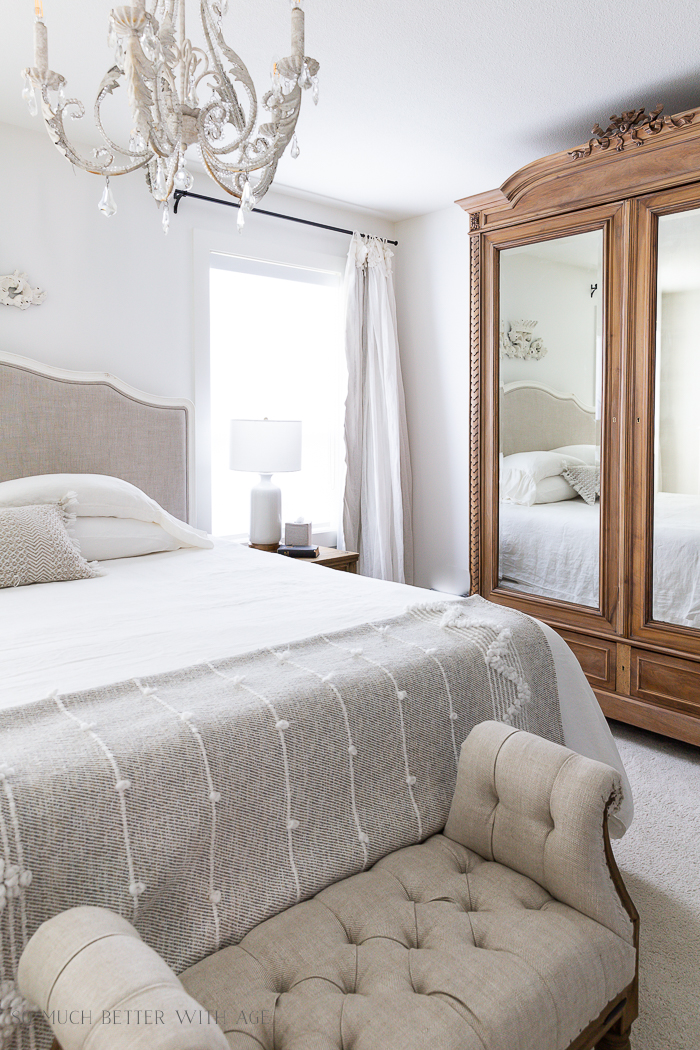 Even furniture that is new but made to look vintage adds so much vintage appeal.
light fixtures
Light fixtures like chandeliers, pendants and sconces really create a feeling of warmth and old world charm to a room.
Other Vintage Examples
Now here are some gorgeous images from other designers that do such an amazing job of incorporating vintage into their spaces.
The mirrors and art pieces in this bathroom created by Blanc Marine Living is visually appealing and adds depth to a modern space.
Kristin Laing Design adds texture to an all-white bathroom with the vintage rug, basket and art pieces.
Park and Oak Interior Design add rustic elements to this laundry room with the floor, the door, the hardware, shelf and artwork.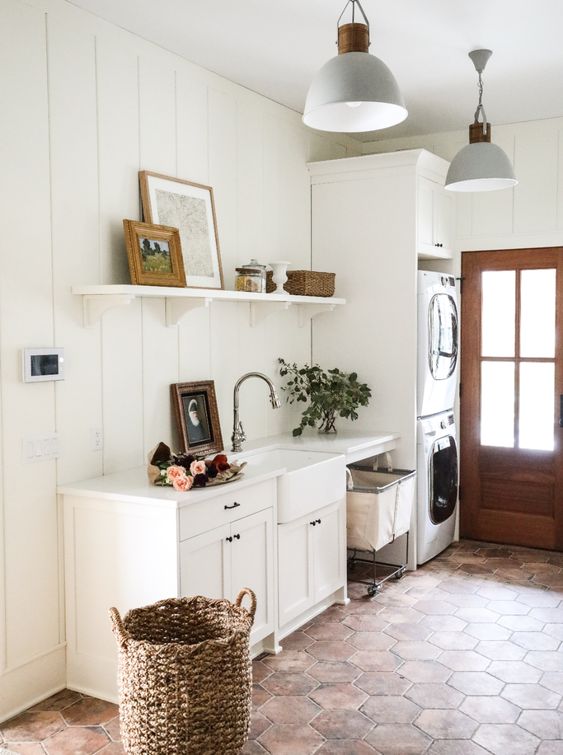 Amber Interiors always does a perfect job of blending vintage to a modern space. The antique mirror and vanity are stunning!
W Design Collective dropped a vintage chandelier along with a vintage-looking fireplace to this space that is stunning.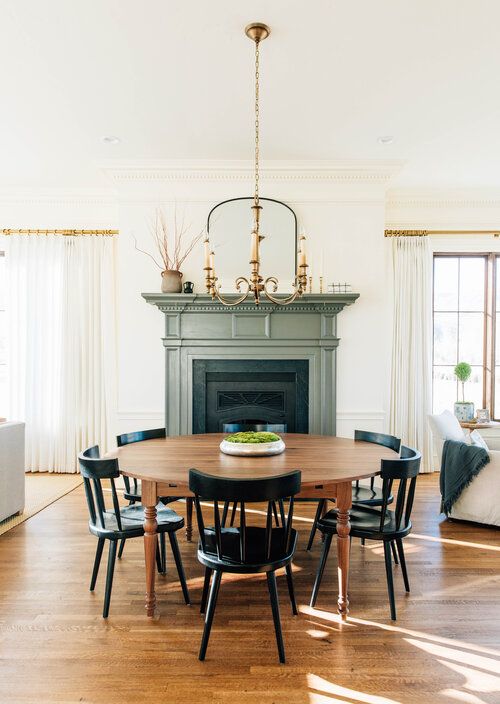 Kelly Hopter Interiors instilled old world charm by taking antique doors and retrofitting them on this refrigerator.
Heidi Caillier Design adds thoughtful personality to this living room with many touches of vintage charm.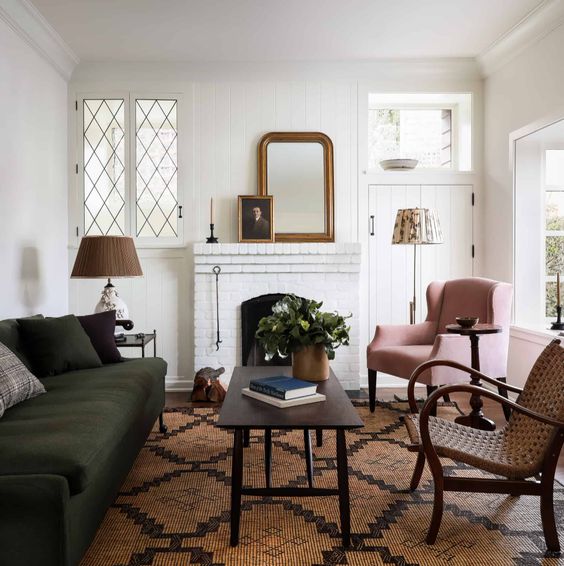 Lisa Staton Design makes a statement with this bold vintage cabinet in this modern, beautiful kitchen.
Seeking Lavender Lane created a vintage European feeling in her newly renovated home.
Heather Bullard always adds vintage cool to her modern home.
JDP Interiors via Jenni Kayne does shelf styling to perfection with many vintage elements.
I hope this has helped you to add vintage aesthetic to your home. What are some of your favorite vintage elements? Let me know in the comments below.
Make sure to pin it for later!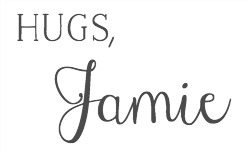 Ultimate Guide to Antiquing Mirrors