How to organize kids keepsakes so that you can find them easily. Enjoy the free printable birthday cards!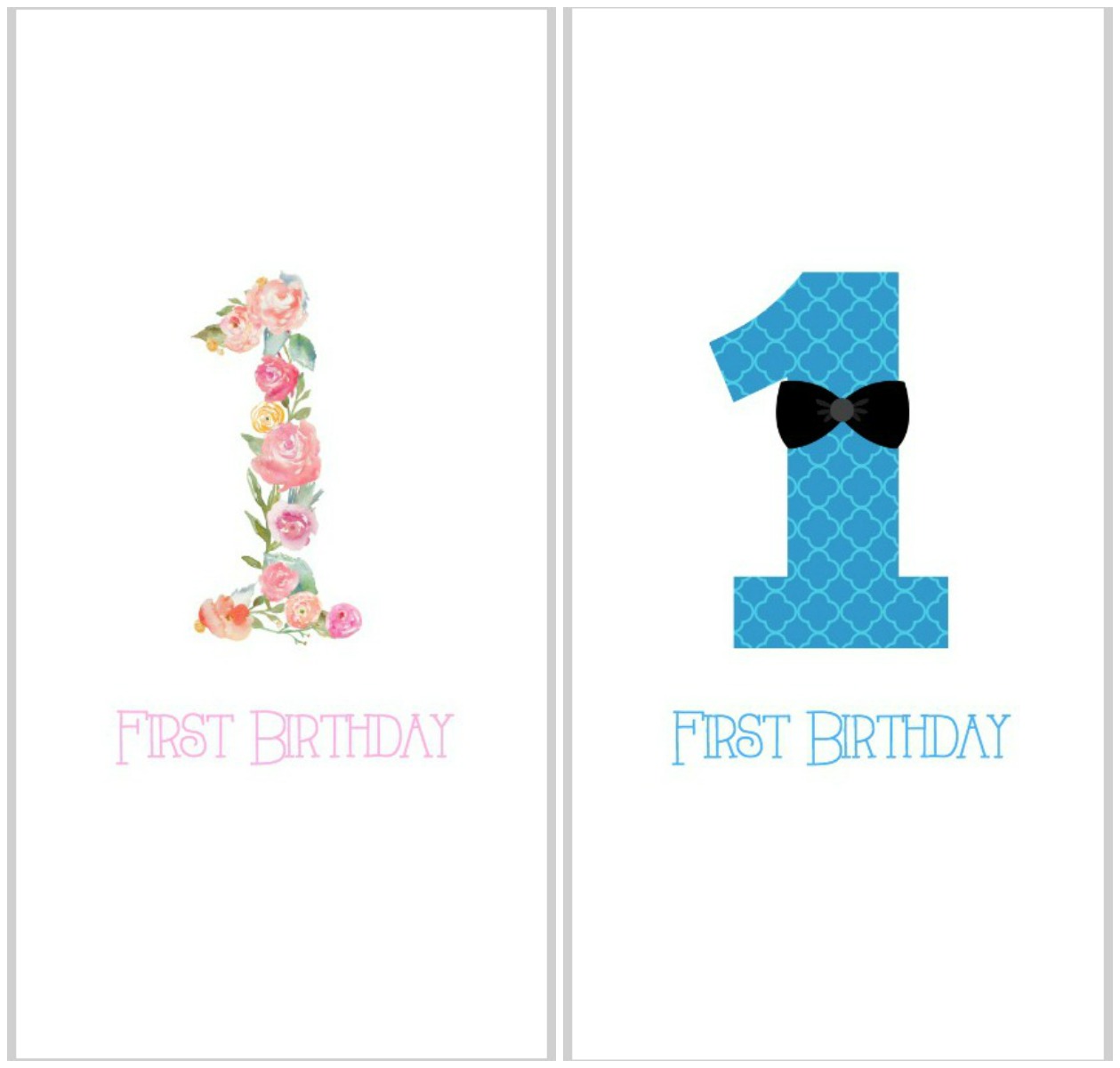 I'm a super organized person but also super sentimental when it comes to keepsake stuff. Especially stuff for my kids.
Now that my daughter just turned 5, I knew it was time to tackle filling out the rest of their baby books before I forget.
Most baby books go until the age of 5 so it's the perfect time to finish filling everything out and store them away.
I had 90% of the books filled out but I still needed to finish adding a few photos here and there.
I also needed to organize their birthday cards.
If you toss them, that's fine. But if you are like me and want to keep some, here is my solution along with a timeline for how long to keep them.
Let me show you how I organize my kids' keepsakes (birthday cards) along with a free printable for you to download for your keepsakes.

Because the baby books go until 5 years, I keep the birthday cards for those birthdays.
There's a section in my kids' baby books to fill out who came to their birthday and what gifts they received. There is also room for a few birthday photos.
I collect the bunch of birthday cards from that birthday and wrap them in beautiful ribbon.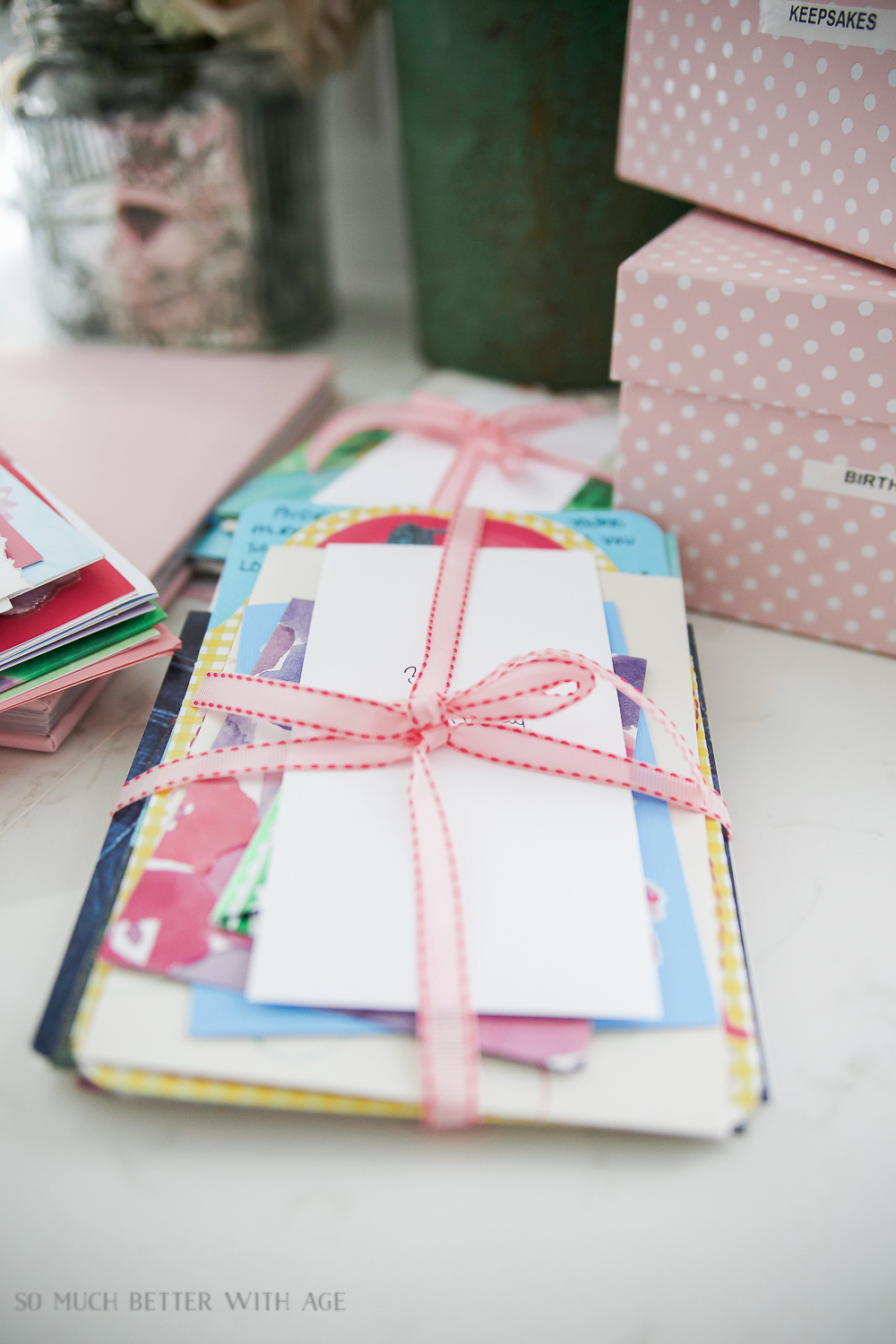 I used to stick a piece of card stock on top with the birthday year but I decided to make pretty printables for you to download.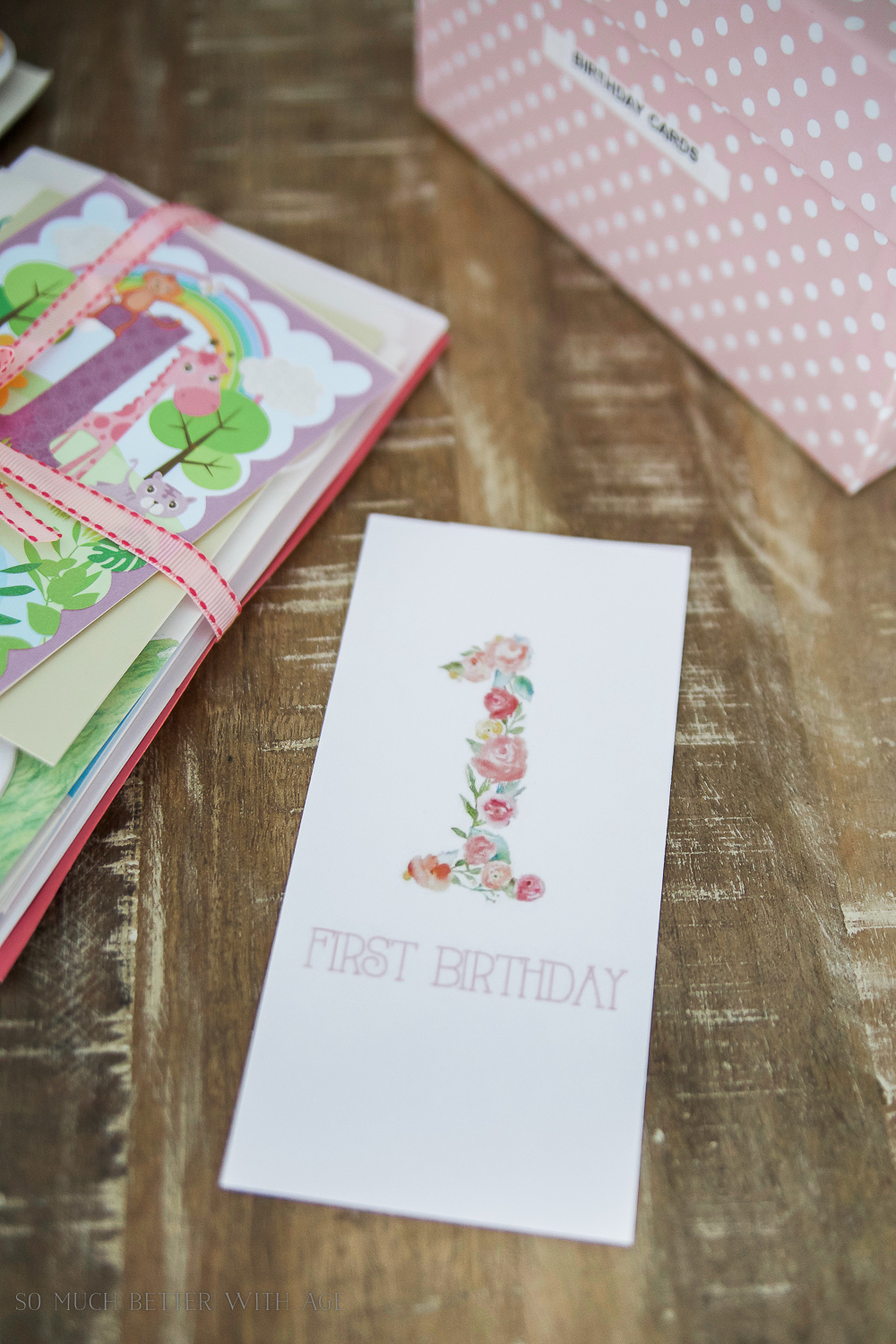 Print these printables on card stock and cut down to the size you want. Next slip it on the top of the birthday card pile and add them to a pretty keepsake box/photo box.
This is my favorite paper cutter for cutting the card stock with.
I have two boxes for each of my kids.
One box I labelled 'birthday cards' for the five years of birthday cards and another box for just random keepsakes.
For the 'keepsakes' box, I have letters from Santa, tooth fairy letters, Valentine's cards from mom and dad, anything special you'd like them to keep.
I have the keepsake boxes on a shelf in my office and I can add to that box throughout the year.
After the fifth birthday, I just keep the cards from mom and dad and grandparents and stick it in the keepsake box.
There are so many items for the kids that you can keep and if you don't care about keeping birthday cards, then don't stress yourself if you didn't keep them or don't want to hang on to them.
For me, one shoebox of cards is a sweet, sentimental item to keep.
And a keepsake box is a perfect way to add special momentos over the years.
I'll be sharing more soon on how to organize other kids' keepsakes like artwork and baby books.
Happy organizing!
Here are the printables to download 1-5 years for girl and boy: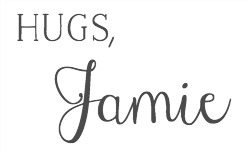 SaveSave