Chantilly Lace by Benjamin Moore – Why It Might Be The Perfect White Paint Color
Find the best white paint for your home and why it just might be Chantilly Lace from Benjamin Moore.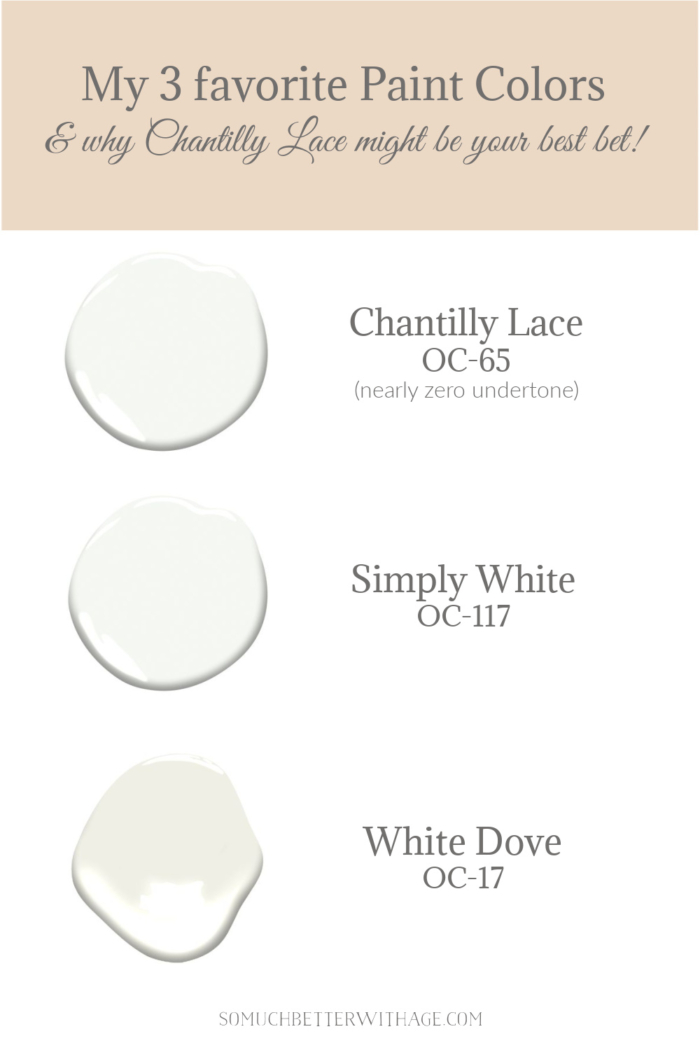 Why is Chantilly Lace Such a Perfect White?
In September last year I took Maria Killam's True Color Expert course so I now have a certificate in being a true color expert. It was quite different than my interior design program but very interesting to learn about all the different undertones in each paint color.
Undertones is what makes picking a white paint color so difficult! In certain lights a white or off-white paint color can have yellow, green, blue, pink, orange or gold undertones. How confusing is that?!
And you don't know what paint color will look good until you've tried it in your particular space, even in different areas of your home. It depends on the way the natural light comes into your home, if you have large green trees outside your window, and what type of overhead lighting you have.
You can see how I pick white and grey paint colors here and here.
But what I learned in that class is one of the most truest whites with barely any undertone is Chantilly Lace OC-65 by Benjamin Moore.
My favorite paint colors are 1) Simply White OC-117 by Benjamin Moore and 2) White Dove OC-17 by Benjamin Moore.
My whole house including cabinets, trim, doors and walls are all Simply White.
But sometimes both of those paint colors can have a yellow undertones. If you are finding that's the case for you when trying paint samples in your home, then Chantilly Lace might just be for you!
Real Life Examples with Chantilly Lace OC-65
The cabinets in this beautiful kitchen renovation by Studio McGee are painted in Chantilly Lace where the walls are painted in Simply White. Although most of what you see next to the cabinets is white subway tile, it does show you a slight difference in the two paint colors.
Kris from Driven by Decor renovated her beautiful ensuite bathroom and chose Chantilly Lace OC-65 for her walls. Beautiful choice, Kris!
Erika from Designing Vibes painted her living room with Chantilly Lace OC-65. So bright and airy!
Benjamin Moore uses Chantilly Lace against this gorgeous Gothic Green 637. You can really get a sense of the true white against the green here.
My friend Chelsea from Making Home Base does such an amazing job with her rental (you have to follow her for great DIY tips). Her home is cozy bright and airy and cozy using Chantilly Lace OC-65.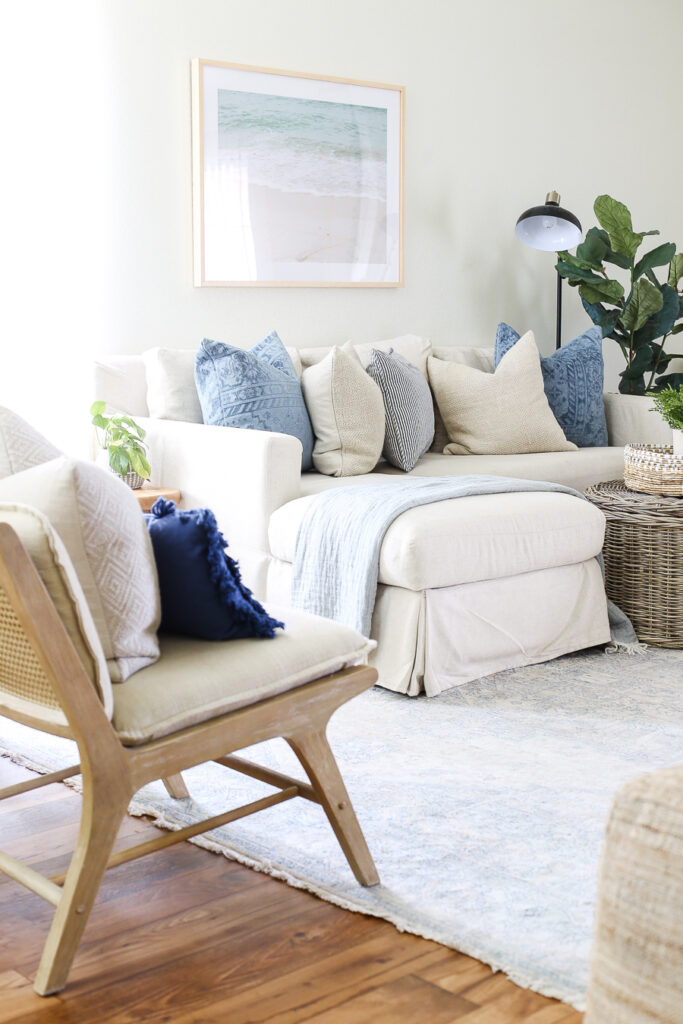 Such a stunning living room designed by Julie Rootes using Chantilly Lace OC-65. I love those light wood built-in cabinets.
My friend Lauren from Bless'er House has done some amazing transformations and turning this room into an office painted in Chantilly Lace OC-65 was the right thing to do!
This beauty of a kitchen is from Britt Design Studio and the Chantilly Lace OC-65 painted walls and cabinets go so good with all the stunning details in this kitchen.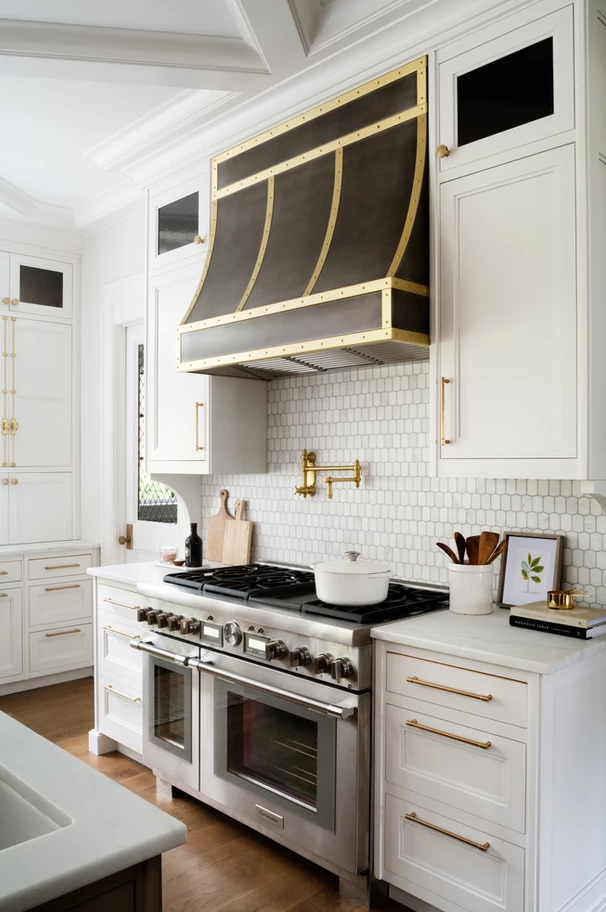 My friend Krista from The Happy Housie (who lives only a short ferry ride away from me) painted her house in Chantilly Lace OC-65 which makes her whole house look clean and crisp.
I love the brightness of this stunner from Studio McGee using Chantilly Lace OC-65. Those black pendants and vintage rug compliment this kitchen so well.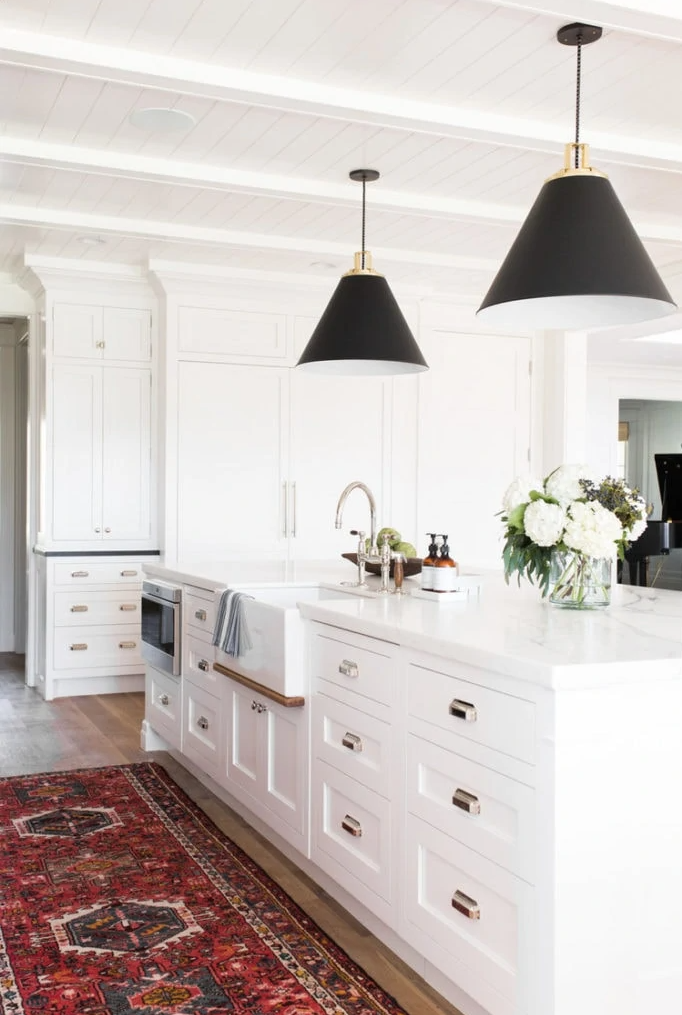 Michelle from Making Home Pretty created this pretty wall and painted it in Chantilly Lace OC-65.
What do you think of Chantilly Lace? Make sure you check out my other favorite white paint colors and the easiest way to choose grey and white paint colors in your home!
Check out all my paint color posts:
Simply White by Benjamin Moore
How to Pick Grey and White Paint Colors