I reviewed of three different linen pillow shams for my master bedroom. Let me know which one you like the best!
I love an all white or neutral bedroom but I may be a bit odd in the fact that I don't like a lot of pillows on my bed. They end up on the floor and if there are to many to deal with then I don't feel motivated to make my bed in the morning.
We have our sleeping pillows but I finally bought some new pillow shams to try out and see how they would look with the creamy-white duvet cover.
I bought three different styles of linen pillow shams. Let me know which one you like the best!
This post contains affiliate links for your shopping convenience. Click to read my full disclosure policy.
1. Ruffled Edges Pillow Sham
These linen pillow shams are so pretty with their ruffled edges. I love the beige linen as it matches so well with the headboard.
I washed them immediately and just hung them to dry. This is what they look like after without ironing. I love all the wrinkles (but not too wrinkly) and they are so soft too.
The crocheted blanket and pillow are projects from my book, French Vintage Decor.
Linen shams frilled luxury stone washed – standard size – natural flax gray
2. Creamy White Pillow Shams with Long Side Ruffle
I love these for everyday pillow shams. They match my duvet cover perfectly and look gorgeous for an all-white bed. The long ruffle fills the gaps on the sides of the bed by just having two standing pillows on a king size bed. Perfect for someone like me who doesn't want an extra pillow on the bed!
Linen pillow cases luxury stone washed – standard – white linen (which is a creamy-white)
3. Oatmeal Linen Pillows Shams with Extra Long Ruffle
I love the extra length in these oatmeal pillow shams. The length makes them feel luxurious and the color is again perfect with my headboard.
These ones are a bit different than the other two as the ruffle itself is in a different, lighter linen fabric than the rest of the pillow but I like this contrast.
Linen pillow cases stone washed super soft – standard – light sandy gray
I'm going to keep all three end and change them periodically to give my bed a different look but not too different, which is good for a girl like me who likes an all neutral bedroom.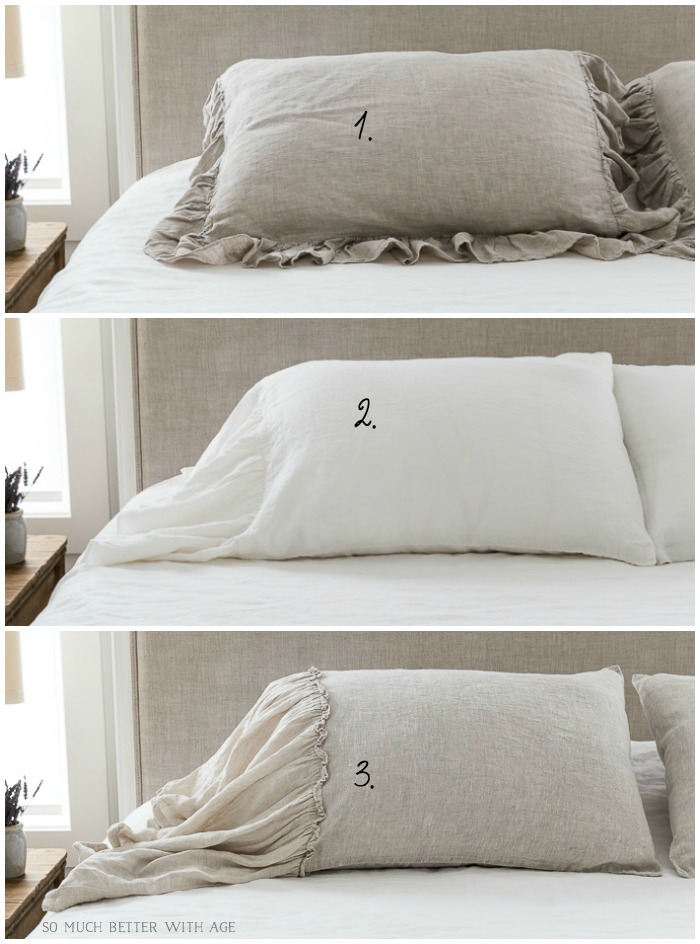 Pillow Sham 1 | Pillow Sham 2 | Pillow Sham 3
It's now the perfect cozy space to read a good book in.
This book I'm reading is also so amazing – The Bettancourt Affair.
To see my full bedroom source list, click the French Vintage Master Bedroom link below.
To read more about how this armoire was given a makeover, click here.
Make sure to pin it for later!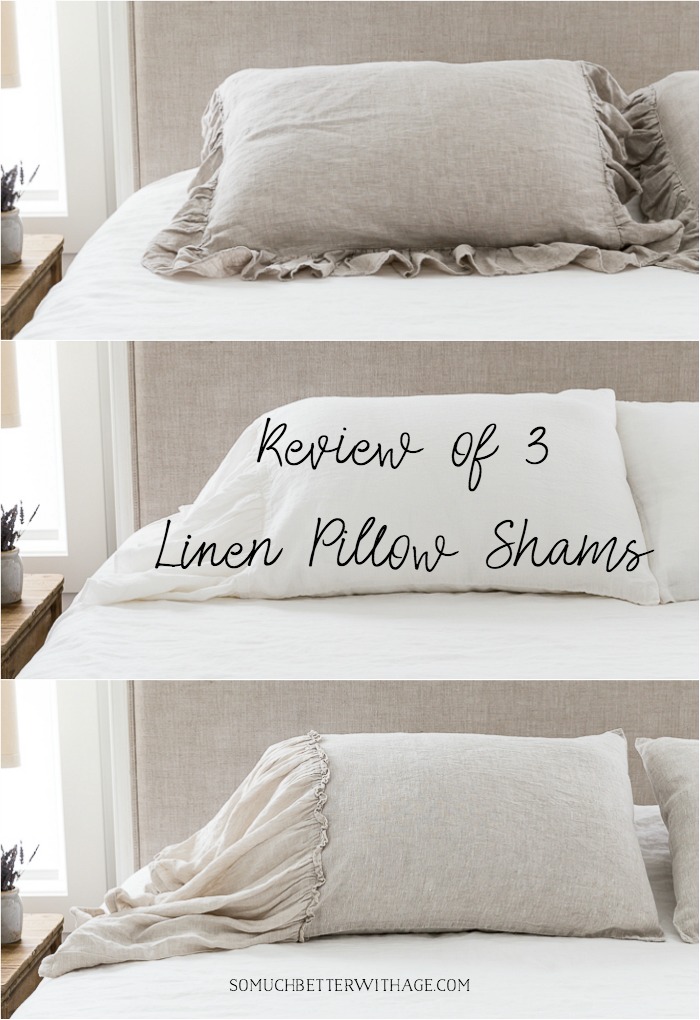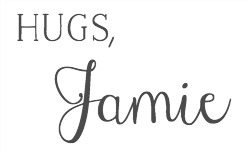 Click in Case You Missed:
Sew Ties on Duvet Cover to Prevent Slipping