Industrial Vintage French Dining Room with Source Guide
I have finally finished my dining room transformation and I am sharing all the industrial vintage French details!
My dining room decor has been a process. For some reason, I've had such trouble trying to find the right ambient arrangement and decor for this room.
I think it's finally complete!
Okay, no room is ever complete complete but I'm so happy with it now I'm not changing it for a long time.
Today I'm going to show you the before photos of when we first bought this house and also the complete source guide.
So let's see how far we've come!
Disclosure: This post may contain affiliate links. Please read my disclosure policy.
Industrial Vintage French Dining Room
So let's start at the beginning. I didn't get too many photos of this room (just two to be exact) when we first toured this house. Probably because it was so blah and boring.
It's definitely come a loooong way since then!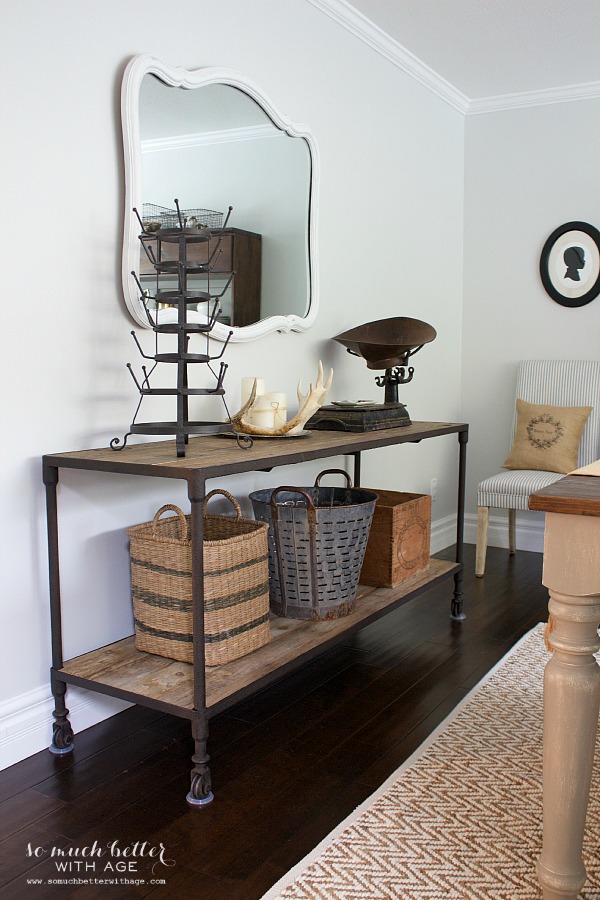 I just gave this cabinet a refresh by painting the interior. It really lightens up the room.
I'm loving my wire basket collection displayed on top of the wooden cabinet.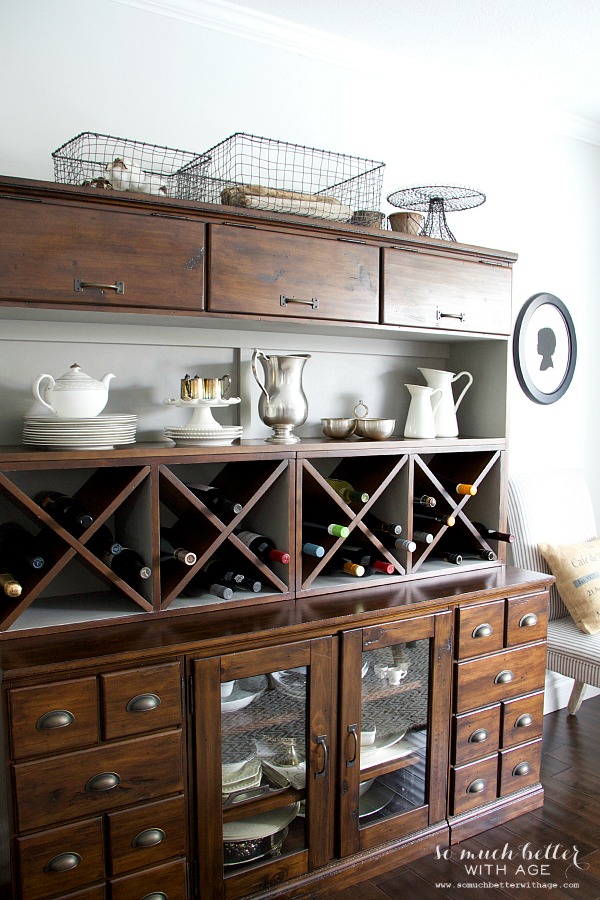 Here is the only other before photo I took. That trim got painted out right away and the carpet was removed stat!
So Much Better!
You might have noticed I got a new rug. It's the ivory jute and chenille rug from West Elm and I LOVE it!
Here's my cowhide dresser I gave an eye catching makeover to not too long ago.
I also did a makeover with these chairs. I sanded the legs to give them a more rustic look. They turned out fabulously.
The legs were really dark which was competing with the dark floors.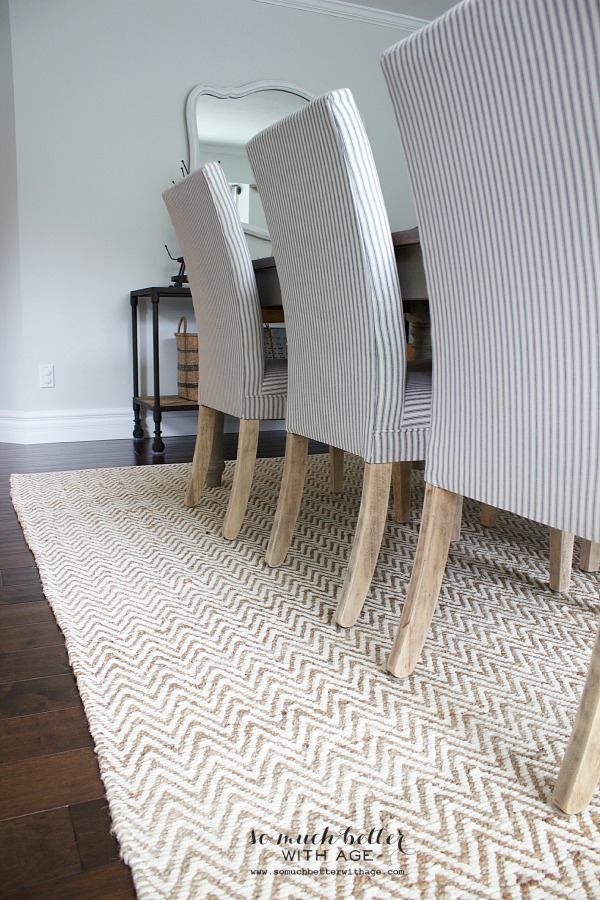 That lovely textured rug again.
Last year (was it last year or two years ago? How long ago did this room makeover begin??) I gave the dining room table a makeover.
Love all the neutral contrasts in this room now.
I'm so happy with all my design choices even if it did take forever. I love finding statement pieces that just fit and usually that takes awhile.
It's a process and I think every room should be a process. Who wants a cookie cutter room, right?
You should makeover a room however you want. Just know that it will take time. Mix in vintage pieces, with Craigslist finds and save for big splurges. Of course the more DIY projects you can add the better. Take your time and have fun and you'll come to have a visually appealing room you love too.
So now onto the source guide. Most of my items are 'finds' so you won't be able to find the exact same ones.
I'm going to do a post soon where you can find similar items online today so stay tuned for that!
Source Guide
chandelier – Katie's Light House (blue & buttermilk)
wall color – Behr paint – Horizon OC-53
rug – West Elm
dining table – custom made
blue ticking stripe chairs – Home Sense (purchased 2011)
industrial cabinet – Restoration Hardware
china cabinet – Pottery Barn
chippy cabinet – antique shop
old vintage scale – antique shop
olive bucket – Decor Steals or Antique Farmhouse
striped basket – local find
wooden butter box – gift
white mirror – flea market
china collection – Royal Doulton Naples Silver
Vancouver BC burlap bag – Old Faithful Shop
old typewriter – antique shop
burlap runner – Pottery Barn (purchased years ago)
drying rack (cup holder) – local shop but can also be found on Decor Steals or Antique Farmhouse