Learn all about cast stone fireplaces and the pros and cons of them.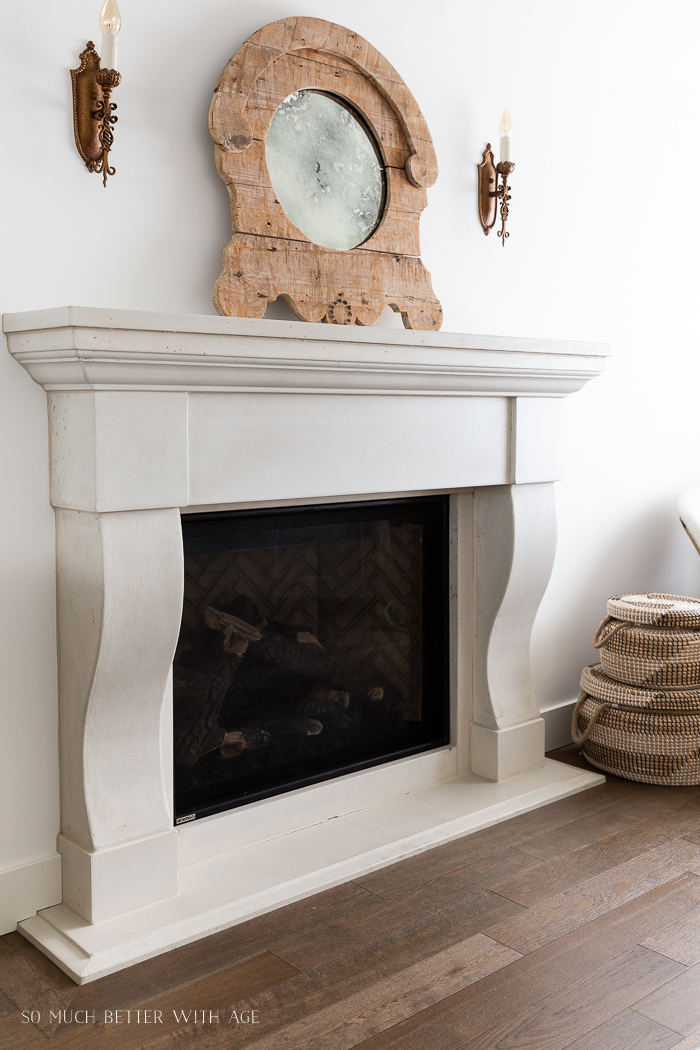 I love my fireplace! I knew it was the first thing I wanted to do when I moved into this house. In my previous house, I had two fireplaces that needed updating and I had just painted them to save on costs. So it was something I was wanting for a long time and I'm so glad I made the decision. In my long, narrow living room, it is definitely the focal point.
What is cast stone?
Cast stone is a cement mix with fine aggregates like crushed natural stone, silica and regular sand that is combined with a variety of colors and finishes.
It is one of the oldest types of concrete. Since the early 20th century both in Europe and America, cast stone has been used as a replacement for nature stone and often times they have outlasted natural stone.
Cast stone is one of the best ways to get that limestone-look fireplace that is in many European chateaus and becoming more popular for our modern homes. The variations in the natural materials give it that timeless beauty.
It's a very cost effective way of getting that limestone look and adds much more character to a room than a typical stone or wood fireplace can.
Because cast stone is made from natural materials, some variations should be expected. There is also the possibility of cracking which I'll show you with my fireplace.
How are they made and installed?
They can be made in one piece or in several pieces, depending upon the design. Your walls will need to bear the weight of this large fireplace but if it needs to be made lighter, some places will make the fireplace lighter by placing cast stone veneer over another fireproof material. For this reason, you should get a reputable installer to install your cast stone fireplace. Usually the maker of the fireplace will also want to install or have someone to install it.
It will also need to be properly sealed after installation.
Here are the before and after photos of my cast stone fireplace installation.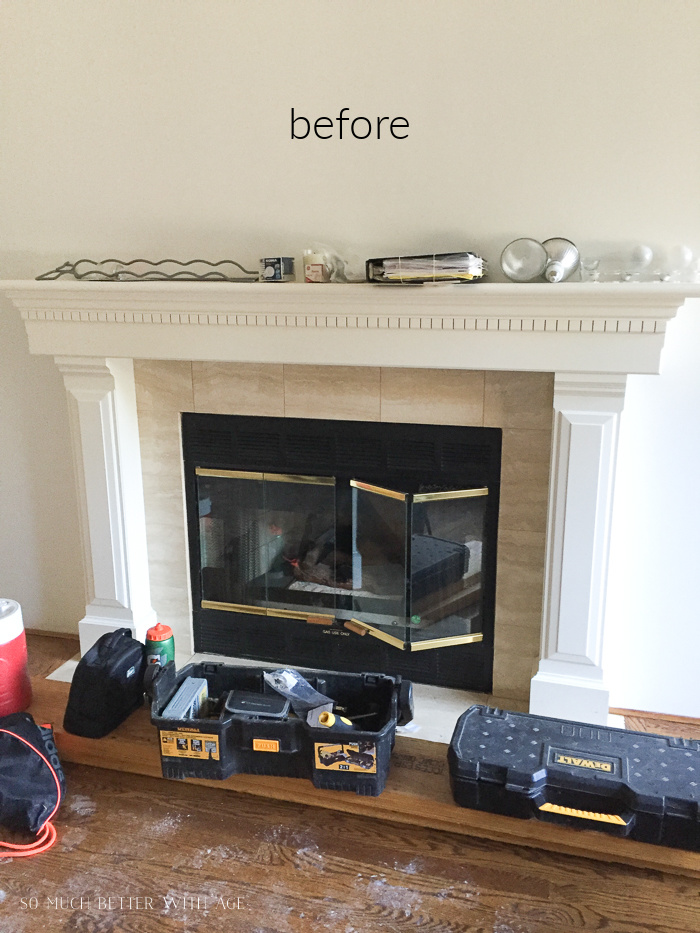 The fireplace insert was also replaced to a new one with herringbone brick pattern inside.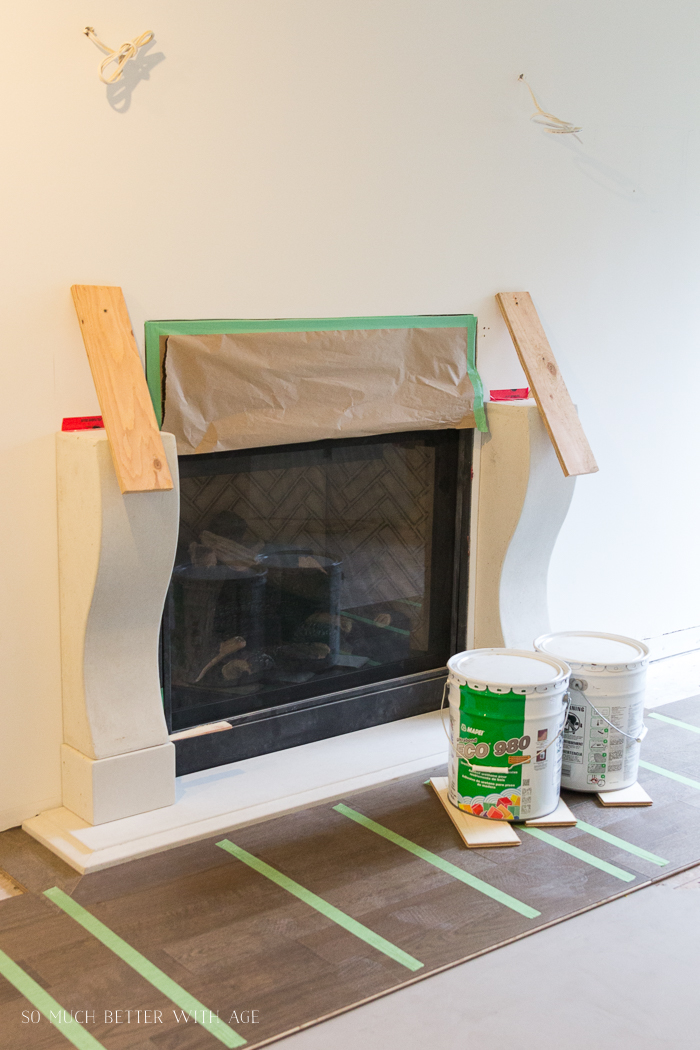 Price of Cast Stone Fireplaces
A custom cast stone fireplace typically costs less than a natural stone (like limestone or marble) fireplace but they still can be quite expensive. They can range from $2000-5000 (CDN).
You can also get pre-made fireplaces but you would still need to get it properly installed and it may need be the right size for your space.
My fireplace
There are some cracks that have happened with my fireplace. It's been five years since it's been installed and they've just happened over time.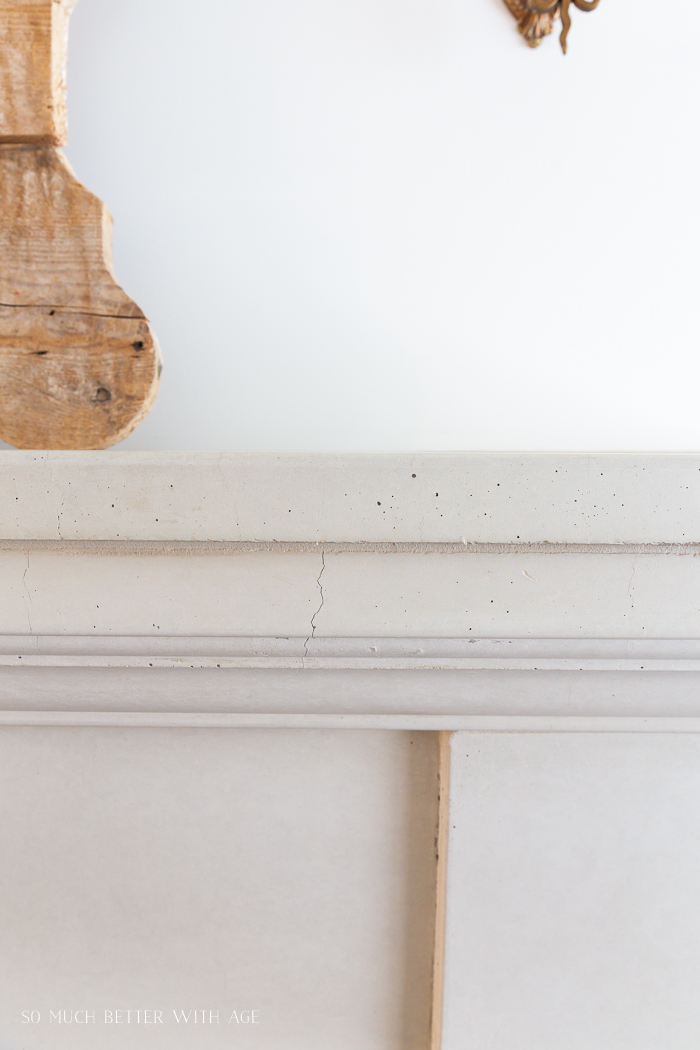 The biggest crack is on the hearth right down the middle and there is some cracking with the grout. I know we could have the fireplace company come back to fix the grout but I'm not sure what they can do about the cracks.
As annoying as the cracks are, I am okay with it because to me it makes it look more old and natural but it is something to consider when purchasing one.
Other than the small one in the above photo, the are mostly on the hearth. If cracks really bother you, then a tiled hearth might be something to consider.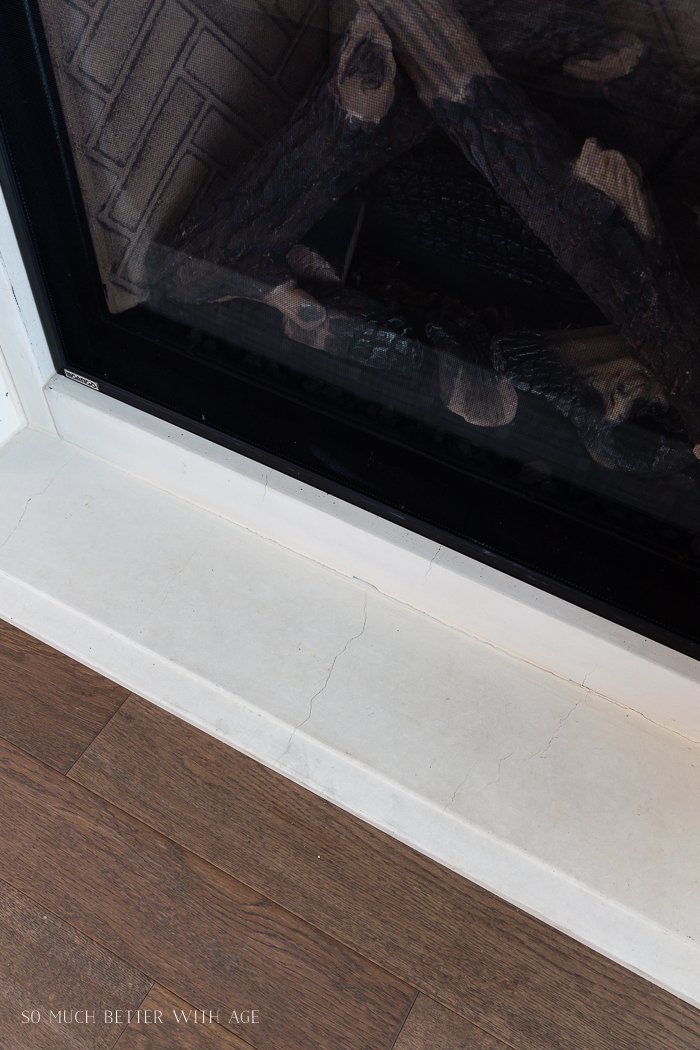 Other Examples of Cast Stone fireplaces
Here are some other examples of cast stone fireplaces I came across. Please pin from the original source.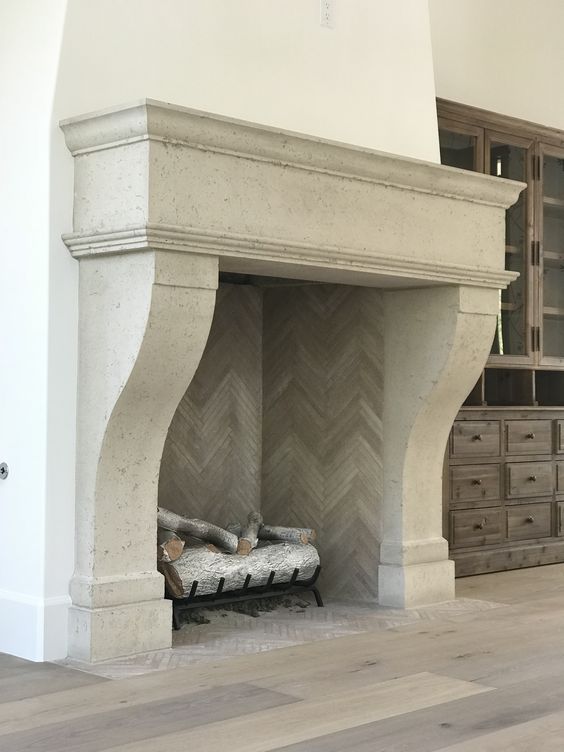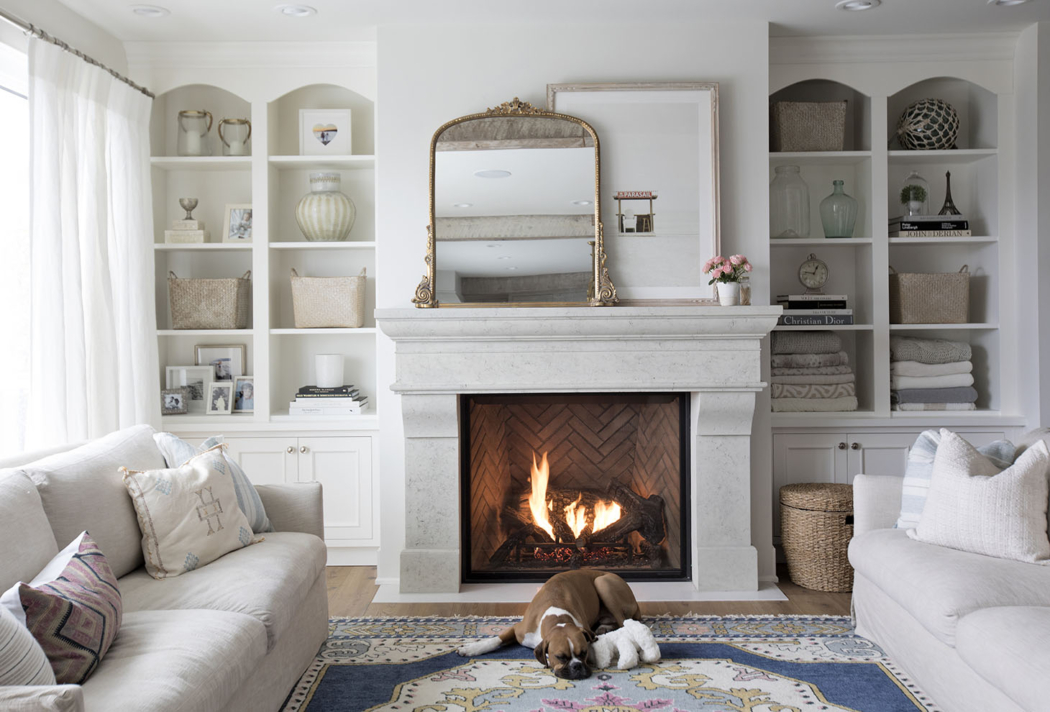 Disclosure: This post may contain affiliate links. Please read my disclosure policy.
Shop
You can shop for pre-made cast stone fireplaces online too! Check these ones that I found:

I hope you learned more about cast stone fireplaces with my post/article today! Let me know if you have any questions. Wouldn't you love a cast stone fireplace?
Make sure to pin it for later!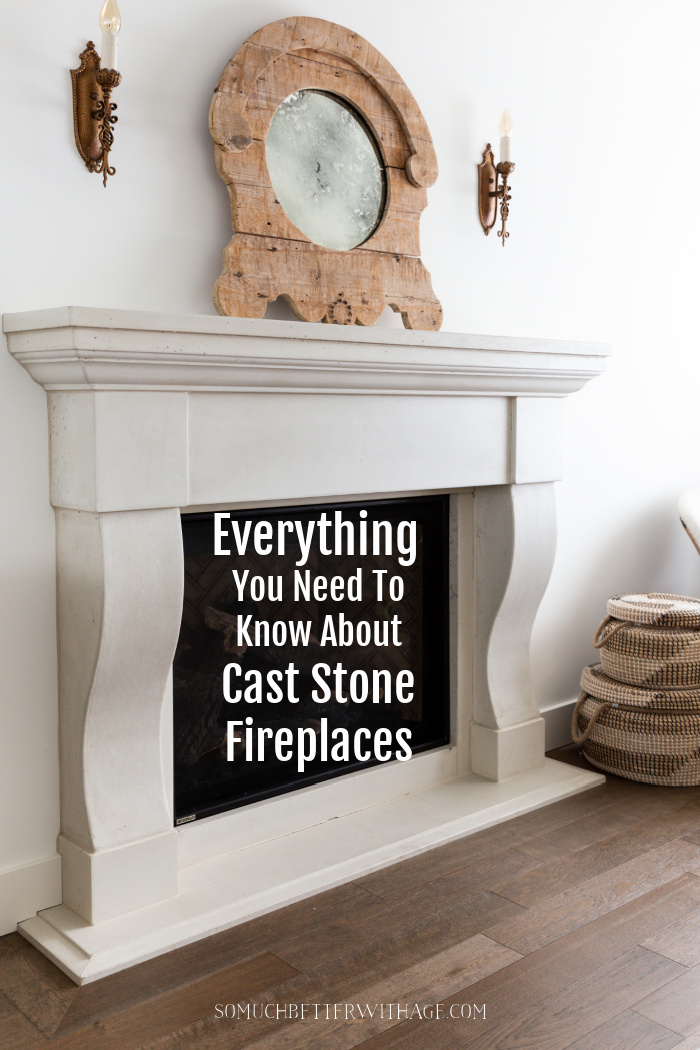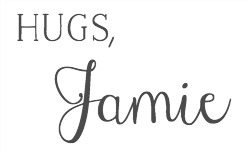 click in case you missed:
How to Install Simple Picture Frame Moulding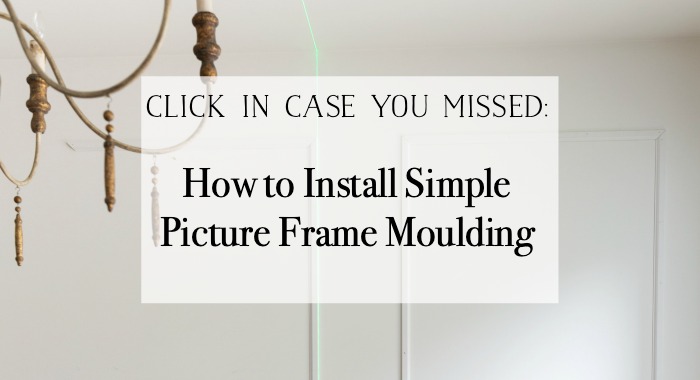 How Baseboards, Trim and Doors Make a Difference