Today I'm sharing the best way to style a bed! So many options and all of them beautiful!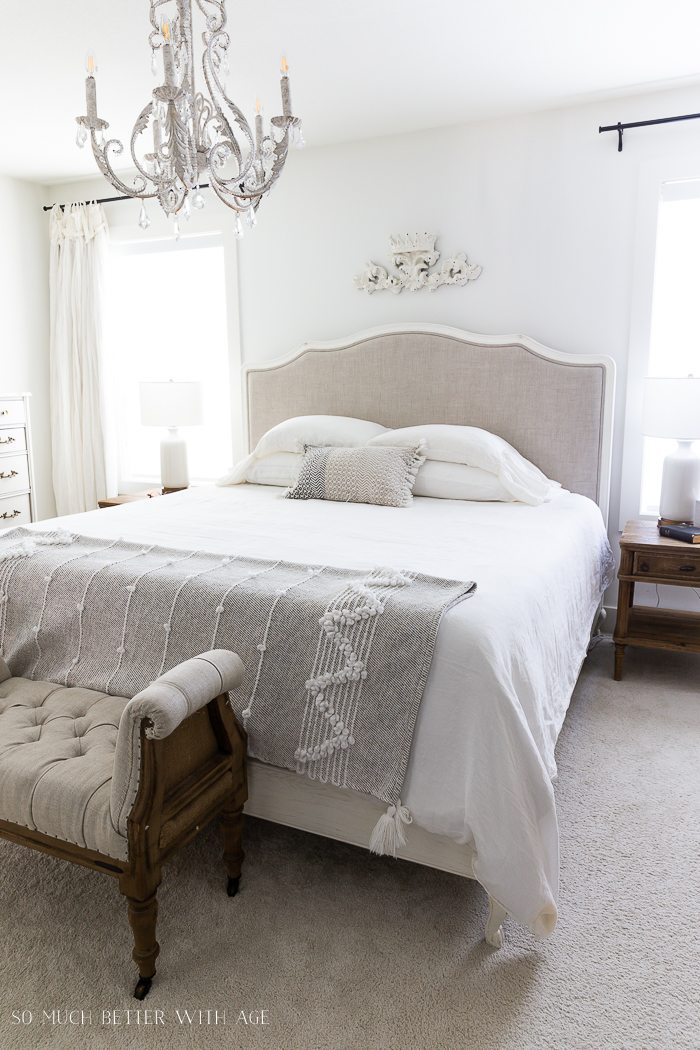 I admit I'm not the best at making the best bed in the world. I'm not one for a lot of throw pillows. I know they look pretty but I hate throwing them off the bed each night. So I tend to make a pretty and simple bed but still comfy. But I'm sharing with you friends of mine that make the most beautiful beds and some of my favorite bedding.
It's also time for our monthly Simply Home Series so be sure to visit my co-hosts at the bottom of this post!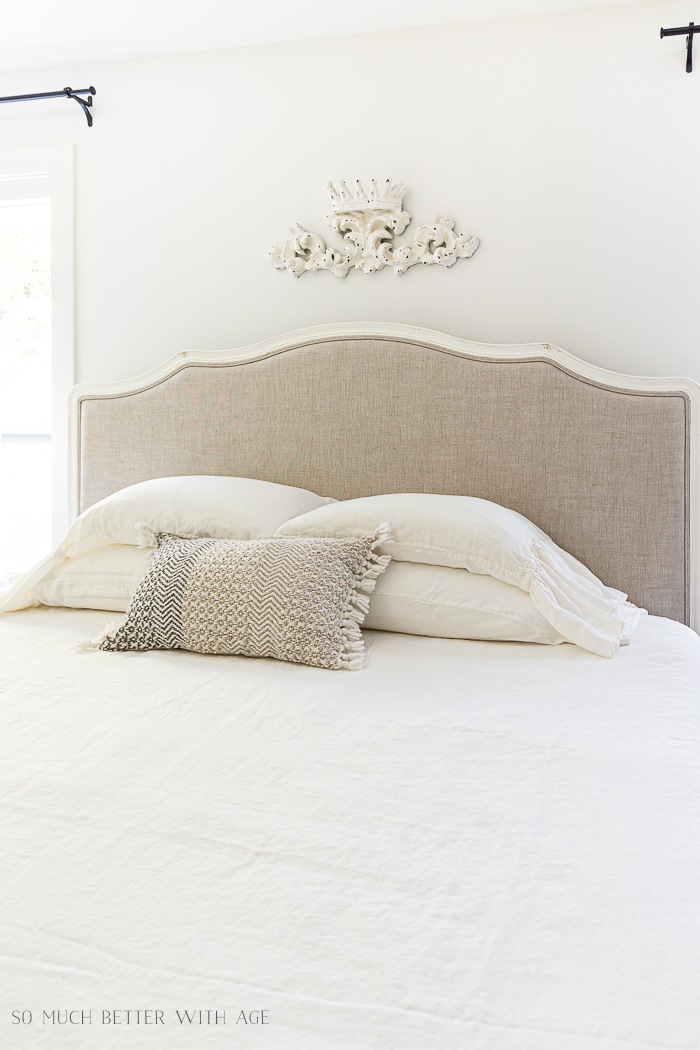 This post contains affiliate links for your shopping convenience. Click to read my full disclosure policy.
How to Style a Bed
First thing's first. You need to start with a bed frame and mattress. We spend so much time sleeping that you want that to be the most important thing in your bedroom!
Duvet Cover
For a duvet cover, I love linen as it doesn't matter if they get wrinkled, in fact, they look a little bit better in my opinion. The one on my bed is from Soft Surroundings but they no longer carry this duvet cover. I also have duvet covers from West Elm and Pottery Barn that are 100% linen that I love!
You can also buy them on Etsy that are amazing! (see SHAMS below)
Duvets
My bed never looks super fluffy because we have a silk duvet cover. They are quite thin but are amazing to sleep with. They keep you cool in the summer and warm in the winter. Once you use one you cannot go back!
Also, the best part is that they can be washed and dried in the washing machine!
This is my favorite silk duvet.
Sheets
I love 100% cotton sheets, bamboo sheets or flax linen sheets. My bamboo sheets almost feel silky they are so soft. I also love flax linen sheets.
I received a luxury organic sheet set from White Terry Home last year and we love them! They are quite thick so we tend to use them only in the winter.
Shams
I couple of years ago I bought three sets of linen pillow shams on Etsy. My plan was to see which shams went with my bed better and return the other but I ended up keeping all three! 😂
The beautiful linen shams are from Bea Linen on Etsy. They also have gorgeous duvet covers!
Pillows
Pillows are another area that needs attention for sleep. Both Aaron and I went to our mattress store and purchased pillows for the way we sleep (I'm a side sleeper and he likes sleeping on his stomach).
Then there are the pillows that go in the shams and those pillows are so handy for fluffy up behind your back for reading in bed.
You can style them one on top of each other (like I have on my bed) or you can put your pillows on an angle, one in front of each other (you can see this in the photos below).
Accessories
The accessories are what make the bed feel luxurious – the throw pillows and throw blanket and/or quilt. They can easily be swapped out seasonally so don't spend a lot of money on these items.
This throw pillow and blanket on my bed are from Pier 1 and unfortunately no longer available.
Shop Similar Throws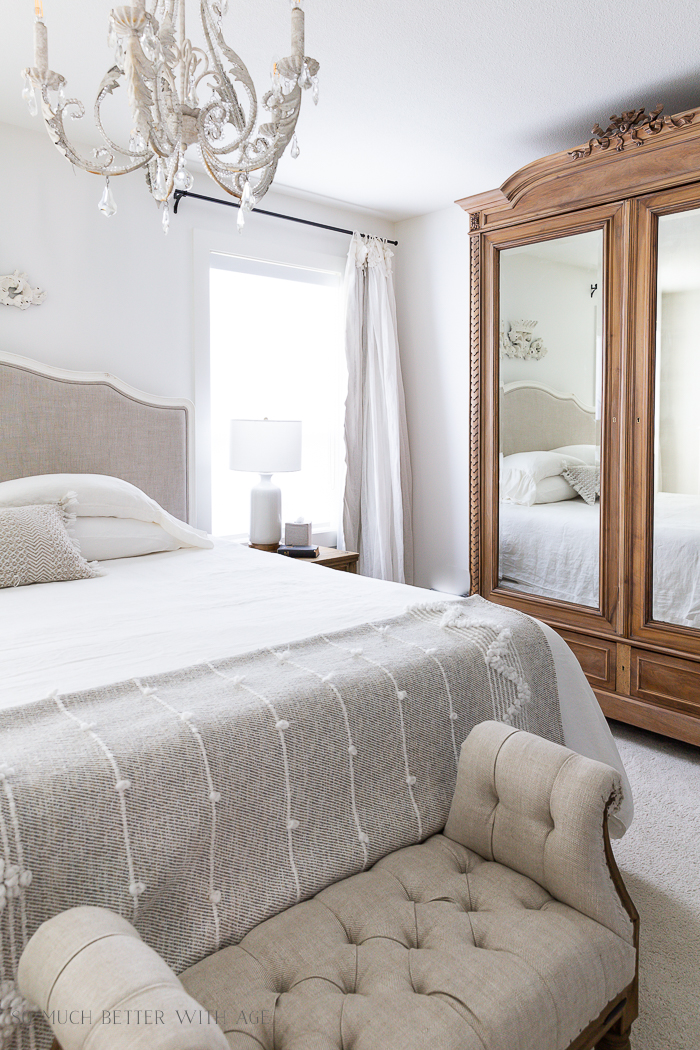 There are just so many ways you can style your bed!
Here are some different ways to style your bed from some wonderful friends of mine.
Friends That Make Beautiful Beds
My friend Sarah of Life on Virginia Street always styles the most beautiful beds!
This is Sarah's master bedroom. It looks like she has two sleeping pillows on an angle, three square shams and three accent pillows. A throw blanket is draped at the foot of the bed.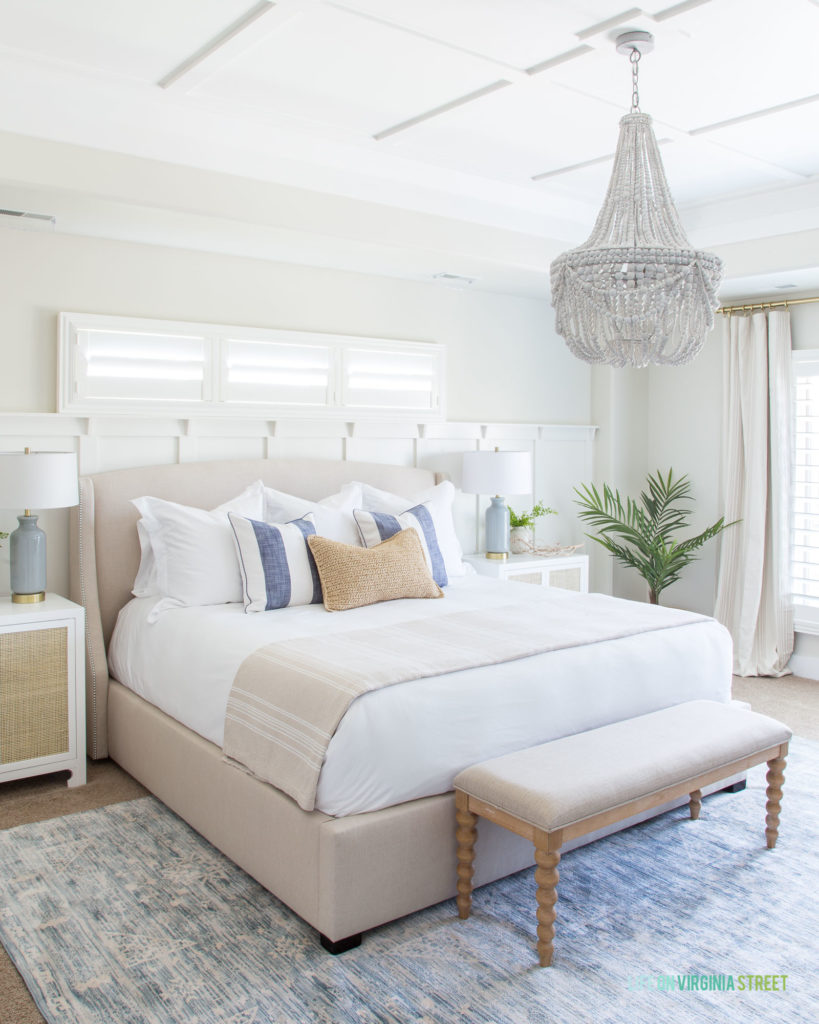 And here is one of Sarah's guest bedrooms. She makes the best beds!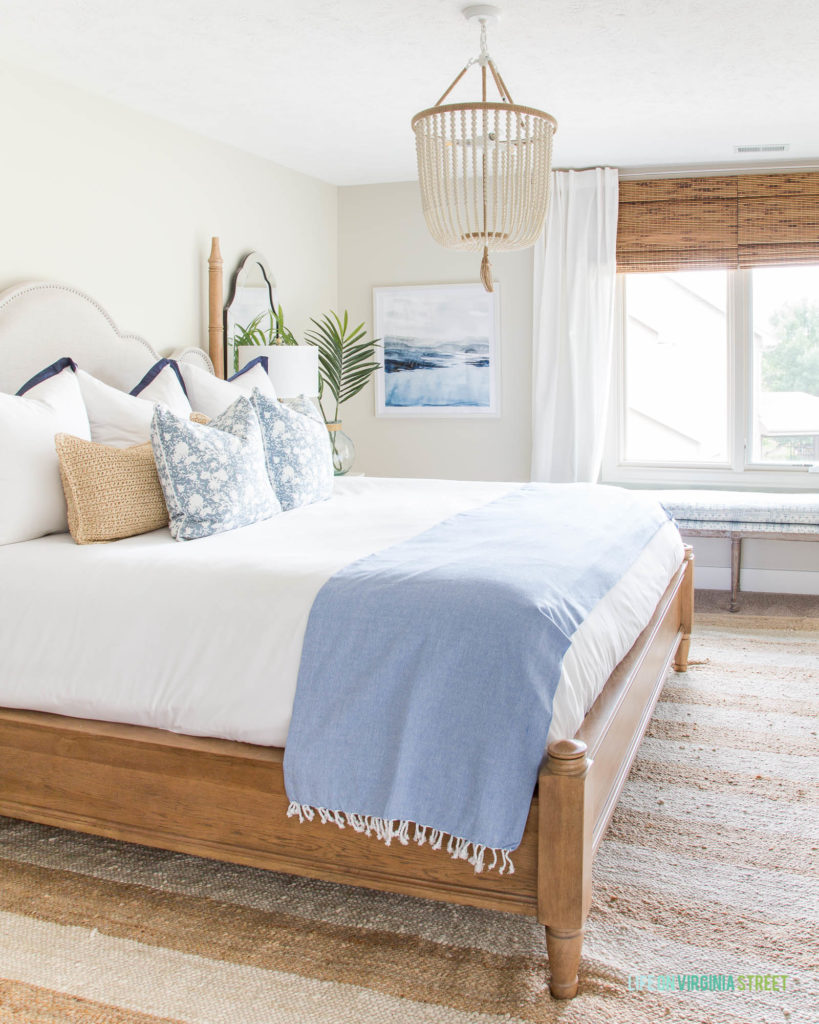 Kelley Nan has a wonderful tutorial on how to put together a bed capsule and she makes the most beautiful bed! Check out her tutorial on how to build a bedding capsule here.
Kris from Driven by Decor also makes a beautiful bed. This bedding is lots of fun too!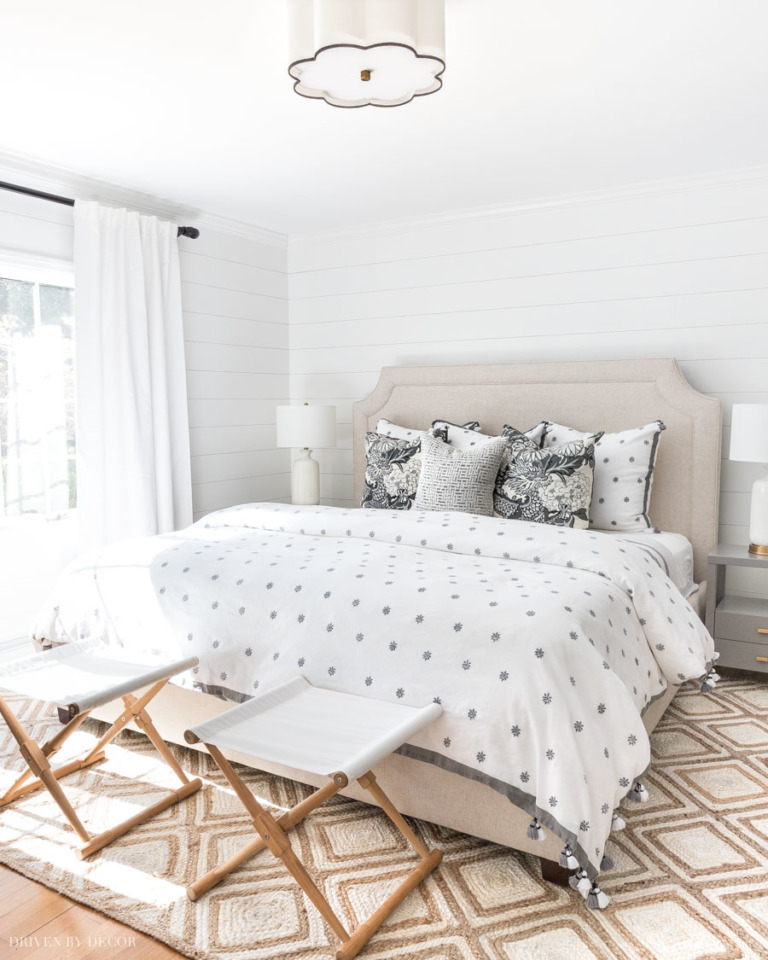 Rachel from Maison de Pax makes a beautiful bed and puts together a beautiful room that's perfect for summer. It looks like she has two sleeping pillows along with three accent or throw pillows and a throw blanket casually draped on one corner.
I hope this has helped you on how to style a bed.
Now be sure to visit my co-hosts and their beautiful bedrooms below!
Shop for Bedding:

Make sure to pin it for later!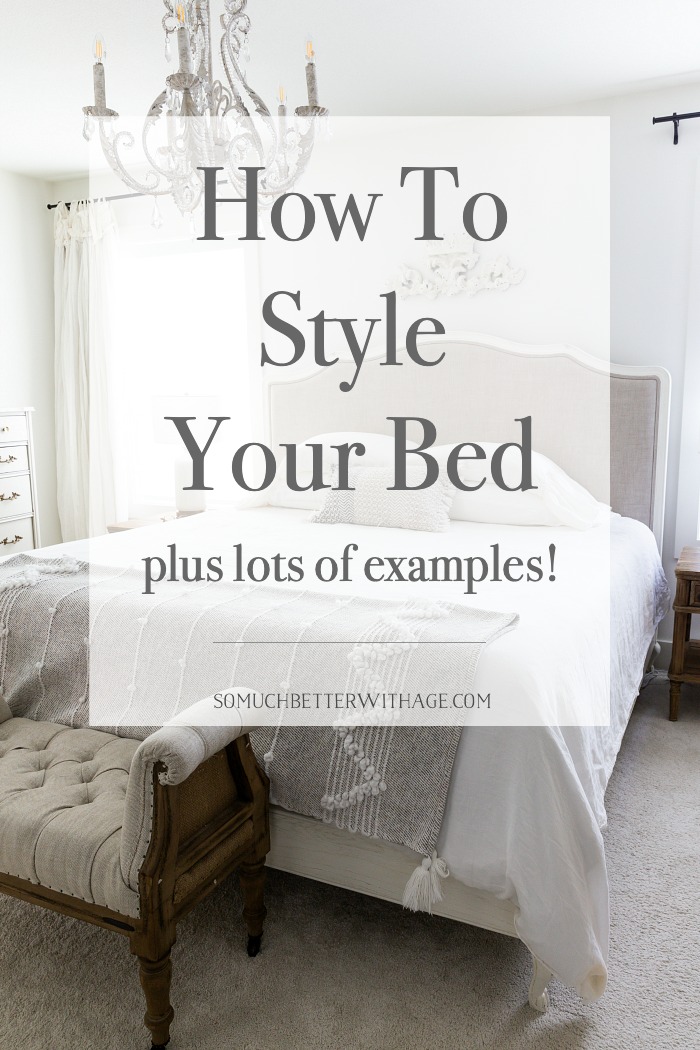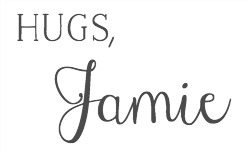 click in case you missed:
Sew Ties on Duvet Cover (especially if your duvet is smaller than the cover!)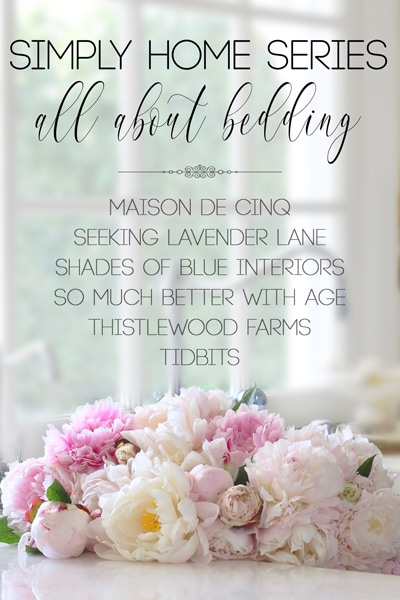 Maison de Cinq: How to Make the Perfect Bed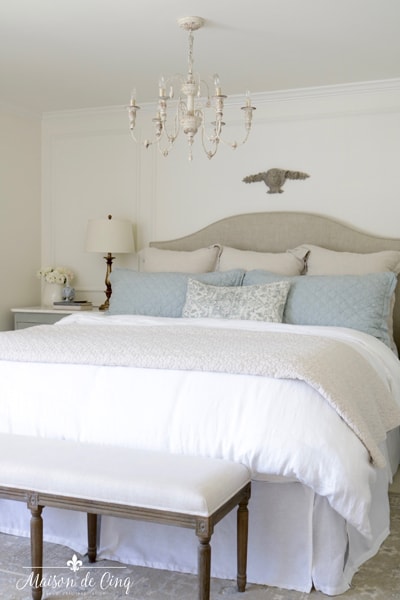 Seeking Lavender Lane: Neutral Summer Bedding
Shades of Blue: Lighter Bedding for Summer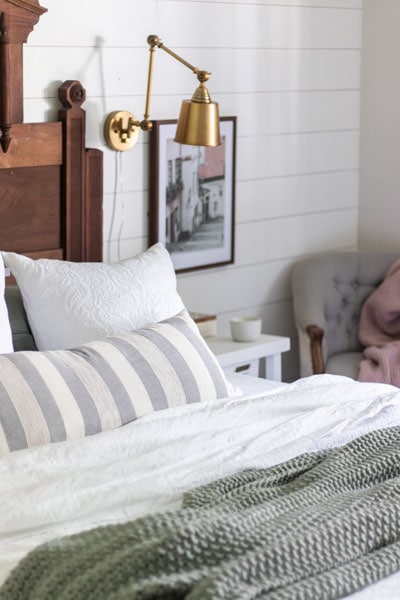 Thistlewood Farms: Favorite Bedding Combinations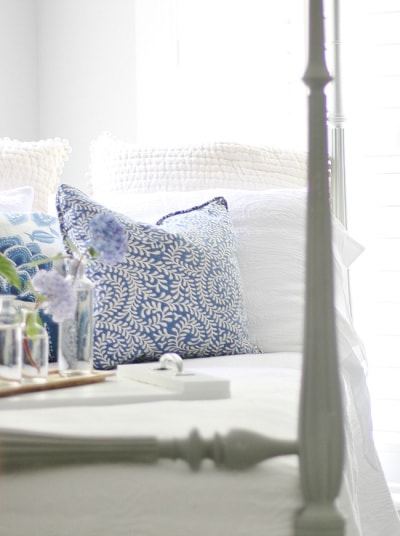 Tidbits: 20 Stunning Bedrooms with Beddy's Beds