Be sure to check out this year's beautiful Christmas tour that is full of holiday inspiration!
Disclosure: This post may contain affiliate links. Please read my disclosure policy.
I'm so excited to share with you today my stunning Christmas home tour!
I didn't know if I'd actually get a chance to do one this year but I made it work!
It's challenging and exciting every year to do Christmas decorating a little bit different using the same decorations I have from each and every year. No one needs to go out and buy new holiday stuff year after year so it's good to change it up a bit but keeping the core Christmas tree (if you have faux) and garlands, decorations, etc.
Now on to the tour!
Living Room
My cat was sleeping on the basket with the blanket and just before I brought my camera in front of her, she moved. She didn't want to cooperate today but she normally is sleeping everywhere I take photos (like last year's Christmas tour).
For my Christmas mantel this year, I brought out the Fraser fir garland I've had for years and years from Balsam Hill (you can see when I first got it in December 2014).
I only used one garland whereas other Christmases I used two garlands which was flowing to the ground (check out my plaid Christmas mantel from 2018).
The rustic bells I've had for a few years as well that I love to put out or hang.
The European stockings I made years ago and still love using them.
And the wooden beads I made a couple of years ago for my tree that I keep in the dining room and I just hung two of them on either end of the mantel.
Plus I also love my French Eiffel tower globe ornaments I've had for years too.
And recently I found these gorgeous vintage chandelier-crystal-drops turned-ornaments from my friend Monica of @beachantoniette. Aren't they beautiful?!
I found some pretty black and white stripe, toile and check wrapping paper from Home Sense this year and paired it with a gorgeous green satin ribbon.
Adding some fresh pine greenery to some old pottery makes a simple area look festive.
My cat sits like a human all the time. It's hilarious!
Dining Room
Then I added some simple touches to my dining table with my vintage brass candlesticks and mini bells that I got from a local shop, The Style Well.
I softened the look with some snippets of fresh pine sprigs to the table runner as well.
You can find brass candlesticks easily at thrift shops and I also sourced some on Etsy here.
I also made some simple bows with the same satin green ribbon and used double-sided tape to attach it to each frame.
I bought these battery operated candle lights years ago and I love them! But they each take one battery and die quite quickly so I use them without a battery. They are still really pretty!
And I just found these cute forest animal ornaments from Canadian Tire.
Kitchen
In the kitchen, I added lots of vintage pottery and pine clippings.
The pine clippings are real but the wreath on the hood range is faux but it definitely can pass for real!.
I love how the pine clippings are kinda dropping to one side. Very natural and the whole house smells amazing currently.
Then I added the driftwood tree that I've had for about 15 years now and some more pine clippings in vintage pottery.
I stacked some vintage pottery together to add some height.
I found this cute little stepping stool at a local shop but I found one similar online.
I love this French cook book, just for looks (don't tell anyone I haven't tried any recipes…yet!).
I've had these Christmas mugs and plates from Pottery Barn for years. Unfortunately, they don't sell them anymore.
But they do have these adorable vintage Santa mugs.
I'm so happy you came to my Christmas home tour!
What part did you like the best? Are you all ready for the holidays? Let me know in the comments below!
Make sure to pin it for later!
Shop The Post: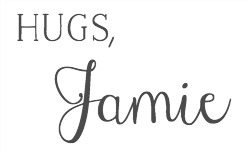 Click in case you missed:
French Vintage Christmas Kitchen