I'm finally able to have my English roll arm sofa in the living room and I got some amazing new pillows! Sharing all my sources today.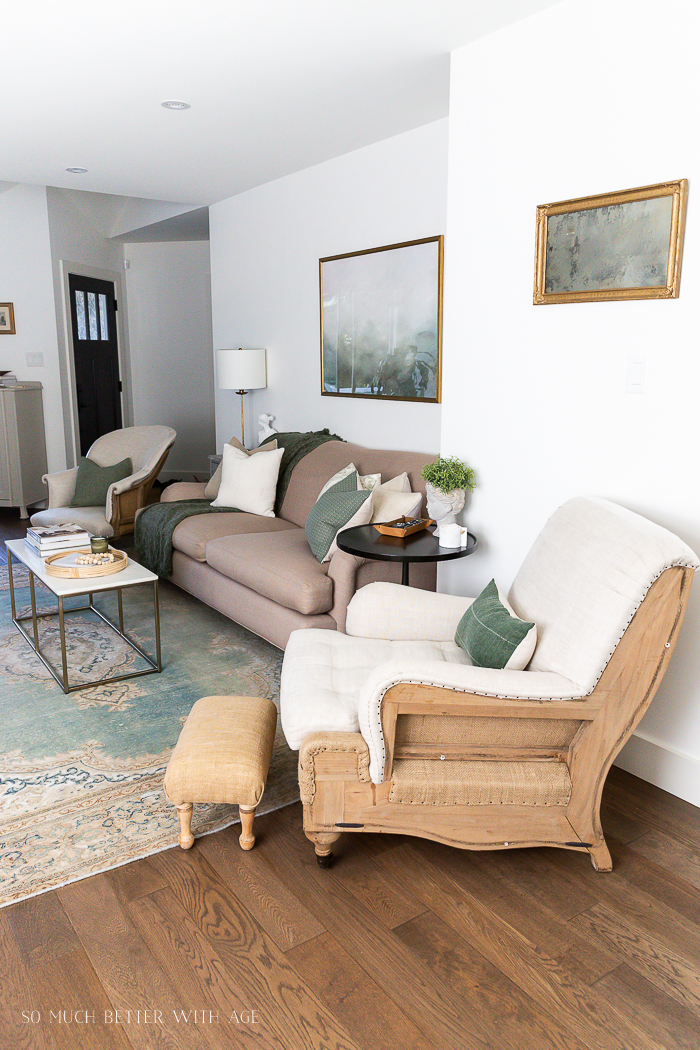 This post may contain affiliate links. If you purchase something from an affiliate link, I may get a small commission. No extra cost to you! Click here to read my disclosure policy.
Back when I still had my original Instagram account, I shared with you my ongoing saga with my sofas. I've had this English roll arm sofa for 12 years now and when we moved into this house, it was meant to be in the living room.
This is what my living room looked like previously.
When I bought the Pottery Barn sectional, it wouldn't fit down in the basement so the sectional had to stay upstairs and the English roll arm went downstairs.
Now that we solved the problem with a new sectional from Ikea that could be taken apart when we move, the English roll arm is now back in the living room where she belongs!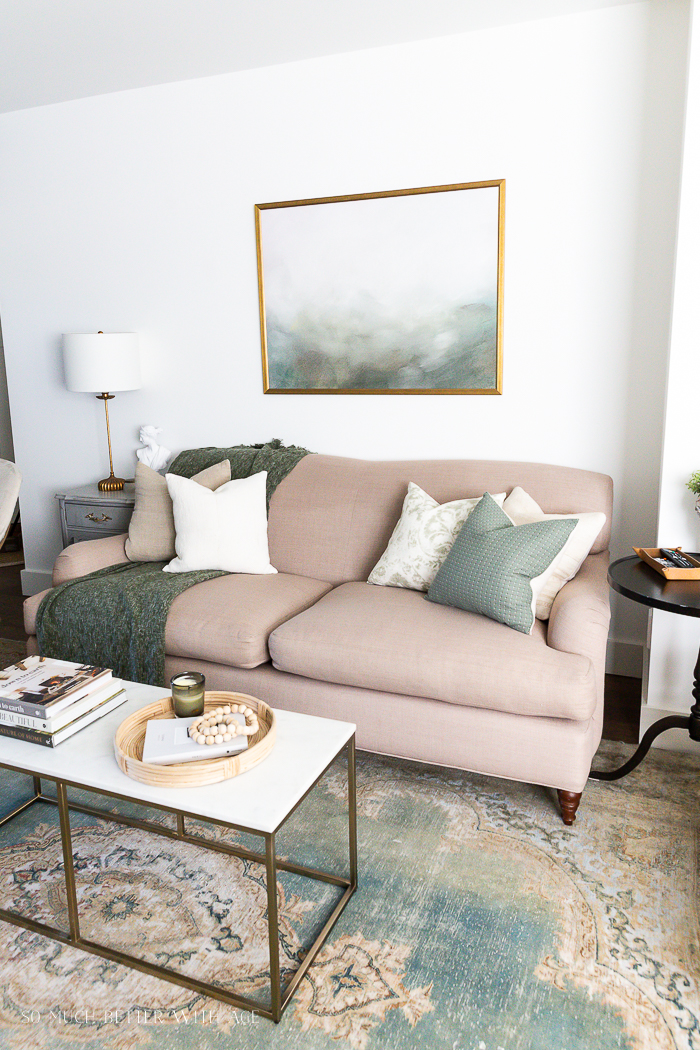 We moved the rug around a bit and put the two side chairs next to it instead of in front of the window.
I also added some new pieces to the mantel.
(All vintage pieces or from a local shop)
New throw pillows
Every time I source pillows for clients, I end up buying one or two for me! I have a good collection now and can't wait to share them with you.
I love this green pillow cover from Etsy.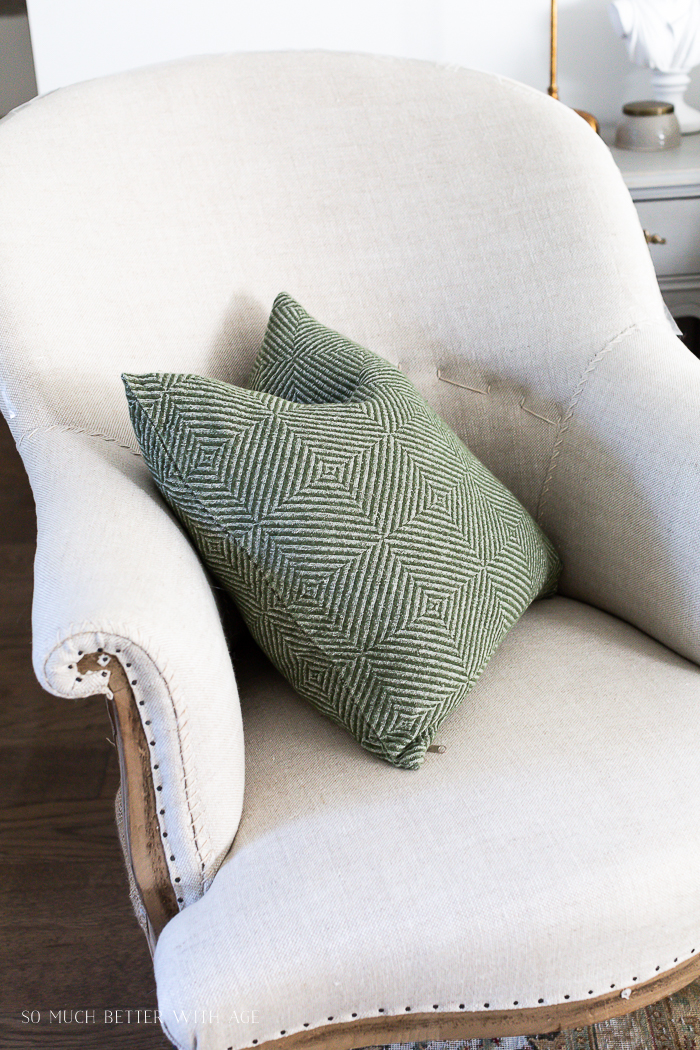 The linen and velvet pillow is from Pottery Barn and the mudcloth pillow is from Prairie Thread Designs.
The green throw blanket is from Ikea.
And you may notice some shininess on my sofa, it's packing tape that I've put on places where my cat likes to scratch! She hates the tape so she is no longer scratching the furniture (fingers crossed!).
The green checked pillow cover is from Prairie Thread Design and the white and green pillow is from Pillows by Dwellisimo.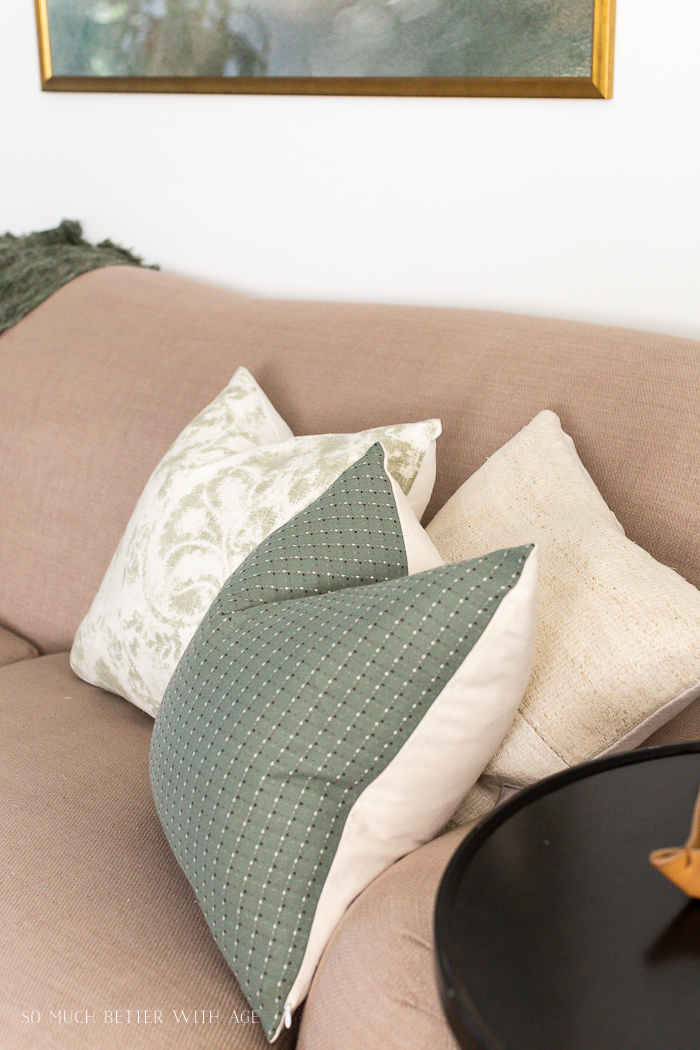 The striped vintage pillow cover is similar here from the same shop, Cloth and Main.
This small lumbar pillow cover is from Cloth and Main. Here is a similar pillow from the same shop.
It looks so much more cozier in here with the smaller sofa and the two side chairs close by.
The marble and gold coffee table is from Pottery Barn and a great price.
The tray is from H&M and they no longer carry it online but they have a similar tray here.
The heart prayer beads are from a local shop but I found similar here for a great price.
I love the statue head that's a planter. I have some faux greenery in there from Ikea.
The catchall is faux leather and from H&M (years ago). It's the perfect size for remotes!
The large brown vase is from H&M too. The art I found recently at a vintage shop.
I found the mini dough bowl at a local vintage shop but I found lots on Etsy, like this one.
For the Love of White by Chrissie Rucker
(I swear my cat was not in the room prior to me taking photos but she obviously really likes getting her photo taken!)
Our living room is a long, narrow room that is difficult to decorate but I think I've successfully made it work.
My two deconstructed chairs are from Restoration Hardware and so is the English roll arm sofa, although I purchased the sofa second-hand. You can find a similar English roll arm sofa here.
What do you think of the new throw pillows?
To see what my living room looked like before, you can check out the posts below!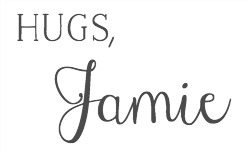 click in case you missed:
How to Decorate a Long, Narrow Living Room