THE REVEAL OF OUR FRONT YARD RENOVATION.
This post contains affiliate links for your shopping convenience. Click to read my full disclosure policy.
Today is the day I reveal our front yard renovation!
Catch up on all our outdoor renovation posts in this series:
First, let's go back and see what our front yard looked like before we started this renovation.
The shrubs were never properly trimmed for years before we arrived at this house and it didn't matter what we did to try to trim them back, they just looked funny (see below). A low maintenance yard still needs maintenance which it seems that people just forget.
Anyway, these shrubs turned into trees over the years and we let our neighbors take away all the shrubs and replant them in their yards so no plant went to waste.
Before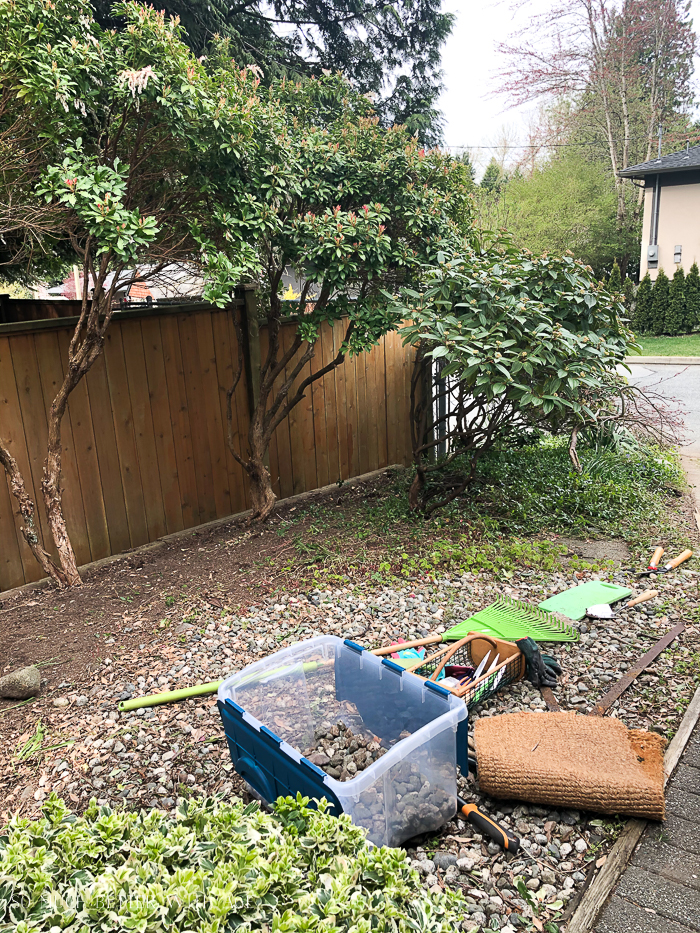 This is what this area looked like before Aaron built the free-standing deck last year.
If you recall, this side of our driveway had about four feet of unnecessary shrubs so we extended our driveway another two feet to give us more parking.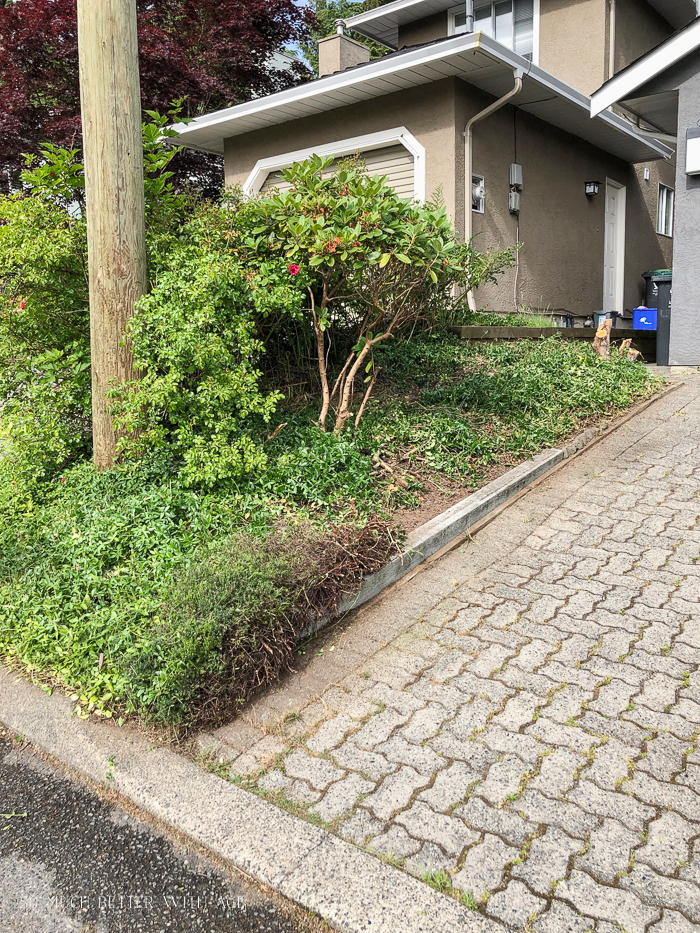 progress
It now aligns more with the house too. That extra two feet will make a world of difference!
After the old landscaping was taken care of, landscape fabric went down along with boxwoods along the fence, limelight hydrangeas, bobo hydrangeas and landscape rock.
We also re-stained our fence like we did in the back yard a few years ago.
To see my step-by-step guide on how to re-stain your fence, click here.
It's amazing what a difference new stain can make! And if you use a solid color stain like we did, you can tint it to any color you'd like!
We also replaced the post caps with these similar aluminum post caps. It really upgrades the entire fence.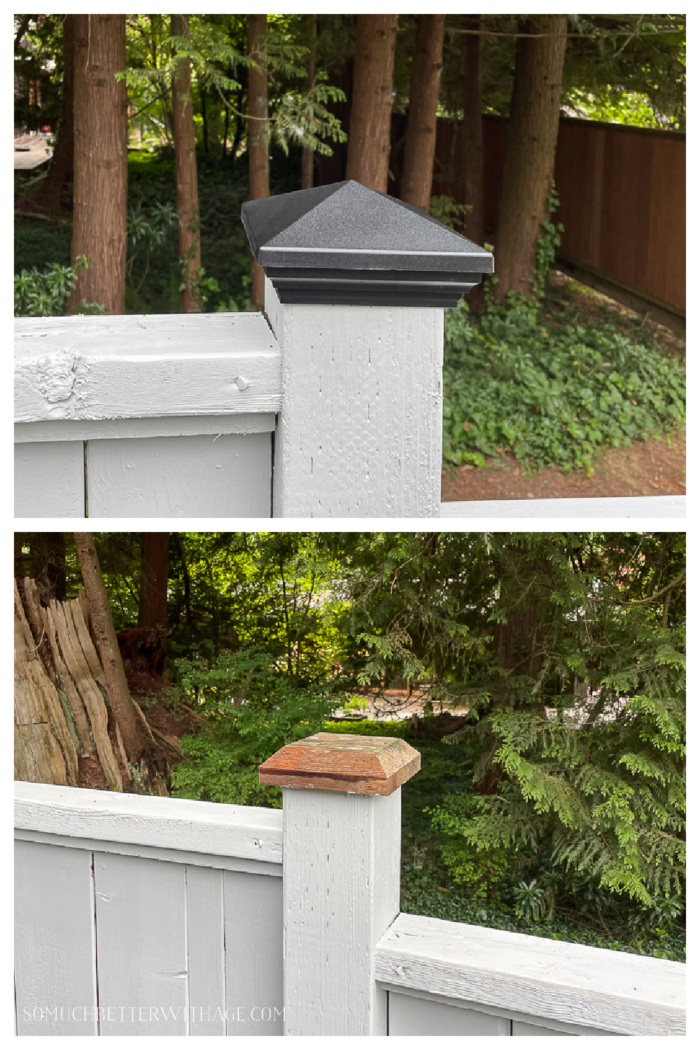 The REveal
And finally here is the reveal!! It's stunning, wouldn't you say?
You can see the row of tiny boxwoods along the fence. Those will get taller, of course, and the limelight hydrangeas can grow to be quite tall but we will keep them at a regular height so that they look full but not grow too high.
Crushed rock was placed over the entire surface for a clean look.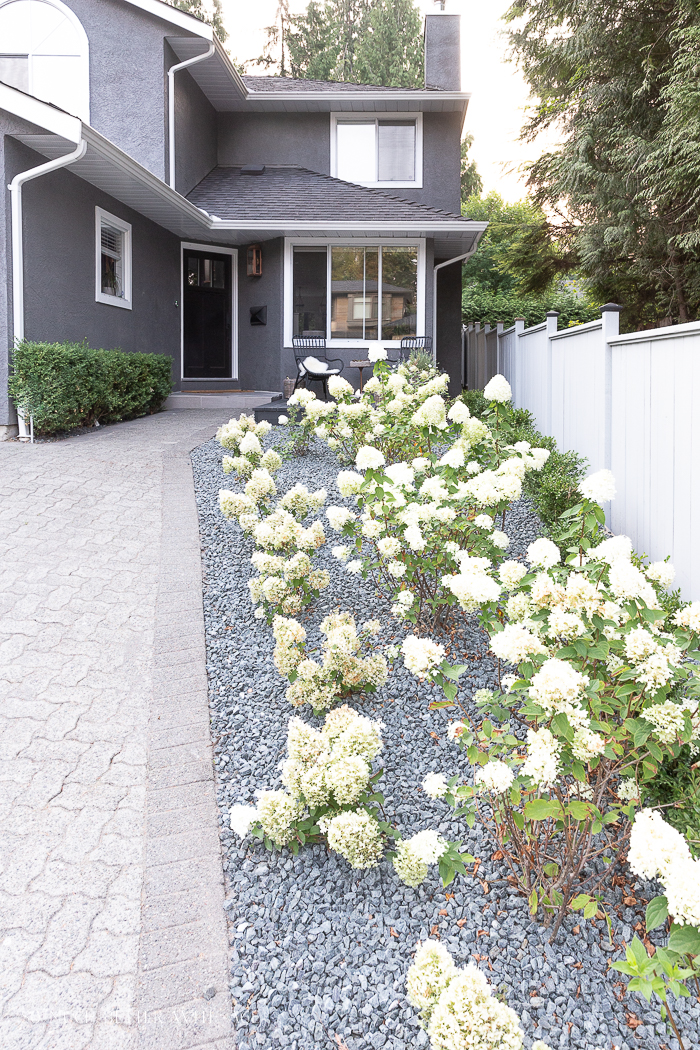 The smaller bobo hydrangeas in front of the limelights are a nice addition and the height difference adds interest to this space.
And here's a peak of our new gurgler water fountain! Our cat loves looking at the birds that come for a visit each day.
Check out our step-by-step tutorial on how to install a gurgler water fountain here.
On the other side of our driveway, the extended driveway looks like it has been there all along. We found the same bricks on Facebook Marketplace so they could look just as aged as the original ones. If we added brand new bricks, you would definitely be able to see that two foot strip.
The driveway was completely power washed thoroughly of weeds then new polymer sand went down in the cracks which acts like concrete to ensure to more future weeds.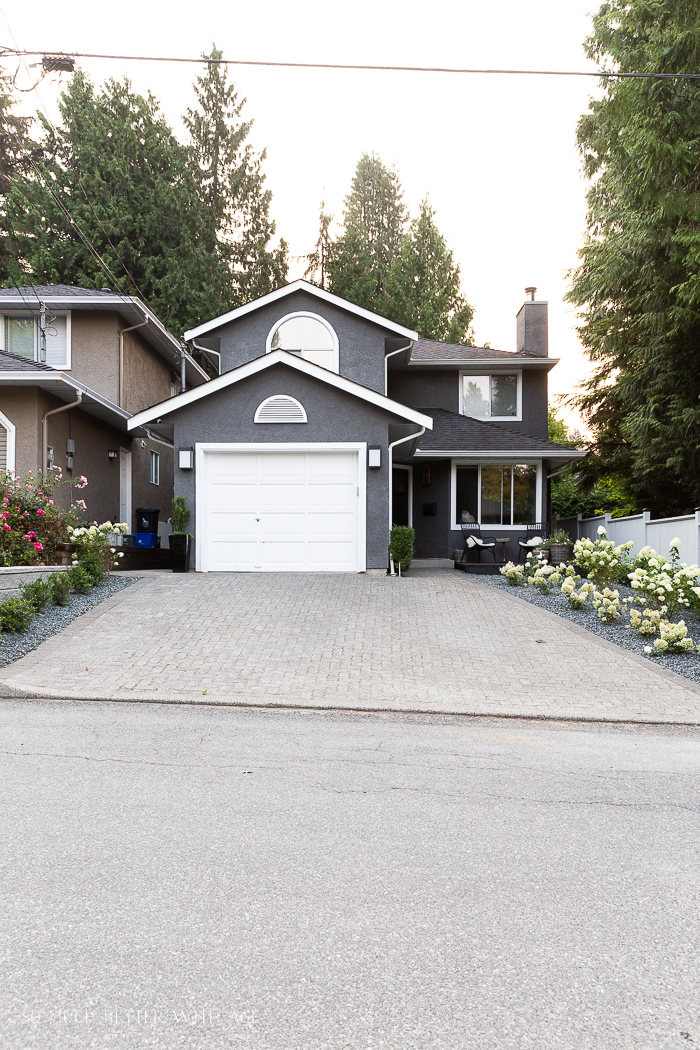 We also added a gorgeous new black glazed planter for the left side of the garage.
More Sources:
basket planters – I got these from Balsam Hill years ago but they no longer sell them. If you are local to the Vancouver area, West Coast Gardens or Gardenworks have similar
outdoor chairs – Medan chairs from Article

All in all, we love our front yard. Once all the plants grow in, this yard will be amazing!! What do you think? Let me know in the comments below!
And I can't wait to share our big backyard reveal very soon!
Make sure to pin it for later!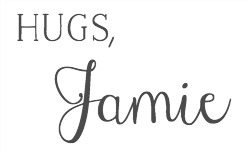 click in case you missed:
How to Install a Gurgler Water Fountain
How to Prep and Re-Stain an Old Fence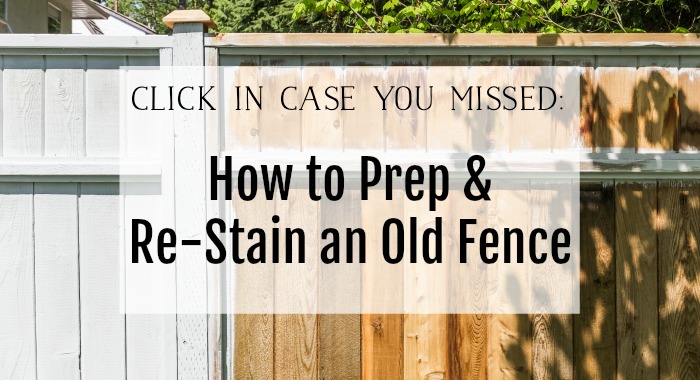 How to Build a Freestanding Deck
How to Build and Tile a Front Step