Beautiful Flowers & Kitchen Details
I have some gorgeous kitchen details to share today along with some beautiful flowers.
I've been practicing my photography skills quite a bit lately. Ever since I went to The Academy in France a couple of months ago and recently learning Lightroom, it has inspired me to take a lot more photos. I have a new-to-me hydrangea bush in my yard and it's full of lovely bright purple hydrangeas. I clipped enough to fill my big white apron-front sink and, unfortunately, it also came with 1 large grasshopper, two earwigs and 100 aphids. Yuck. After I shook out the flowers in the sink and sprayed water on the bugs AND made sure I switched the garburator on, we were all ready for a photo shoot (sorry bugs).
I cannot wait to reveal a big before, during and after of my kitchen. For now, here are a few close-up details of what I love most about my kitchen and some sources.

This white apron-front sink is the same one I bought for my previous kitchen so I knew I couldn't do without it. I love the farmhouse style.
It's the Kohler Whitehaven self-trimming 30″ sink. They have much bigger ones but I found 30″ wide plenty big!
The faucet is from Delta Canada. It's the champagne bronze Trinsic pull-down touch activated faucet. It's a dream to use when you're baking and your hands are a mess!
You just need to tap the faucet once anywhere and it's on. I've never had a faucet like this one before and I don't think I can ever go back. The problem now is when I'm at someone else's house, I'm constantly tapping their kitchen sink wondering what the heck is wrong with it! Why won't it go on! lol
It even comes with a matching champagne bronze stopper.
The little pottery cup and block of hand soap I got in France and the gardening shears and linen tea towels were gifts from Heather Bullard from The Academy.
I'm just in love with these bright hydrangeas. I need to redo my driveway next year but for it to be properly fixed the bushes on the side will have to come out and one of those bushes is this lovely hydrangea bush! I'm going to have to transplant it if I can because I've never had such huge beautiful flowers like this one.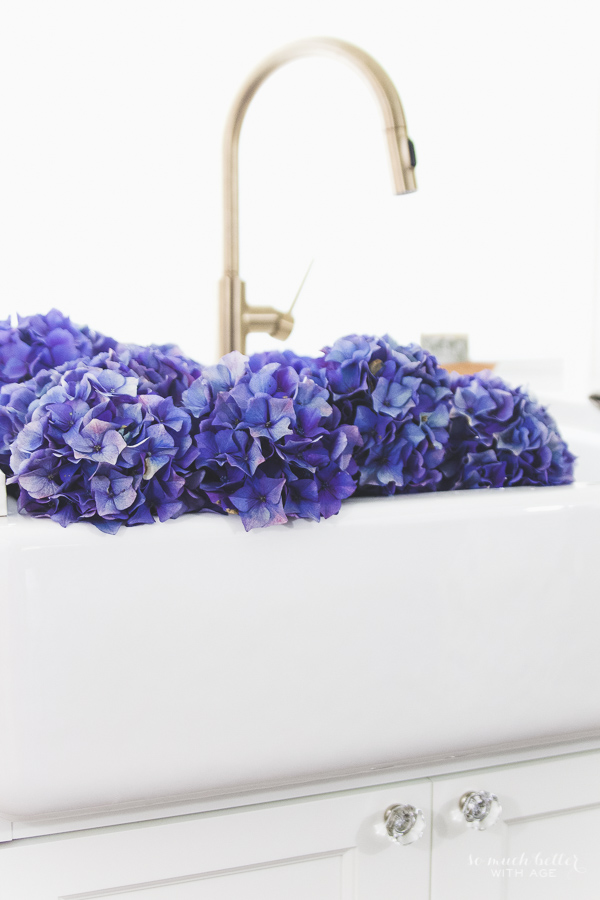 All the hardware in my kitchen is from D. Lawless Hardware. I matched the drawer cup pulls to the champagne bronze faucet and I wanted to also add a bit of sparkle with the glass knobs.
I'm loving this combination together. The drawer pulls are heavy and hefty pulls. I really like that about them. I've had some before that were flimsy feeling but these are the real deal. I ordered a few glass knobs as samples before settling on these ones. I wanted them to be a good size, not too small and I wanted them to be able to take a bit of a beating since this is a busy kitchen. These glass knobs are the ones I felt were up to the job and I'm very happy with my decision. 
The white subway tile is beveled which gives it more texture for light to bounce off of and the countertops are quartz: Vico Stone BQ8220 Carrara (3 cm). The kitchen cabinets were custom made.
I love my Jenn-Air counter-depth fridge. It is much more shallow than the average fridge but if you want that custom look, a counter-depth fridge is key. The gas stove is from Jenn-Air as well.
All the kitchen cabinets including the hood range were sprayed in Benjamin Moore Simply White and for a subtle difference the island cabinets were sprayed in Benjamin Moore Gray Owl.
You can check the post I did on deciding on paint colors and hardware and hardwood floors.
The gorgeous pendant lights are from Restoration Hardware.
Again, that champagne bronze just adds such a nice antique touch to the kitchen.
Be sure to check out my full kitchen source guide below!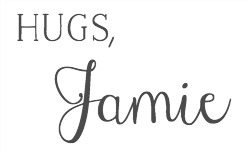 Full Kitchen Source Guide:
My Big, Beautiful Kitchen Renovation
SaveSave