Our back and front yard areas are getting a major renovation! Check out all the details.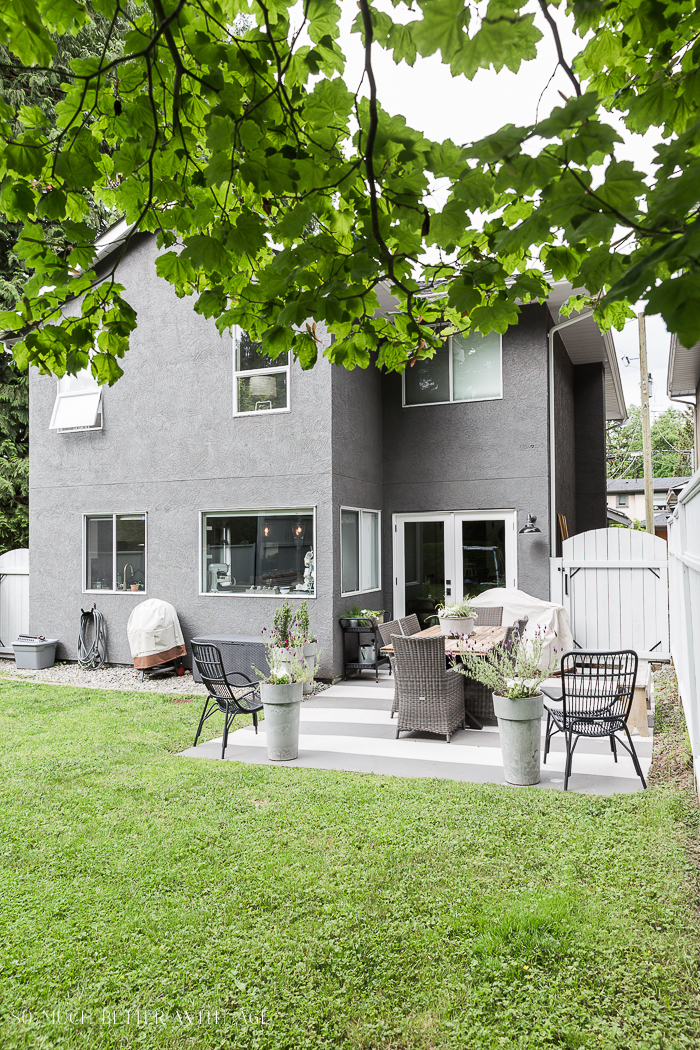 If you've been following me for any length of time, you know how long I've wanted an outdoor/exterior renovation. This year will mark the fifth year of living in our house and I've wanted it done from day one, ha! But we all know that renovations need money and we're finally ready to get these areas renovated!
Back Yard
This is our backyard area currently. The concrete slab is really solid but poured unevenly. We painted the stripes four years ago and the've held up amazingly but it was always a temporary solution.
This floor plan shows what we currently have. Along with the concrete patio, we have some rocks along the width of the house and that's pretty much it. There's a shed in one back corner of our yard and in the other corner is a trampoline.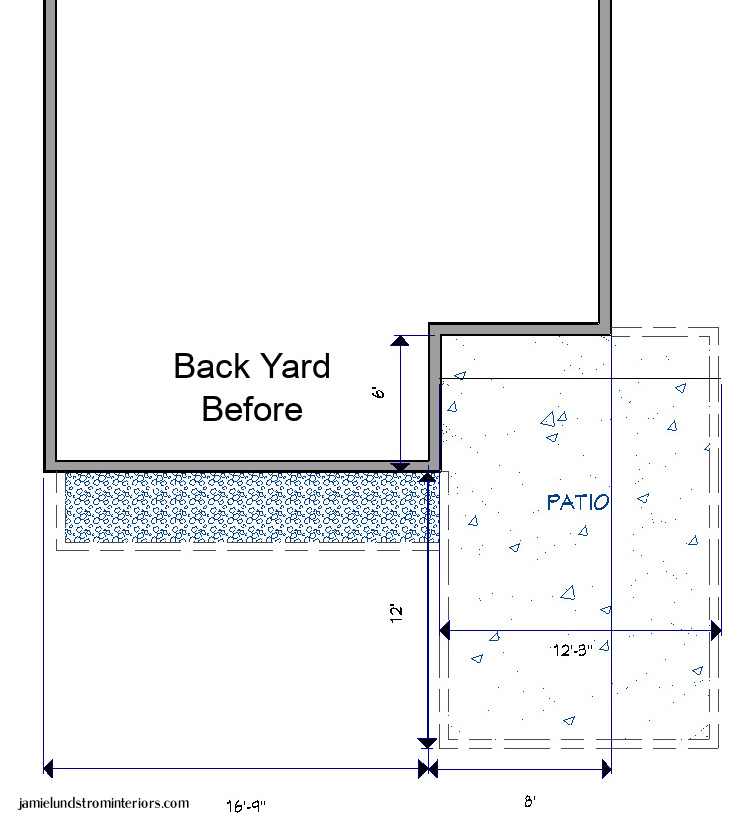 We also replaced the lattice on our fence and restained it a couple of years ago and so that is good to stay.
It rains a lot here on the 'Wet' Coast so a covered area where we can sit even if it's raining would be wonderful.
The grass will be replaced with artificial turf which is becoming very popular for North Vancouver homes as our 'grass' is mostly weeds. Our ground is very wet from all the rain and wildlife like raccoons and skunks like to dig the grass up for chafer beetles so artificial turf is the way to go!
Also, the backyard is getting regraded as right now it slopes toward the house and it needs to just be flat.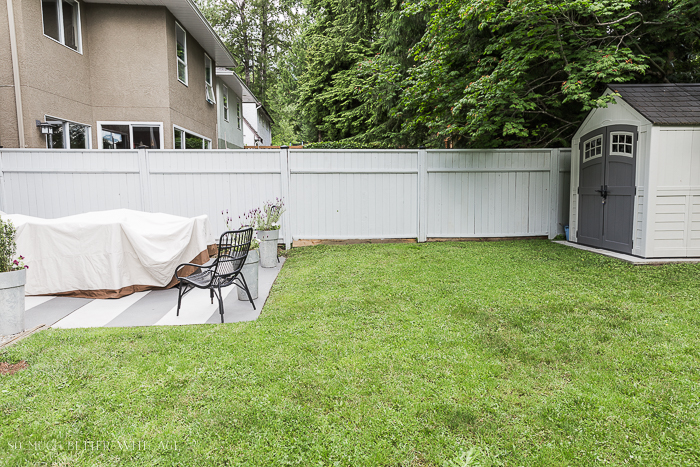 We hired a landscape company to cover the concrete slab with pavers that will also extend the way whole width of the house in natural and charcoal colored paving stones.
We'll also be adding a covered pergola the entire width. The black squares on my floor plan below show where the posts of the pergola will be.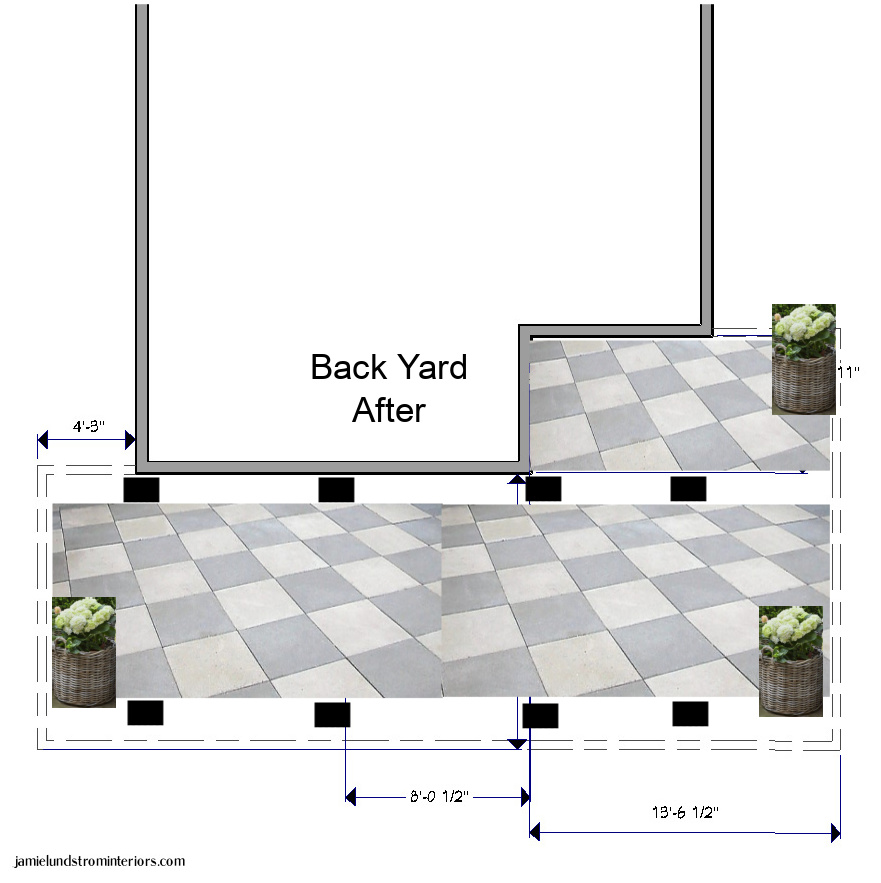 Here are some inspiration images but the pergola will be covered to shelter us from the rain. Aaron will be building it and he's still working out all the details.
Front yard
I haven't shared many photos of the front yard as there really isn't much of a yard and it's ugly, ha! You can see the walkway pavers in the image below and that's what our entire driveway looks like.
Aaron rebuilt the step to the front door last year. It used to be the same old brick pavers and I had painted them grey and white like the back concrete slab years ago.
This is what it currently looks like: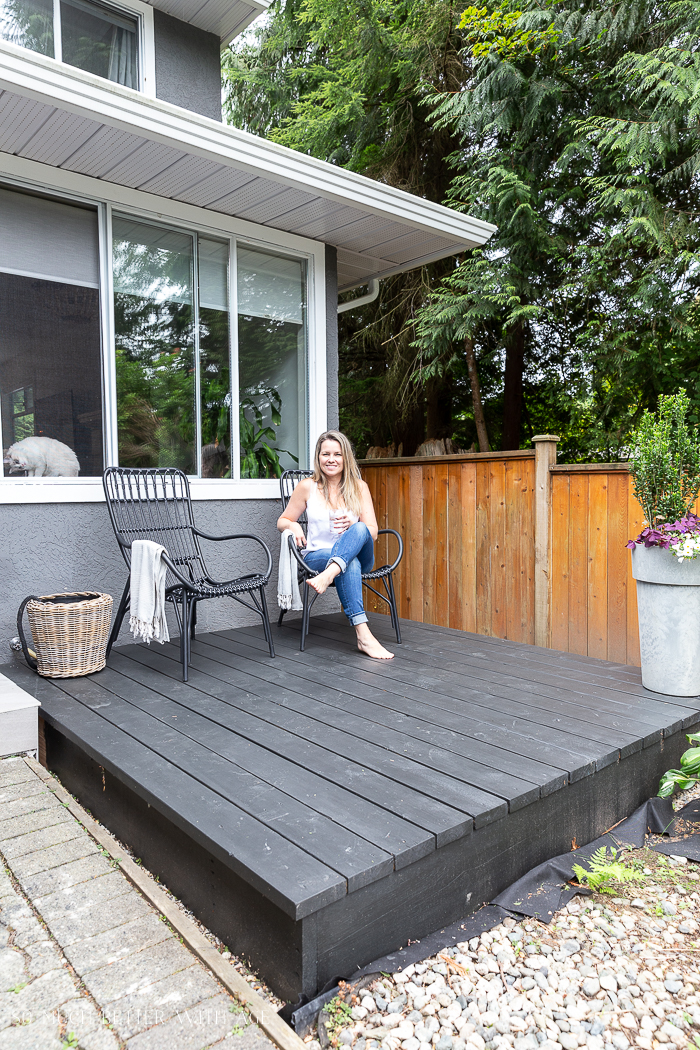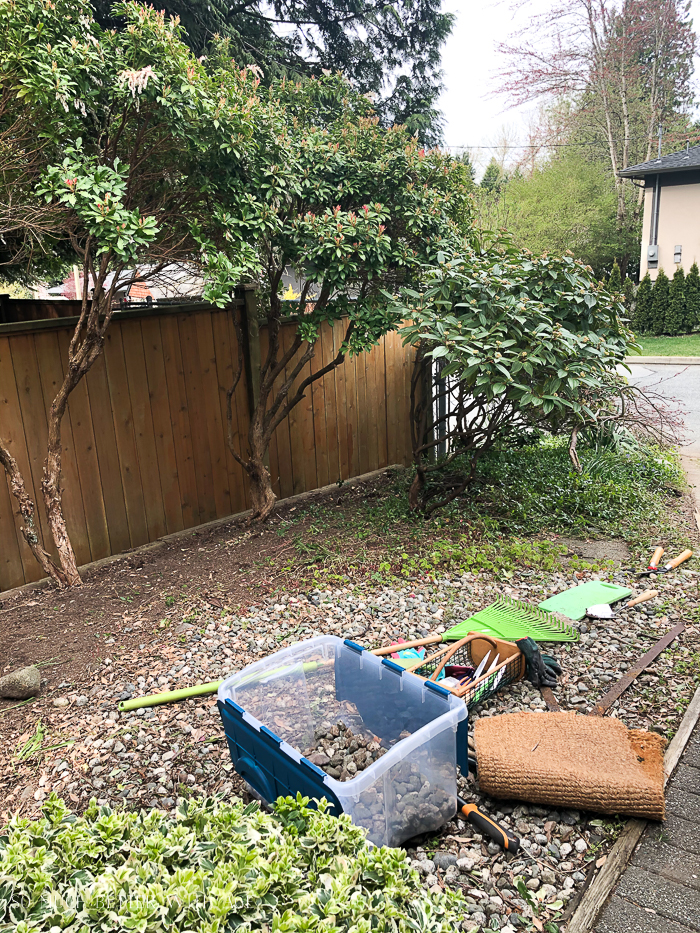 This part of the fence still needs to be cleaned and restained but we are waiting until the landscaper company digs out all the shrubs before doing it.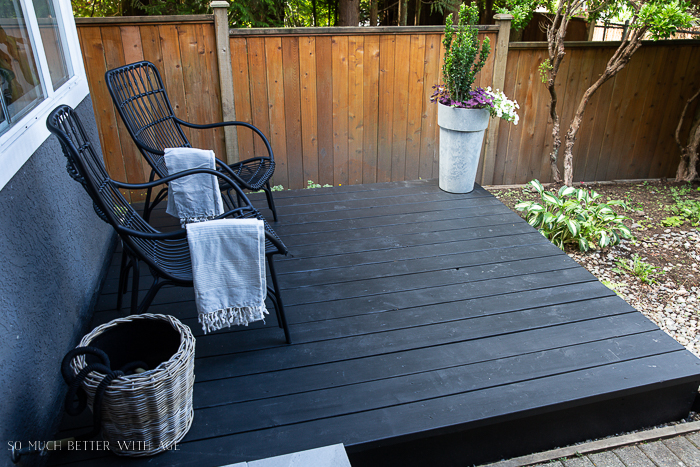 Here is the other side of our driveway and we're shortening this garden bed by two feet so we have more room for parking our vehicles and we're adding boxwood shrubs and limelight hydrangeas for a clean look.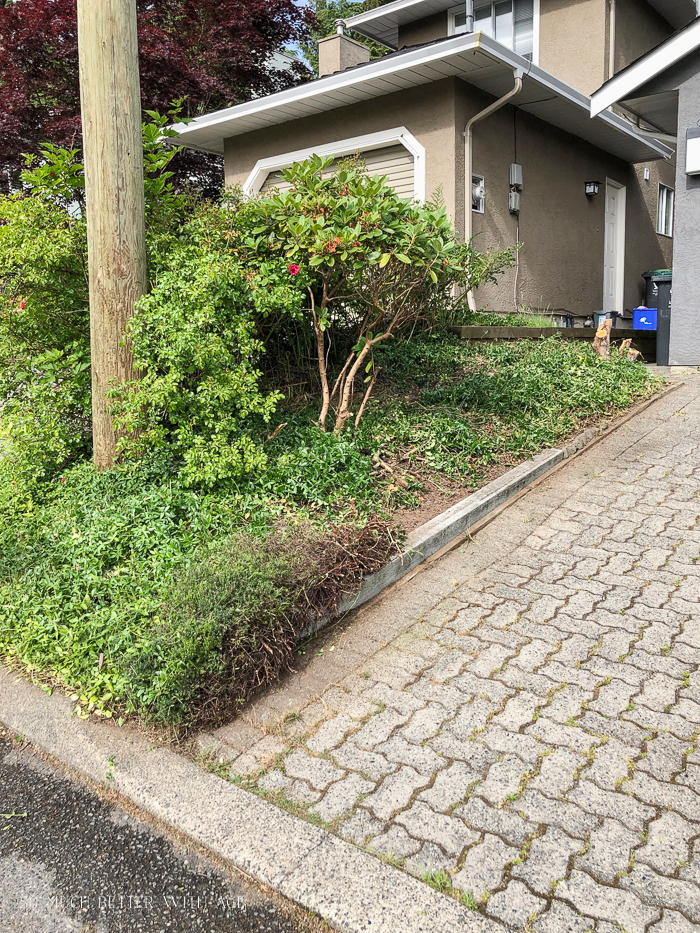 Here is the current plan for the front yard: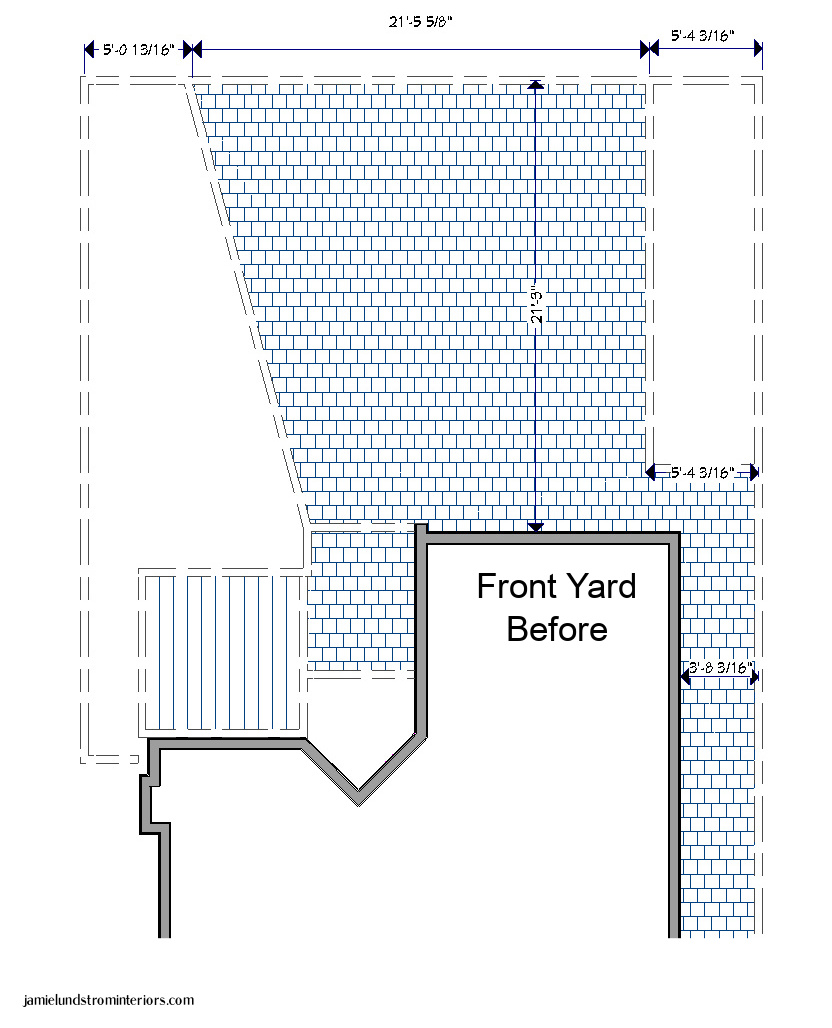 The landscapers will clean up and repair some of the pavers on the driveway but to save on costs, we're not replacing the driveway.
We'll be adding lots of boxwood for a clean, beautiful look and more limelight hydrangeas.
Here is an inspiration photo.
The list of what's getting done:
regrade backyard
add retaining wall to back of yard and replant cedar shrubs
lay artificial turf
add risers and pavers right over concrete slab and extend the width of the house
build covered pergola
fix small dips with brick pavers in driveway
shorten garden bed north of the driveway
add a row of new pavers to this area
remove all old shrubs, plants and stumps in front yard
plant boxwood plants and limelight hydrangeas
We're excited to get this started and we'll be starting at the beginning of May! I'll be sharing lots of updates on Instagram stories.
What do you think of our renovation plans? Let me know in the comments below.
Make sure to pin it for later!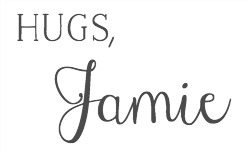 click in case you missed:
How to Build a Freestanding Deck
How to Build and Tile a Front Step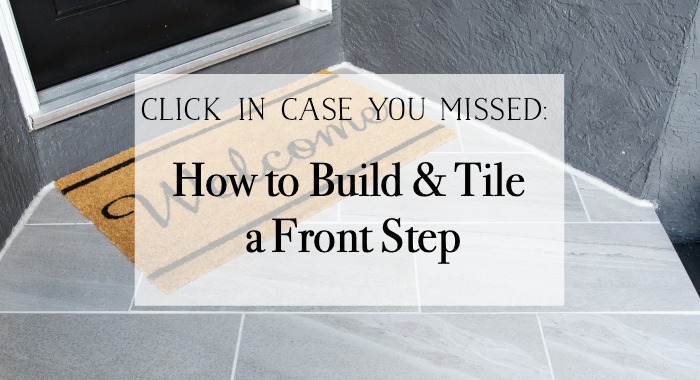 How to Prep and Re-Stain an Old Fence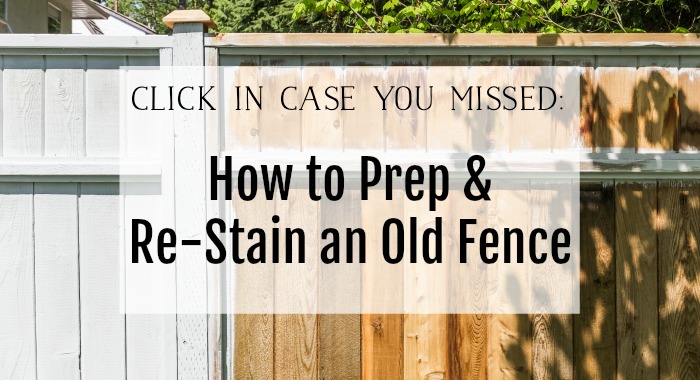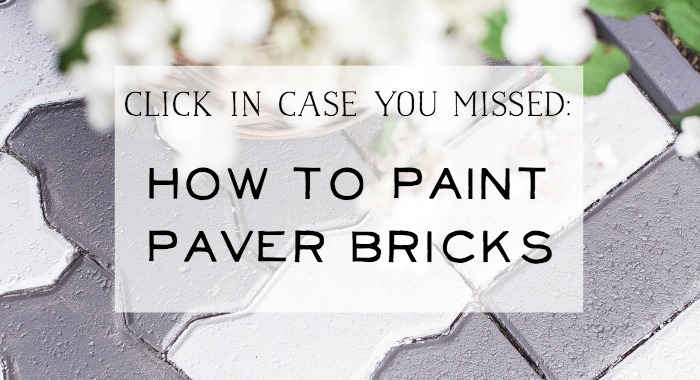 How to Paint Stripes on a Concrete Slab